Real-time Inflation Indicator (per annum): 8.6%
Spring, it seems, was a long time coming for gold stock investors. Even the good issues took some pounding. Before the vernal equinox, for example, we thought El Dorado Gold (NYSE Alternext: EGO)'slowproduction costs of $258 an ounce would give the company a nice cushion if gold prices took more drubbing.
Well, investors threw EGO under the bus with a lot of other good stocks when they fled the equity terminal in early March (see our preview of EGO at "A Particularly Healthy Gold Stock").
El Dorado Gold (NYSE:EGO) Year To Date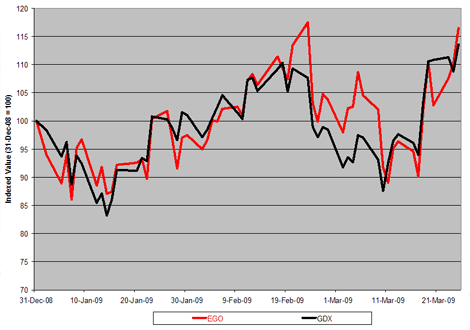 When we published our article on February 18, the stock was changing hands at $8.69 a share. Things looked pretty good for a couple of days - EGO managed to climb above the $9 level - before the trouble started. Three weeks after closing at $9.02, though, EGO was struggling to keep its nose above the $7 waterline.
We've been keeping an eye on the GLD/GDX ratio for some time. The quotient, which gauges the relative strength of mining issues to gold bullion, finally broke long-term support at 2.6-to-1 last week, to signal a resurgence in mining equities.
GLD/GDX Ratio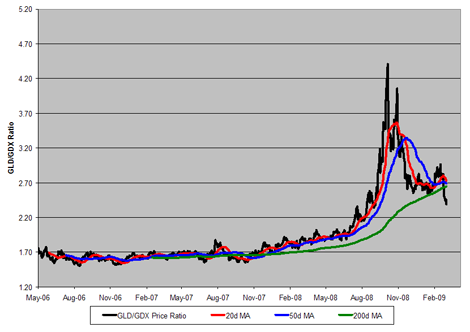 And there, leading the way, was EGO, jumping nearly a dollar a share. Equities continued to press their advantage Wednesday, dropping the ratio below 2.4-to-1. Contributing to the stock rally was EGO, which soared past its previous high to close at $9.26.
Apparently, EGO has managed to not only roll out from underneath that bus, it's also climbed into the driver's seat.