I'm continuously investigating companies to see if there is an opportunity to identify an investment that might offer a suitable margin of safety for a value investor. The focus is on identifying a trend, based on the 5-year financial statements of the company. If the company looks attractive based on this analysis of the static data it can be used as a starting point for further investigation, like a strategic business review.
Corning (NYSE:GLW) is a global leader in specialty glass and ceramics that operates in five segments: Display Technologies, Telecommunications, Environmental Technologies, Specialty Materials and Life Sciences. More background information about the company can be found on their website.
Market Price:
As shown in the graph below, for the last 5 years, Corning's market price has decreased from its high in 2008 of $27.50 to its current price of about $12.60. A decrease of almost 55%. It is still above its 5-year low of about $8.00.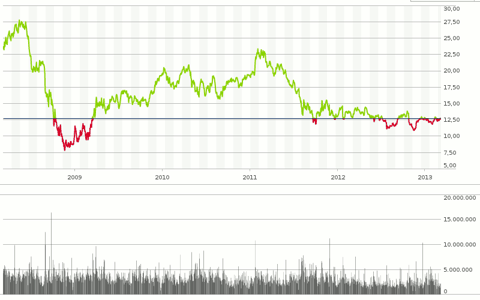 Income Statement:
If we look at the income statements, as shown in the tables below, we can conclude that as of 2008, the company's revenue is growing steadily on a year-to-year basis. It has increased its revenue in the last 5 years by more than 34%. In 2012, as is shown in the quarter's table, the revenue is still growing. The problem is that costs are growing faster than revenue, about a percentage point on average more.
In 2012, Corning posted the lowest net income and EPS (Earnings Per Share) in 5 years. More than 65% less compared to 2008. However, 2008 was exceptional due to a huge income taxes provision of $2.4 billion. Compared to the other years, it is still not a good sign and probably the main reason for the decline in market price over the same period.

Note: All values in the tables are in Millions of USD (except for per share items).
Balance Sheet:
If we look at the tables below, it can be concluded that Corning has a solid balance sheet. The shares issued for the 5-year period have been declining slightly. Currently there are about 5% less shares outstanding than there were in 2008. Shareholder equity has been growing very fast for the last 5 years. It has increased a staggering 59% since 2008. However, the double-digit growth has stopped in 2011 and in 2012 the growth has almost come to a halt. Still, for the past 5 years it has had an average growth of more than 18% per year. The intangible assets are unfortunately also increasing, but this is expected of a company that is doing a lot of research and thus creating a lot of patents. Overall, very positive signs for a value investor.
Corning's cash and cash equivalents have grown significantly to about $3.39 per share. Unfortunately, so has its total debt on the books. But if we calculate net working capital by subtracting current liabilities from current assets, we get a very solid $7.7 billion or about $5.26 per share.

Note: All values in the tables are in Millions.
Cash Flow:
As shown in the tables below, operating cash has been growing steadily for the last couple of years. This is a very positive sign compared to the decline in EPS and net income in the same period. Even if we look at the free cash flow, by subtracting the capital expenditures from the operational cash, we can be very positive. I prefer using free cash flow because companies need to maintain their asset bases (capital expenditure) to continue current levels of production. So whatever happens, these costs will incur and can't be used for growth.
In the quarterly table we see a cash inflow in the financing activities for the first quarter, which could indicate an increase in borrowing money. If we go a level deeper and look at the "Issuance (Retirement) of Debt, Net" in the cash flow statement we see that the company has increased its borrowing significantly in the last couple of quarters; up to $1 billion for the 12 months ending 2012-12-31, a factor 4 higher than the previous years. This is, however, not a big worry, because at the moment, the company is able to fund its investing and financing activities with its operational cash flows. It is however interesting to see this develop.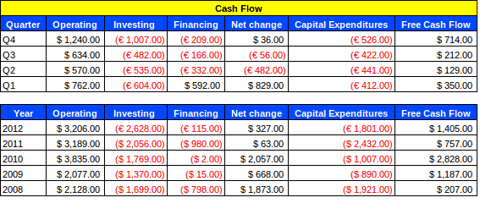 Note: All values in the tables are in Millions.
Dividend:
Currently, Corning is paying a dividend of about 2.86% per year. As shown in the table below, the dividend has significantly increased in the last couple of years following a stable period between 2008 and 2010. This is a good indication that management is positive about future growth. The dividend is expected to increase more than 14% in 2013, with an analysts' consensus of $0.36. If we consider the decline in market price together with the significant increase in dividend, about 30% for the analyzed period, we can be very positive. However, for the period between 2001 and 2006, Corning did not pay any dividend at all. It started again in 2007 with $0.10, hence the major increase in 2008. These figures therefore need to be taken with a grain of salt. If we take a bigger interval of 25 years, we see an average increase in dividend of about 7%, which is still very impressive.
With this dividend growth figure, we can use a "Stable Growth Dividend Discount Model" to get an indication of the equity value per share. This simple model calculates the equity value by dividing the expected dividends per share for next year by the cost of equity minus the stable growth rate. Here cost of equity is the return that stockholders require from a company. For this calculation, I used a cost of equity of 10%. So based on the 7% stable growth rate, the stock is currently about par value, as is shown in the table, or an equity value per share of $0.36 / (0.10 - 0.07) = $12.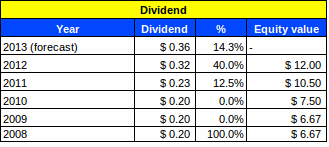 Note: Equity value per share is calculated with a COE = 10% and a stable dividend growth rate of 7%.
Industry averages:
To analyze the financial efficiency of the company, we will compare to the following industry average of the technology sector:
Debt-to-Equity= 0.3

Price-to-Book= 1.5

Price-to-Earnings = 18.1

Profit Margin = 11.5%

Return on Equity= 13.1%
Financial Structure
Debt-to-equity ratio is a measure of a company's financial leverage. The higher the number, the more aggressive the company has been in financing its growth with debt. Here the risk is that the debt financing could outweigh the return that the company generated with the debt. As can be seen in the tables, Corning is leveraged below the industry average of 0.3, thus indicating that it has been mostly able to grow organically. There is, however, a significant increase in 2012.
The interest coverage ratio is used to determine how easily a company can pay interest on outstanding debt. The lower the ratio, the more the company is burdened by debt expense. When it is 1.5 or lower, it isn't a good sign. The company may not be able to meet its interest expenses. Looking at the tables there is no problem here for Corning.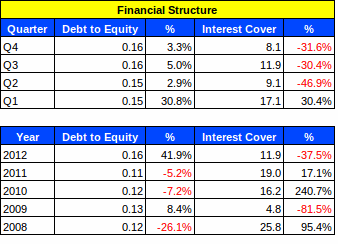 Note: In our calculations for Debt/Equity only interest-bearing debt has been used.
Price ratios:
One of the price ratios I prefer is book value, because in most cases, it is a good indicator to see if a company's market value is under- or overpriced. Book value can also be used to compare competitors. With tangible book value we don't include the intangible assets, like goodwill and trademarks, in the calculation. Based on the current market price of about $12.60, we get a discount on book value of about 14%. Or a Price-to-Book (P/B) of 0.86. This is well below the industry average of 1.5. What is also interesting to see is the trend in tangible book value. Here we see that it has been growing more than 19% per year since 2008. However, in 2012, we again see a stagnation.
The Price-to-Earnings (P/E) ratio is a "multiple" of year earnings, so for a P/E of 10, an investor is willing to pay $10 per $1 of earnings. P/E is calculated by dividing the share price by the EPS for a particular year. As is shown in the table below, for the last couple of years, Corning's P/E has increased with the decline in EPS. The P/E for 2012 is around 11, still well below the industry average of 18.1.
To get a complete picture, we will also look at the price-to-cash flow ratio. In contrast to earnings, sales and book value, companies have a much harder time manipulating cash flow. Cash flow multiples therefore could provide a more accurate picture of a company. To be even stricter, we will use the measure of free cash flow, which reduces operating cash flow by capital expenditures. As shown in the tables, this figure has improved very well over the last couple of years. At current levels, it can be considered attractive.

Profitability Ratios:
Profit margin is an indicator of a company's pricing strategies and how well it controls costs. The average profit margin for the technology sector is 11.5%. As can be seen in the tables, this is a strong point for Corning, as it is currently almost double that of the industry. Corning's profit margin has however been declining in the last couple of years with the decline in EPS.
Return on equity (ROE) is calculated by dividing net income by equity for a full year. Looking at the trend allows an investor to determine the change in profitability over a given period. As shown in the year table, Corning's ROE has declined significantly over the analyzed period. It currently is below the industry average of 13.1% with a not so strong 8%.
The final indicator used is operational cash flow to sales ratio. Here we want to see the company's ability to turn sales into cash. The higher the number, the better. In the tables, we see that this ratio has stagnated over the last couple of years, but is still at a very impressive 40%. This is really a strong point and even with the decline in earning power, Corning is still able to have a strong cash flow.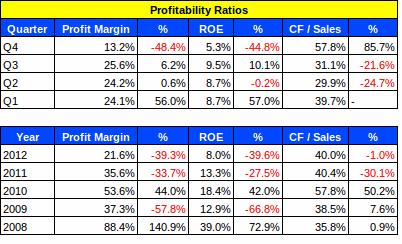 Liquidity ratios:
Quick ratio measures a company's ability to meet its short-term obligations with its most liquid assets. We get the quick ratio by subtracting inventories from the current assets and then dividing by the current liabilities. The higher the quick ratio, the better the position of the company. If the value is 1 or higher, it is an indication that short-term debt obligations can be met by the company's liquid assets. As is shown in the table below, Corning has a very high quick ratio of 4.4, it has also almost doubled it since 2008.
Current ratio measures both a company's efficiency and its short-term financial health. When it is above 1, it's an indication that the company is able to pay off its short-term debt, as we have already seen with the quick ratio. But if the current ratio is too high, in most cases above 2, or growing, it is an indication of inefficiency. It shows that money is tied up in inventory or with creditors and cannot be used to pay off the company's obligations. In the year table, we see Corning's current ratio growing from 2.25 in 2008 to 4.96 in 2012. This is not a positive trend at all. Because as the current ratio is increasing, we will also look at the inventory turnover days and debtor days.
Inventory turnover days show how long it takes for a company to turn its inventory into sales. High turnover days imply poor sales and, therefore, excess inventory. As shown in the table, this is not and never has been a strong point for Corning. Its turnover days have been growing since 2008. Worst case, a product is sitting in inventory for almost 3 months, not what you call Just-in-Time logistics.
Debtor days is the average number of days that a company takes to collect cash for products sold on credit. High debtor days show that a company is taking longer to collect money. As shown in the table, for Corning this figure has increased about 20% in the last year. Again, not a good sign, but at least it seems to be stabilizing in the last quarters.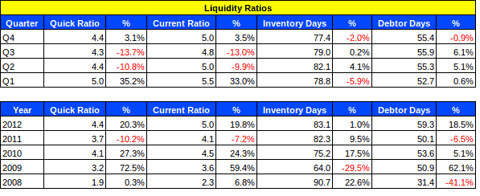 Conclusion:
If we look at the financial structure of the company, we see that it does not use a lot of debt to grow its business. Most of the price ratios are showing a very positive trend over the last 5 years, especially if we compare them to the industry averages. For the efficiency ratios, we have to conclude that the trends are not as positive. For most of the ratios, the company is still doing better than the industry, but it seems to have more and more difficulty in managing its business as efficient as it used to. This is also clearly indicated with the growing liquidity ratios.
To come to an overall conclusion, I have summarized all the per share items in this analysis in the graph below. Corning's market price has been declining since 2008. It has however added to its underlying tangible book value in the same period. The double digit dividend growth in the last couple of years is very impressive, but it is not expected to continue at the current rate. Over the past 25 years, we still see an impressive 7% stable dividend growth rate, which accounts for the calculated equity value in the graph.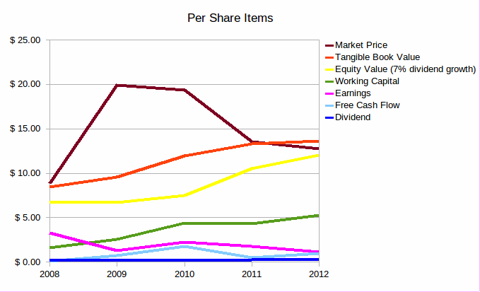 The $5.26 per share working capital, together with its strong cash flow and annual dividend of about 2.86%, makes Corning look very attractive. However its declining EPS is a cause for concern, especially the fact that we have not detected any upward change. Therefore considering the complete analysis, I believe that this stock could create an opportunity for a value investor. I would however recommend further investigation into current market conditions and its impact on Corning's overall growth potential.
Disclosure: I have no positions in any stocks mentioned, but may initiate a long position in GLW over the next 72 hours. I wrote this article myself, and it expresses my own opinions. I am not receiving compensation for it (other than from Seeking Alpha). I have no business relationship with any company whose stock is mentioned in this article.