The news out of Cyprus has put pressure upon not only Europe, but Asia too. The selling will hit US markets too as the risk-on trade takes a back seat at least for a bit. We may be getting the correction we have been looking for, although this is more a sell for what the deal could possibly indicate rather than what the deal does. It is a deal which sets a bad precedent as overnight lawmakers moved to pass a bill to tax savings accounts of citizens to raise around half of the needed funds to get a bailout, and the fear is that a run on the banking system shall occur. Also of consequence to investors is whether this marks a new financing mechanism for the EU when it comes to raising funds for these bailouts.
It is but a $5 billion "steal" but already today has had major consequences for world markets and caused many times that in losses for investors. If this was a one off event, then it sure was a pricey one, and if not then we may be going back to a world not concerned with the return on their capital so much as the return of their capital...a road we would rather not venture down once again.
Chart of the Day:
We would like to point out that there is very little difference between this tax on citizens of Cyprus and the tax the US government forces upon savers when they lower the interest rates charged to banks and thus the interest rates those banks are willing to pay depositors for their capital. In Cyprus the citizens lost buying power in one day as the government came in, in America it is the loss over time as the money is cheapened by new printing. There are many ways to do it, but some moves are made in the shadows and others just blatantly.
A big move in the currency market...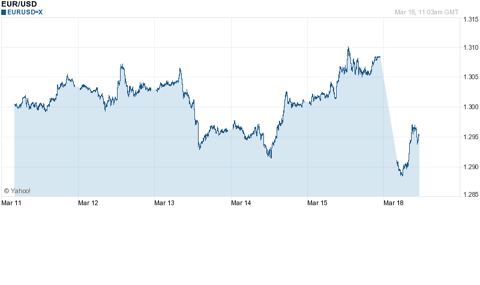 Chart courtesy of Yahoo Finance.
We have economic news due out today, and it is as follows:
NAHB Housing Market Index (10:00 AM EST): 48
Asian markets finished sharply lower today:
All Ordinaries - down 1.99%
Shanghai Composite - down 1.68%
Nikkei 225 - down 2.71%
NZSE 50 - down 1.05%
Seoul Composite - down 0.92%
In Europe markets are trading lower this morning:
CAC 40 - down 1.12%
DAX - down 0.96%
FTSE 100 - down 0.76%
OSE - down 0.74%
Technology
Looking at the technology space, Zynga (NASDAQ:ZNGA) is a name investors want to steer clear of if we are entering a correction and a risk-off phase in this bull market. Stocks having risen on news with positive developments in their business plan are worth buying on weakness and sometimes even keeping in the portfolio as one decides to ride out the storm, but holding onto a name rising on the hopes of new legislation is precisely the wrong thing to do in a risk-off environment. We would expect to see a correction in Zynga shares today outpacing that of the general market, and if we go into a 5-10% correction we could easily see shares outpacing that by a multiple of 1.2-2x.
Retail
The story at Ulta Salons (NASDAQ:ULTA) has certainly changed over the past few months and rightfully so. First the Chief Executive Officer left to work for another retailer and the most recent quarterly results left investors worried about the future. First the company still does not have a permanent CEO and although they did beat estimates on both the bottom and top lines this quarter they forecast disappointing numbers moving forward. Revenues will be just below estimates, however the EPS figure is estimated by the company to be well below what the Wall Street analysts were projecting which shows costs rising and putting pressure on margins. Sterne Agee did put out a 'Buy' rating after the news but unless this is an under promise and over deliver situation then one should definitely approach it cautiously.
Entertainment
The recent events at Carnival (NYSE:CCL) have to be troubling for investors as there is a ton of bad press out there and these events are not occurring on one boat or appearing to be caused by the same issue across the board but just an overall lack of upkeep. We cannot remember a time when the entire cruise industry had as many issues with boats breaking down and such as we are seeing now, let alone just one company! The food poisoning issues and dumping at sea were industry-wide events, but the problems we are witnessing now are self-inflicted and will cause the company to have to invest heavily on maintenance and upkeep. These are the types of events which happen when one skimps on the upkeep of assets, and thank goodness that it is not allowed in the airline industry. One thing to consider is what happens if these types of breakdowns happen during hurricane season in the path of a hurricane? That might lead to new regulations and safety measures for ships and who knows what that might do to costs for the industry. Just a random thought, but absolutely possible if these types of issues persist and become "normal" over the next few months.
Watch list, What to Watch for Entry Points on a Correction:
Vodafone (NASDAQ:VOD) was a name we were very close to pulling the trigger on before the news that Verizon was looking at buying the rest of Verizon Wireless that they do not own and were even considering a merger between the parents to accomplish this. That pushed shares up off of their 52-week lows and forced us back to our seats. On a 5-10% pullback this might just be the name we add to our retirement portfolio for the dividend with the potential for future capital gains from a sale of Verizon Wireless or the whole company to Verizon in the back of our minds. Make no mistake though, it is a dividend play first and foremost with any potential deal simply being icing on the cake. We want to be buyers in the $25-26/share areas.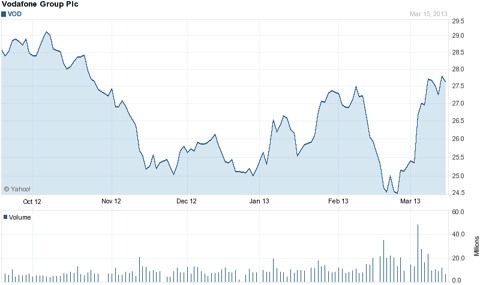 Chart courtesy of Yahoo Finance.
Also of interest is BB&T (NYSE:BBT) which saw shares get hit and investor skepticism grow as they were the only big bank not to get their capital plans approved last week. It is interesting because BB&T is considered among many to be one of the healthiest banks out there, and after looking at the numbers it appears that maybe they overplayed the hand they were dealt. It was a good hand, no doubt, but this is probably just the Feds telling them to play it slow and not be so aggressive, which we respect. We also respect the bank's management team and have liked this name since the end of the financial crisis. The franchise they have built is second to none in many areas where they compete and their service divisions put those of their competitors' (the really big ones too) to shame. A pullback here is to be viewed as a buying opportunity and if you are already a shareholder then it should be viewed as a chance to add to your position rather than a negative event. We are buyers on any move into the $28/share area.
Disclosure: I have no positions in any stocks mentioned, and no plans to initiate any positions within the next 72 hours. I wrote this article myself, and it expresses my own opinions. I am not receiving compensation for it (other than from Seeking Alpha). I have no business relationship with any company whose stock is mentioned in this article.