Second Derivative Plays for Oil and Natural Gas?
With summer driving season just around the corner a few contrarian plays came to mind after perusing the performance dregs from the last few years. Oil and especially natural gas prices had been under pressure with the weakness of the world economy, domestic supply and demand realities, and the cooling economy of China. Looking ahead - demand will seasonally increase soon in the backdrop of recent firming up of natural gas and oil prices. Here are two ETFs found on the trash heap that may benefit, as they both have holdings, which are directly or indirectly affected by oil and natural gas prices.
Market Vectors Russia ETF Trust (NYSEARCA:RSX) This ETF, which commenced trading in late September of 2007 has gathered some healthy $1.6 billion in assets. The fund strives to be a pure play in commodity rich Russia with over 95% of holdings domiciled in companies located in Russia. According to the fact sheet, "the Russia ETF seeks to replicate as closely as possible the price and yield performance of the Market Vectors Russia Index." The index ticker is MVRSXTR.
The RSX fund holdings number just 47 companies and the expense ratio comes in at 0.62%. The RSX ETF also has a bit of yield with a trailing twelve-month yield paying around 2.5%. The RSX Market Vectors Russia ETF has a healthy concentration of energy holdings with about 42% in that sector. More information, fact sheet, etc. for the RSX ETF is available here.
See below for the sector weights of RSX: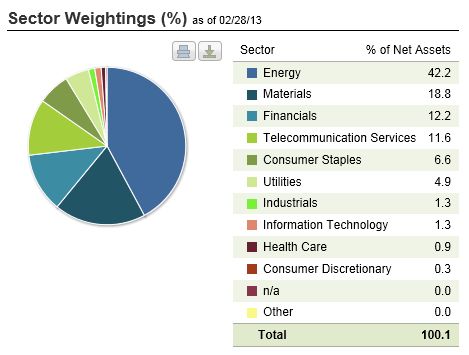 General Outlook for Russian Economy:
The Russian Federation economy according to the OECD, is expected to accelerate to over 4% growth in 2013 and beyond. More from the OECD below:
"Following a soft patch in the second half of 2012, growth is projected to pick up again to around 4% in 2013 and 2014, underpinned by increasing oil prices and easing headwinds from the euro area crisis. Gradual disinflation will continue after a temporary rebound of inflation due to the delayed increase of administrative prices and food price increases. The budget will be in surplus, but the non-oil deficit will remain substantial. The large current account surplus will diminish slowly."
With the backdrop of a better economy on the horizon and a stronger footing for oil prices, the RSX fund has regained some price strength from the lows of mid 2012. Here is a 3-year chart (Yahoo Finance) for the RSX Market Vectors ETF.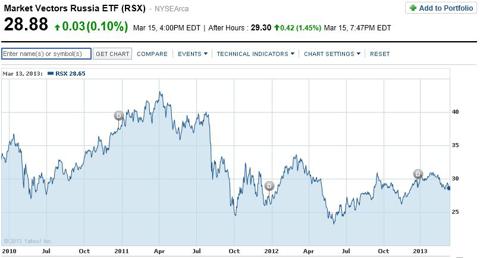 Guggenheim Solar ETF (NYSEARCA:TAN) This niche ETF began trading mid April of 2008. The fund "seeks investment results that correspond generally to the performance, before the Fund's fees and expenses, of an equity index called the MAC Global Solar Energy Index." The index ticker is SUNIDX. The fund invests in common stocks, ADR's (American Depository Receipts) and GDR's (Global Depository Receipts). The fund has caught on with speculative investors and has grown to around $66 million in market cap. The TAN ETF pays an annual "dividend" (return of capital) with its latest trailing twelve-month yield coming in at about 8.3%. More information on the distributions is available here. Information, fact sheet, etc. for the Guggenheim TAN Solar ETF is available here.
The holdings of the TAN Solar ETF number just 27 names. The expense ratio is currently capped at 0.65%. From the folks at Guggenheim this niche index seeks to track a broad spectrum of companies engaged in the solar power industry. Guggenheim below describes the index constituents:
"...companies that produce solar power equipment and products for end-users, companies that produce fabrication products (such as the equipment used by solar cell and module producers to manufacture solar power equipment) or services (such as companies specializing in the solar cell manufacturing or the provision of consulting services to solar cell and module producers) for solar power equipment producers, companies that supply raw materials or components to solar power equipment producers or integrators; companies that derive a significant portion of their business (measured in the manner set forth below under "Index Methodology" section) from solar power system sales, distribution, installation, integration or financing; and companies that specialize in selling electricity derived from solar power."
Top Five Holdings for Guggenheim Solar ETF:
GCL POLY ENERGY HOLDINGS LTD at 10.3%
First Solar (NASDAQ:FSLR) at 8.08%
SunPower Corporation (NASDAQ:SPWR) at 7.88%
MEMC Electronic Materials Inc (WFR) at 7.39%
Power-One Inc. (NASDAQ:PWER) at 6.19%.
Impact of Holdings and Correlations:
The heavy weightings with companies such as solar power equipment supplier First Solar make this an especially volatile ETF. Note that the Guggenheim Solar TAN ETF also had a 1 for 10 stock split in February of 2012. These sub sector names got crushed by cheap natural gas prices. The electric grid in developed nations is typically powered by natural gas - and when prices plummeted, the punishment ensued.
The Guggenheim Solar ETF's correlation with major holdings such as First Solar is very strong - at over 90% over a 3-year period. The 3-year correlation with solar power system provider SunPower is over 85%.
Outlook:
In summary, the general correlation with spot natural gas prices can significantly impact the fund's holdings. Cheap natural gas prices can make the conversion to solar power uneconomical. In future years costs for adoption should likely get cheaper with newer technology, economies of scale, and the availability/continuation of juicy tax breaks. Higher natural gas prices of course, would positively impact this industry and many of the holdings for this ETF.
3 Year chart of TAN - Guggenheim Solar ETF, Natural Gas Futures, and First Solar: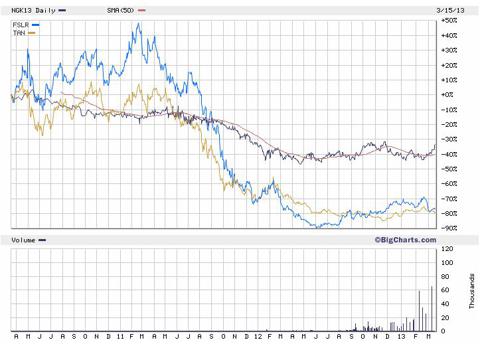 Summary:
With the recent uptick in gas and oil prices these funds may make for an interesting "flyer" in a small strictly speculative portion of a diversified portfolio. The punishment the last few years that these ETFs have endured may pique the interest of the true contrarian who may wish to kick the tires and do more research. Remember that thorough due diligence in any investment is of paramount importance for any successful investor.
Disclosure: I have no positions in any stocks mentioned, and no plans to initiate any positions within the next 72 hours. I wrote this article myself, and it expresses my own opinions. I am not receiving compensation for it (other than from Seeking Alpha). I have no business relationship with any company whose stock is mentioned in this article.