In this article I discuss the benefits and risks of investing in Russia. Since its 1995 inception the RTS Index of 19 large cap stocks traded in Russia has been one of the best performing indexes in the entire world increasing in value from 100 to roughly 1500.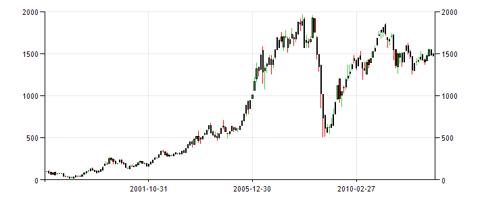 Despite this enormous increase in value Russian stocks are incredibly inexpensive, which is probably due to Russia's inability to shed its communist image which leads investors to fear government over-regulation and taxation. It is my contention that this has created an enormous opportunity for investors, although this opportunity is not without red flags.
1: A Brief Description of Russia's Economy
Russia's economy is largely commodity based, which is not surprising given its geographical size. Consequently investors who are bullish on commodity prices should consider investing in Russia. Here are a few facts:
A: Russia is the world's second largest oil producing nation, next to Saudi Arabia, at just over 10 million barrels per day. Russia's oil production is expanding, although the rate of expansion has slowed as of late.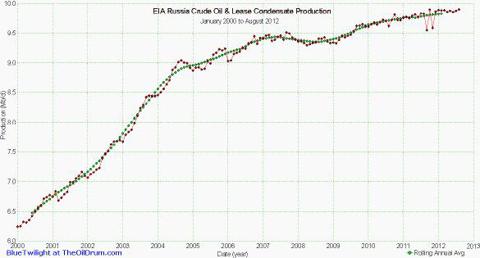 B: Russia is also the world's largest or second largest producer of natural gas, in line with the United States, having produced 670 billion cubic meters. Natural gas production in Russia is far more lucrative than it is in the United States given that Russian natural gas is primarily exported to European and Asian countries, where natural gas prices are much higher than they are in the United States.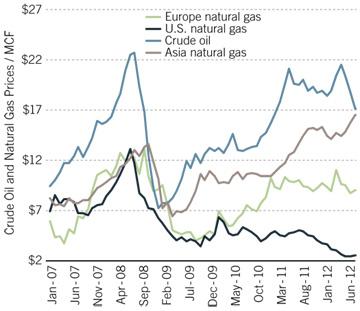 C: Russia is the world's leading producer of nickel at 280,000 tons.
D: Russia is one of the world's major wheat producers, having produced over 50 million tons in 2011
E: Other commodities produced in Russia include timber, platinum, palladium, and coal.
A major criticism of Russia's economy is that it is far too heavily concentrated in the commodity sector. While this is true investors should take note of the fact that Russia has a fairly large defense sector that employs nearly 3 million people (out of a population of about 140 million). Russia also produces 7% of the world's automobiles. Furthermore, while Russia's information technology sector is relatively small it has grown substantially during the 21st century. According to Wikipedia Russian software exports grew from $120 million in 2000 to $3.3 billion in 2010. This is small compared to Russia's $1.86 trillion economy, yet it is not insignificant.
That being said investors who are not bullish on commodity prices will not find many exciting opportunities in Russia. However, for investors who are bullish on commodities and on Russia, there are many investment opportunities that are not commodity related. Russian companies such as the major telecommunications service providers VimpelCom Ltd. (VIP) and Mobile TeleSystems OJSC (NYSE:MBT), as well as Russia's major search engine provider with 60% market share, Yandex (NASDAQ:YNDX) (i.e., the Russian Google) should perform very well.
2: Russian GDP Growth
Russia's GDP growth has been among the highest of any country in the 21st century.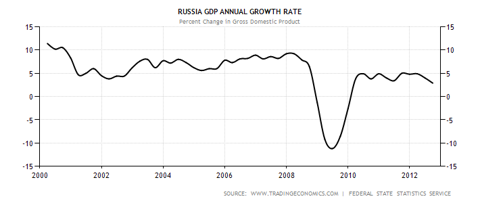 This growth is reflected by the growth of Russia's GDP/capita.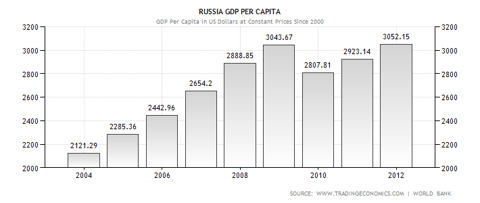 It could be argued that much of the growth in Russia's GDP is simply a reflection of rising commodity prices. This claim is completely justified given the correlation of Russia's GDP growth and the Reuters Continuous Commodity Index.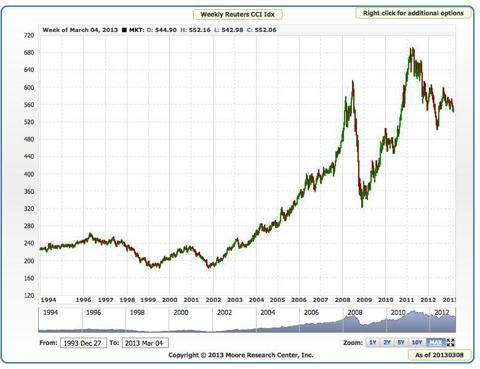 Still, investing in Russia is more than just a proxy for investing in commodities. This is evident in the fact that the Russian stock market has markedly outperformed the Reuters CCI. There are reasons for this, which I outline in the next couple of sections.
3: Russian Fiscal Policy
Russia's fiscal policy is admirable, and investors who are concerned with the enormous budget deficits and soaring government debts in Western nations would be wise to consider investing in Russia. Russia's government was forced into a policy of fiscal responsibility after its 1998 default, although the results have been evident and long lasting. The Russian government has one of the most responsible budget policies of any sovereign government, with a debt to GDP ratio of under 10%. Furthermore this ratio has been declining longer term, although it has risen slightly in a negligible way over the past few years.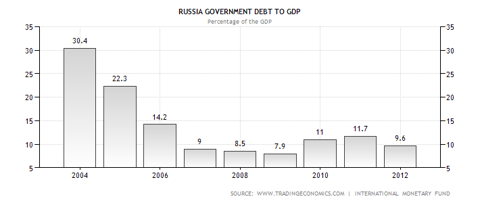 4: Foreign Reserves
Russia also has a positive balance of trade, although as the following chart reveals this seems to be largely a result of rising commodity prices.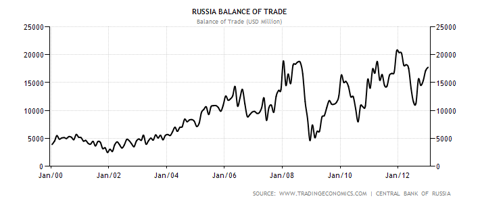 Nevertheless Russia's trade balance remained positive even when commodity prices collapsed in 2008-9. I suspect that this is largely due to the fact that foreign investors have been suspicious of holding Russian bonds and the Russian Ruble so soon after the 1998 bankruptcy. Nevertheless this has increased Russia's savings and consequently their economic potential.
As a result of Russia's positive trade balance, the Bank of Russia has been able to accumulate enormous foreign currency reserves.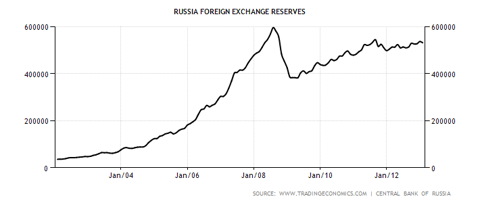 Russia's foreign currency reserves are fourth only to China, Japan, and Saudi Arabia. Russia's foreign currency reserves consist of the typical mixture of the major currencies with an emphasis on the Euro, however nearly $50 billion of their $526 billion of total reserves are in gold. Russian policy makers are not shy in expressing their concerns over the future viability of Western currencies. On February 11, 2013, Scott Rose and Olga Tanas reported the following:
"The more gold a country has, the more sovereignty it will have if there's a cataclysm with the dollar, the euro, the pound or any other reserve currency," Evgeny Fedorov, a lawmaker for Putin's United Russia party in the lower house of parliament, said in a telephone interview in Moscow.
Furthermore, at the most recent G20 meeting, Russian finance minister Anton Siluanov spoke out against the policies of currency devaluation currently upheld by developed nations.
Consequently it should come as little surprise that Russia has been the top gold importer over the past several years (China has been the top accumulator of gold, however much of this accumulation has been the result of its purchasing of its internal gold production).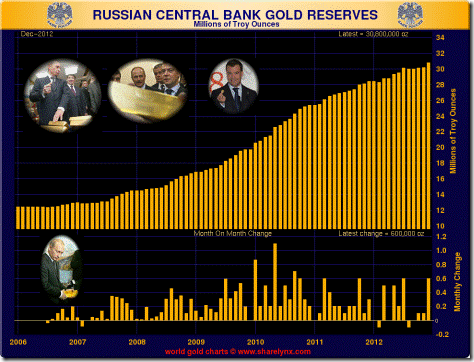 5: Monetary Policy and Money Supply
Russia's monetary policy is a mixed bag for investors. On the one hand Russia has avoided the zero (or near zero) interest rate policy that most Western central banks have adopted. Currently the Bank of Russia's benchmark interest rate is 8.25%. Despite this rate appearing relatively high compared with those of Western central banks, it is historically low, as Russia had shockingly high interest rates in the triple digits in the 1990s in order to combat inflation.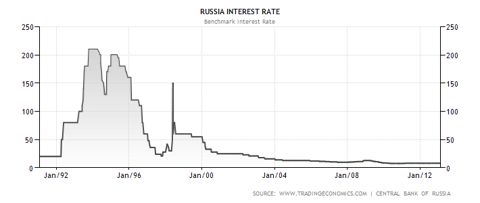 Nevertheless the 8.25% benchmark interest rate is still negative when it is compared with the CPI, which has been increasing at nearly 10% per year.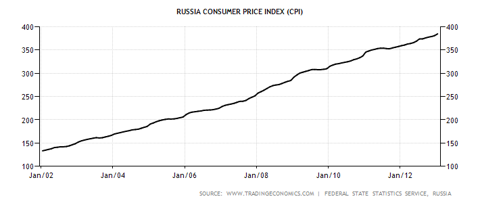 As one would expect with such a high CPI Russia's monetary base and money supply have been skyrocketing as well.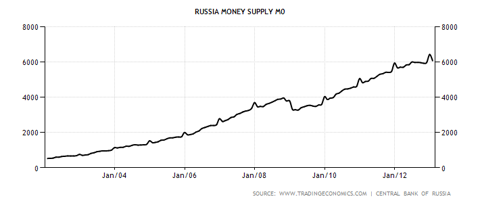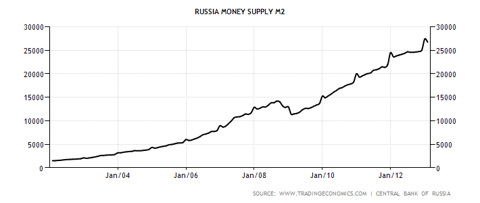 (Money supply data is in Billions of Rubles)
As a result inflation continues to be a problem in Russia, albeit a milder one than it experienced in the 1990s.
6: Demographics
From an investor's standpoint the least attractive feature of the Russian economy is its demographic situation. Although the Russian population has leveled off recently it has generally been in decline.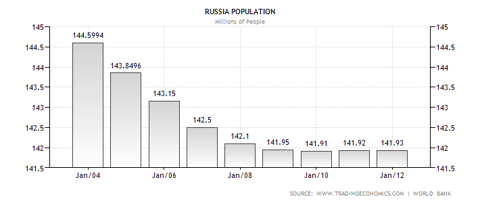 Furthermore, according to Smaribess the Russian death rate far exceeded its birth rate (2.2 million to 1.5 million) in 2011. What makes matters worse is that much of Russia's population is over the age of 50.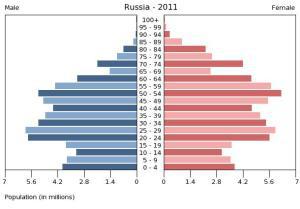 This sort of data tends to coincide with credit contraction and a declining economy. Fortunately for Russians this has been overcome by Russia's commodity-based economy, which has benefited from the ongoing secular bull market in commodity prices. Not only has the commodity boom benefited Russian exports, but it has attracted immigrants looking for economic opportunities. Russia currently has the second highest immigrant population in the world, and the inflow of immigrants into Russia has been largely responsible for stabilizing the Russian population.
7: Conclusion
Here are a few summarizing remarks:
A: Russia's economy is heavily based in commodities, and your decision to invest in, or to avoid investing in Russia should largely be based on your opinion on the future of commodity prices.
B: Russia's economy is growing very rapidly, but again this is largely due to the rise in commodity prices.
C: Unlike most Western nations, Russia has a conservative fiscal policy and a positive balance of trade.
D: Russia has fairly high inflation, although the Bank of Russia has one of the world's highest benchmark interest rates in place to combat this.
E: Russia's demographics are awful and they will likely suffer from a declining population in the future. However immigrants interested in commodity-related economic opportunities see Russia as an ideal location to relocate.
The Russian economy appears to be extremely promising for investors, although it is not without its problems. If you are not deterred by these problems, consider purchasing shares in the Market Vectors Russia ETF (NYSEARCA:RSX) or the Market Vectors Russia Small-Cap ETF (NYSEARCA:RSXJ). Both funds trade at only a slight premium to book value and with single digit P/E ratios. RSX has an especially high commodity component that exceeds 50% of the fund. If you are bullish on Russian industry or the Russian consumer consider RSXJ.
If you are deterred by these problems Russia still holds investment opportunities. Because investors are largely skeptical of the benefits of owning Russian stocks there are several global companies that trade in Russia that are priced at huge discounts to their Western counterparts. Take Lukoil (OTCPK:LUKOY) as an example. Lukoil is an integrated oil company that trades at just 2/3 of its stated book value with a 4.6 P/E ratio and a 5.6% dividend yield. Compare this to an American integrated oil company such as Chevron (NYSE:CVX) which has lower oil reserves than Lukoil. It trades at 1.7X its book value, 9X earnings and pays a dividend of only 3%.
Disclosure: I have no positions in any stocks mentioned, but may initiate a long position in RSX over the next 72 hours. I wrote this article myself, and it expresses my own opinions. I am not receiving compensation for it (other than from Seeking Alpha). I have no business relationship with any company whose stock is mentioned in this article.