Procter & Gamble (NYSE:PG) is a popular dividend income stock. The company offers a secure dividend to investors and a long history of increasing that distribution. It has been raising its dividend since 1957. The current dividend is $2.25 (2.9%). The payout ratio is a secure 50.0%. While this is toward the high side of its historic .40% payout average, it is still well within a comfortable level.
PG shares gapped up on January 25, 2013 from their previous day close of $70.42 to finish at $73.25 for the day. It continued to advance to a high of $77.38 on February 19, 2013. It has traded fairly flat since then, having pulled back slightly, closing this week at $76.34.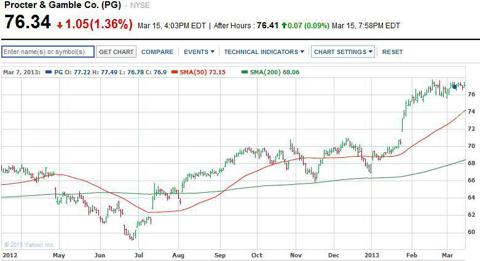 Recently, some analysts have been saying PG shares have gotten ahead of their valuation. A look at the price chart with the January up-gap and rapid rise do suggest a bubble may have formed. My recently developed YDP Chart format will help give a clear picture of whether this stock is significantly ahead of its traditional yield valuation. For those not familiar yet with YDP charts, I refer you to my introductory article on YDP chart analysis and its precursor article with several YDP chart interpretation examples .
The YDP view shows that historically, yield has remained fairly flat as share price has advanced in correlation to rising dividend distribution. For the period from 2003 until the 2008 financial crisis, yield only crept up from 1.7% to 2.1%. The price plunge, against a background of continuing rising distributions, drove the effective yields 3.4%. Prices and corresponding yields adjusted to the post 2008 market environment over the next year to establish a new benchmark yield in the 2.8% to 3.2% range. The yield curve flattened and resumed its valuation authority, reflecting market pricing based on yield as the dominant controlling factor. A careful look at the YDP chart shows share price growth actually lagged dividend distribution increases from early 2011 until mid 2012. This is evidenced by the slightly downward drift of the yield curve during this period. The January up-gap and advance have only restored the yield curve to its post 2008 shock levels. It is not a bubble.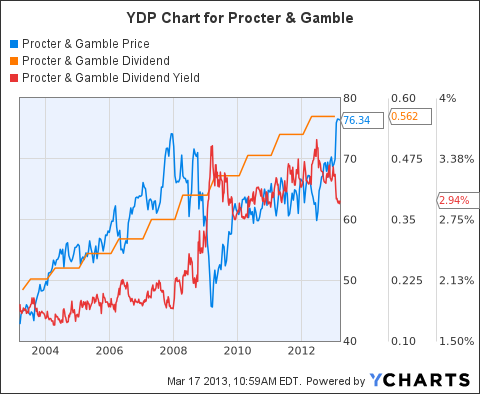 In conclusion, PG shares have a long history of pricing based on yield, with share price advancing in correlation to distribution increases so as to maintain a generally flat (to very slow up-trending) yield. This is in conformance with the mathematical formula Y = D/P (with Y for yield, D for dividend distribution, and P for share Price). The YDP chart provides a clear visual record of these 3 elements and their historic correlations. It clearly shows Procter & Gamble has a strong and consistent history of the market basing valuation on yield, holding the yield constant as price and distribution advance in proportion, all in accordance with Y = D/P.
PG is not in a bubble or overvalued at this time. The recent strong advances have only served to bring price and dividend yield back into post 2008 shock benchmark correlation with dividend distribution levels. In fact, the anticipated traditional April dividend increase suggests room for further advance in share price.
Disclaimer: I am not a licensed securities dealer or advisor. The views here are solely my own and should not be considered or used for investment advice. As always, individuals should determine the suitability for their own situation and perform their own due diligence before making any investment.
Disclosure: I have no positions in any stocks mentioned, and no plans to initiate any positions within the next 72 hours. I wrote this article myself, and it expresses my own opinions. I am not receiving compensation for it (other than from Seeking Alpha). I have no business relationship with any company whose stock is mentioned in this article.