First-quarter earnings reports will shortly be upon us. Given what banks have been going through over the past year, the coming reporting season will be more important than usual, particularly since some large banks have already said that their results were decent for the first two months. Investors, as is their wont, will be especially interested in credit trends. But, oddly, not many analysts do a good job analyzing a given bank's credit picture. Too many rely on bogus analytical shortcuts, such as comparing reserve levels to nonperforming loans. (I'll explain why that makes no sense in a minute.) Others focus too much on increases in nonperforming assets or on net chargeoffs.
In any event, in analyzing a bank's credit picture, it can be easy to arrive at conclusions that are misleading or just plain wrong. To help you avoid that, I hereby present the following primer on loan loss reserves. Don't sigh. It might seem tedious now, but it should help you a lot as you go through bank earnings reports in coming weeks and read the associated misguided commentary from some analysts.
To begin with, let's define some terms:
First, the loan loss reserve (or allowance for loan losses) is a contra-asset account on a bank's balance sheet that is netted against gross loans. Each quarter the loan loss reserve rises by the amount of the loan loss provision (an expense item; more about it in a minute) and reduced by the level of net chargeoffs.
Second, the loan loss provision is an expense item that adds to (or can subtract from) the loan loss reserve. It's determined after management reviews its loan book and determines the appropriate level of reserves. At some banks, at some point in the economic cycle, loan loss provision can even be negative, meaning it can add to pre-tax income.
Third, non-accrual loans are generally loans that are 90 days past due, not deemed in the process of collection. A loan can be placed on non-accrual status before it becomes 90 days past due if certain factors indicate it will become so in the future. "Non-accrual" means the bank no longer accrues interest from these loans into income even if, technically, the loan is still paying. In those cases, banks can either take the cash received into earnings or apply it to reduce the principal balance. Most banks don't disclose the amount of cash interest received from non-accual loans each quarter, although we strongly encourage them to do so. Such disclosure would be a helpful indicator of the quality of a bank's non-accrual book. (Wells Fargo provided such information to its great advantage during the last credit cycle.)
Fourth, impaired loans are a subset of non-accrual loans. They tend to be larger commercial loans (size varies by bank) which have established probable and observable credit weakness. Impaired loans are accounted for under FAS 114 (more on this later).
Fifth, restructured loans are loans whose original terms have been changed. Loans that have been restructured to a below-market rate will stay classified as restructured until they are paid off. Loans restructured to a market rate will be returned to the performing category once they've stayed current for a given period, typically six months. Most banks take cash received on restructured loans into income.
Sixth, non-performing loans are the sum of non-accrual and restructured loans. It is important for analysts to distinguish between non-accrual loans, impaired loans, and restructured loans, since potential future losses can vary significantly among the categories.
Seventh, net chargeoffs are the difference between a bank's gross chargeoffs and any recoveries (partial or full) on loans where cash proceeds exceed the written down value of the loan as part of a settlement. A bank's net chargeoffs are subtracted from its loan loss reserve, or added if there are net recoveries.
Eighth, other nonperforming assets are assets the bank has taken possession, typically through foreclosure. Expenses paid to maintain these assets (property taxes, for instance) are operating expenses, as are any writedowns or losses from the assets' disposition. Losses from other nonperforming assets (also called Other Real Estate Owned, or OREO) cannot be deducted from the loan loss reserve because they are not loans.
Finally, nonperforming assets are the sum of nonperforming loans plus other non-performing assets.
O.K. With terms out of the way, let's see how all this can work—and how it can vary from bank to bank. Table 1, below, shows the non-performing loans and assets at First Horizon and Fifth Third over the last three years.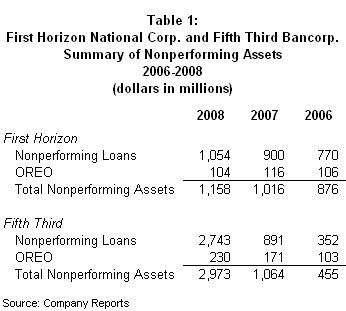 Note that at the end of 2006, Fifth Third had half the level of problem assets of First Horizon, but by the end of 2008, Fifth Third's problem asset total was almost three times higher than First Horizon's.
Next, Table 2 shows chargeoff at the two companies over the same period: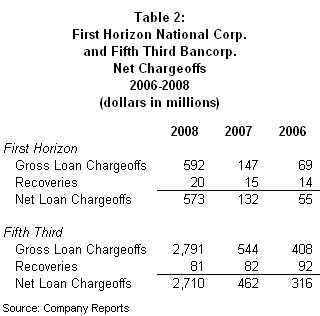 Let's take a look at how banks decide when to charge off a problem loan. To begin with, the method varies by loan type. Small-dollar homogenous loans, such as consumer and small-business loans, are automatically charged off after a fixed period of time. (For example, most card lenders charge off credit card loans after 120 days, except in the case of bankruptcy.)
But for larger commercial loans, the decision isn't so automatic. First, it depends on whether the loan has already been classified as an impaired. According to FAS 114 the amount of chargeoff of an impaired loan is the difference between the outstanding loan balance and the net present value of the loan's expected cash flows or the loan's secondary market value. Non-impaired commercial loans, by contrast, are charged down to estimated principal recovery values. Therefore, impaired loans typically suffer higher writedowns because of the net present value treatment.
So as investors try to estimate the future loss content of a bank's nonperforming loan book, they need to distinguish between how much of the book is impaired and how much is non-impaired. In the example we're using, both First Horizon and Fifth Third are among the most aggressive banks at applying FAS 114 in accounting for impaired loans. Banks that are not as aggressive at recognizing impaired loans would tend to record chargeoffs more gradually over more reporting periods.
So as you can see, an investor trying to estimate the adequacy of two banks' sets of loan loss reserves relative to their non-performers, but who doesn't take into account the differences in accounting practices at each company, does so at his own peril!
Next, Table 3 provides a different breakdown of First Horizon's non-performing loans: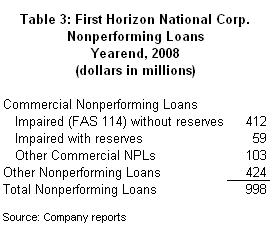 Each quarter, First Horizon provides helpful disclosure with respect to loan quality, particularly regarding its impaired loans that have been written down to net realizable value. Chart 1, below, provides an example: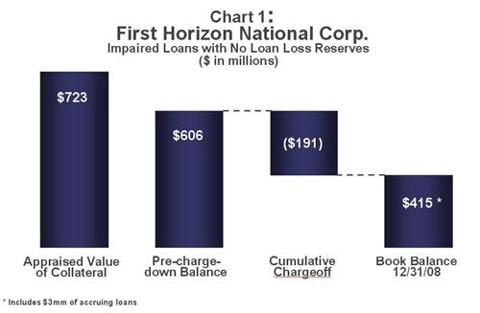 The company's accounting practice results in no reserves being set aside for the vast majority of impaired loans. However, in marking the loans down as part of the impairment proces, the company has reduced their carrying value by 32%. By contrast, it has set aside about a 20% reserve for the other commercial, non-impaired nonperforming loans. So the impaired loans have been more conservatively accounted for, even though not a dollar in reserves has been set aside for them. Investors who take shortcuts in evaluating asset quality and reserve strength (via one-size-fits-all reserve-to-loan ratios, for instance) may end up with faulty investment conclusions.
Our most important point so far: Future loss content of a bank's nonperforming loans varies tremendously by loan category and, even more, by the accounting principles applied!
Loan Loss Reserve Determination
Too many bank analysts use overly simplistic measures to evaluate the adequacy of a bank's loan loss reserve. The result is bad analysis.
A bank's loan loss reserve is adjusted each quarter based on the estimated interest loss in the company's entire loan portfolio, both performing and nonperforming. Given that, it makes no sense for an investor to evaluate the adequacy of a given bank's loan loss reserves by comparing reserves to just nonperforming loans or assets. It is beyond me why banks encourage such simplistic analysis by publishing this ratio in their press releases and financial statements.
Among the large banks, by far the best disclosure related to loan loss reserve breakdown comes from First Horizon. Once a year, the company provides in its 10-K the details behind the calculation of its loan loss reserve. All banks use the same general methodology for calculating reserves, but their specific calculations can differ in crucial ways. Anyone who solely uses a single, top-down ratio of reserves to nonperformers to determine reserve adequacy is likely making a serious mistake.
Back to First Horizon. In its 10-K, the company talks about its loss-reserve calculation:
"[Loss reserve for] smaller-balance homogenous loans (retail loans) is determined based on pools of similar loan types that have similar credit characteristics . . . First Horizon manages retail loan credit risk on a portfolio basis. Reserves by portfolio are determined using analytical models that incorporate various factors but not limited to, historical delinquency terms, experienced loss frequencies and expected loss severities. Generally, reserves for related loans reflect inherent losses in the portfolio that are expected to be recognized over the following twelve months."
In short, First Horizon, like all banks, reserves for coming-12-month expected losses by loan category. Table 4 shows the yearend balances of First Horizon's consumer loans by category, associated reserves, and reserve percentage, for 2007 and 2008.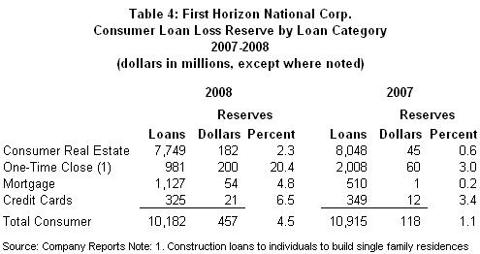 As you can see, in 2008, First Horizon's loss reserve for consumer loans increased approximately four-fold both in dollars and as a percentage of loans. But 41% of the consumer reserve increase was related to a single category: the bank's "one-time-close" portfolio (residential construction loans that become mortgages upon completion), even as the size of that portfolio fell by half. One-time-close is now a discontinued product at First Horizon.
Even more interesting is First Horizon's disclosures related to its commercial loan loss reserve. Like all banks, First Horizon grades each of its commercial loans on likelihood of repayment. Different banks use different systems; First Horizon uses a 16-point scale.
At First Horizon, the relationship manager responsible for the loan assigns the grade utilizing scorecards based on loan category, and which include objective and subjective measures. These grades are audited by a loan review function and by bank regulators.
Credits rated 1-11 are "pass," 12-rated credits are "pass-watch," 13s are "special mention", 14s "sub-standard", 15s "doubtful" and 16s "loss". The sum of the 13s, 14s, 15s, and 16s are referred to as "criticized" loans. In addition, there are loans classified as FAS 114 impaired loans.
Loss reserves are then established according to both loan grade and loan type, based on migration trends and expected loss severity, with the most recent experience weighted most heavily. Table 5 provides a breakdown of First Horizon's commercial loans by grade, with associated reserve dollars and reserve percentages, for 2007 and 2008.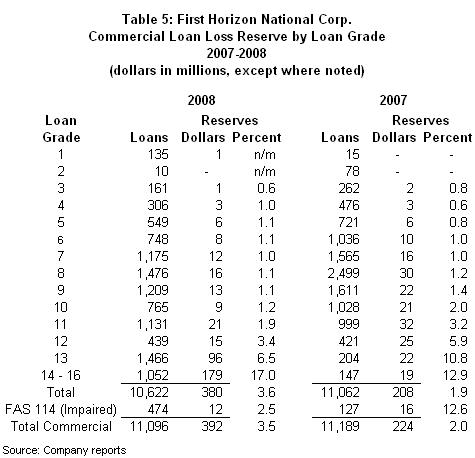 Take a close look. It shows that less than half (49%) of the company's commercial loan loss reserve at year end were for credits that are classified or impaired. And remember, the $1,526 million in classified and impaired loans is almost three times the $574 million of nonperforming loans. Yet for some reason, analsysts tend to pay more attention to non-performers. In fact, the bulk of future reserve additions will likely come from the larger bucket, classified and impaired.
The $168 million increase (75%) in First Horizon's commercial loan loss reserve in 2008 was driven more by the downgrade in ratings of performing loans and an increase in estimated loss severity than it was by an increase in reserves for the most problematic/criticized loans. And, again, commercial nonperforming loans total only about one-third of the classified loan total.
Moral of the story: It's not an increase in nonperforming loans that drives reserves higher at banks, using First Horizon's disclosure as the example; it's the downgrading of the performing portfolio and increasing loss severity that drives the commercial reserve higher! Nonperforming loan totals are a lagging indicator. So analysts who focus on the reserve-to-nonperforming loan ratio are simply mixing apples and oranges.
What's the point?
In any credit cycle, under current accounting practices, credit costs are front-end loaded. They are even more front-end loaded at banks like First Horizon and Fifth Third that make aggressive use of FAS 114. Investors who don't understand individual bank accounting practices are bound to underestimate the pace and magnitude of the credit recovery at banks when it arrives.