Over the last year, the market - measured by the S&P 500 - has provided some nice returns for investors. An investment in the SPDR S&P 500 ETF (NYSEARCA:SPY) would have returned nearly 11%, excluding dividends. The year-to-date return has been nearly 9.5%. While U.S. large-cap stocks in general have been rallying hard, one sector has lagged during the recent rally. Shares of energy stocks, measured by the Energy Select Sector SPDR Fund (NYSEARCA:XLE), have returned about 7.5% over the last year.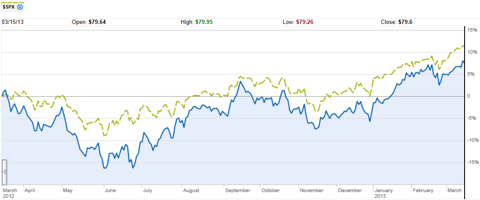 Within the energy sector, several solid companies look particularly promising.
National Oilwell Varco (NYSE:NOV), is a leading, worldwide provider of equipment and components used in the oil and gas drilling industries. The company designs, manufactures, sells, and services complete drilling systems, including offshore and onshore rigs, for oil and gas production.
National Oilwell Varco has over 50% market share in rig technology. As the company's backlog for new rigs is likely to peak this year, the company is turning to another area for growth. Floating, production, storage, and offloading (FPSO) ships offer an exciting frontier for the company. Management has the expertise and the industry relationships to successfully develop this formerly fragmented industry. In addition to new areas of growth, National Oilwell will continue to produce and service rigs for many years to come.
Shares of National Oilwell, down 12%, have lagged the S&P 500 and the overall energy sector over the last year. Expecting new rig orders to peak this year, investors are worried about future earnings growth and lower margins on FPSO ships. Investors aren't giving management much credit for being able to efficiently design, manufacture, and sell FPSO ships. National Oilwell trades at less than 12 times this year's earnings projections compared to an average P/E of 17.7 over the last 10 years. Shares are likely worth $90-$110 based on the company's earnings projections. National Oilwell has a dividend yield of 0.7%.
Shares of Phillips 66 (NYSE:PSX) haven't lagged the energy sector, up 88% in the last year. Still, shares appear to have more room to run. Phillips 66 was born in April 2012 as Conoco Phillips (NYSE:COP) completed a spin-off its refining unit. Like other refiners, Phillips 66 has enjoyed a great one-year run. Some refiners, like Phillips 66, are benefiting from using cheaper WTI crude oil to refine into gasoline, while higher Brent crude prices are keeping the price of the refined product high. This dynamic doesn't appear likely to change anytime soon. The key for Phillips 66 is to keep using "advantaged" crude to produce gasoline with high margins. To do that, Phillips 66 has invested heavily in infrastructure to transport WTI crude to its refineries.
Another catalyst for the stock may occur this year. Management has stated its intent to spin-off infrastructure assets into a master limited partnership, unlocking even more value.
Shares of Phillips 66 trade for 8.4 times this year's projected earnings. Wall Street sees Phillips 66 earning $7.40 per share in 2013. As long as the spread between WTI and Brent Crude keep refining margins fat, Phillips 66 should continue raking in profits. Management has made an increasing dividend a priority for the company. Currently, Phillips 66 yields 1.95%.
Some stocks are cheap for a reason, and such is the case with Hess Corp (NYSE:HES). Years of mismanagement, poor capital allocation, and cost overruns have depressed shares of the integrated energy company. A new day may be dawning for Hess shareholders. Elliott Management, an activist shareholder, has taken a stake in Hess. Elliott sees many opportunities to unlock value for shareholders. Elliott pegs the value of Hess at $95.70-$128.46. Shares currently trade around $72.50. One of the possibilities Elliott may be pushing is to break up the company into well-run manageable businesses.
Hess currently trades at 11.5 times this year's projected earnings, inline with its peers. However, earnings potential could be much greater with more effective management. Analysts see Hess earning $6.22 this year. With a dividend yield of only 0.6%, Hess needs to return more cash to shareholders. Hopefully more effective management will be a start.
The catalyst for shares of Hess will be if Elliott Management can begin implementing change at the company. The risk to the stock is that Elliott will be unsuccessful and the company continues on its current path. Hess is making some changes on its own with pressure from Elliott, but it may not be enough. Investors considering a position in Hess should first read Elliott's investor presentation at Reassess Hess, a website started by Elliott Management.
Shares of all three of these pure-play energy companies look like they have more room to run. I currently hold a position in all of them. Hess is the riskiest stock to own of the three. Elliott Management needs to be successful for future growth to be unleashed at full potential. With the energy sector lagging, investors may want to consider reallocating capital from some of the hotter sectors like consumer discretionary.
Disclosure: I am long NOV, PSX, HES. I wrote this article myself, and it expresses my own opinions. I am not receiving compensation for it (other than from Seeking Alpha). I have no business relationship with any company whose stock is mentioned in this article.
Additional disclosure: Mr. Constantino is a proprietary investor and does not provide individual financial advice. The stocks mentioned in this article do not represent individual buy or sell recommendations and should not be viewed as such. Individual investors should consider speaking with a professional investment adviser before making any investment decisions.