Monotype Imaging Holdings Inc. (NASDAQ:TYPE) reported FY 2012 revenue growth of 22% and EPS growth of 25%, aided by 64% growth in their Creative Professional segment. This performance beat estimates and caused analysts to ratchet up their estimates for the next quarter and for the year. This begs the questions - what's driving their growth and is it sustainable?
Before we examine the growth catalysts, a quick overview of their business is in order.
What does Monotype make?
It might come at a surprise that you are using their product as you read this article. This article is written in Helvetica font. It's one of the world's most popular fonts and it's owned by Monotype. Monotype is a Font Foundry with 18,000 typeface designs in more than 200 languages. They perform the artistic work of drawing original fonts and they develop the coding required to tell computer graphics cards and printers how to draw them and how to scale them. When you purchased the device you are using to read this article, part of your payment went to Monotype, so you can read text written with their fonts. Yet, that's not the only way they get paid, as I will explain later.
Their annual revenue is only $150M and their market cap $814M. However, they have been growing nicely, due to the success of two new growth segments. The chart below shows their annual sales trend going back to 2005. Notice that during the worldwide financial crises, their sales only dipped 15% - not shabby for a small-cap company. In fact, the company stated 85% of their revenue is recurring or predictable.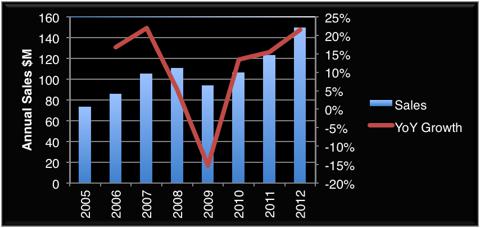 Management Team
The company's growth story, which I will explain shortly, is compelling. Yet, it is not what impressed me most about this little company. Rather, it is the management team. Since most of the information used to research a company is sourced from the management team via conference calls, 10Qs, 10Ks, etc., it's important to ascertain the quality of the management team before putting too much faith in what they say or publish.
When I evaluate the quality of a company's management team, I look for three things - experience, track record, and credibility. This team is very experienced (CEO has 30 years experience in the business) and understands the company and their market well. This is evident when listening to the calls.
However, it's their track record that stands out. When they took the company public in 2007, they were primarily a supplier of print drivers to the laser printer market. The management team had a vision for how to grow the business. They effectively used the funds from the IPO and cash flow from the legacy print driver segment to fund two growth segments and they now account for 60% of the total revenue.
One simple way to judge the management team's credibility is to determine if they are from the "under promise and over deliver" school of management. As shown below, there have not been any negative earnings surprises in the past four quarters.

Another way to judge the management team's credibility is to go back a few years, listen to their calls and read the 10Qs and Ks, identify the goals they established, and then determine if they have been able to achieve those goals. Again, their track record shows they have been successful achieving their goals.
Nonetheless, I do have some criticisms of this team. They can improve their communication of the business performance. For example, on the calls and investor presentations, they describe the business operating in three segments - Print Imaging, Display Imaging, and Creative Professional. However, in the 10Ks and Qs they report two segments - OEM and Creative Professional. This muddles their message a bit. To understand how the business segments are performing, you have to listen to the call and write down the numbers.
Growth Drivers
Let's return to the opening questions - what's driving the growth in this company and is it sustainable?
Monotype operates in three business segments.
Print Imaging (legacy print driver business), 40% revenue, single-digit growth
Display Imaging, 25% of revenue, 20% growth rate 2011-2012
Creative Professional, 35% of revenue, 64% growth 2011-2012
The Display Imaging business segment is bifurcated into two categories with the revenue split roughly in half. The CE devices revenue comes from providing licensed fonts to manufacturers of eReaders, tablets, mobile phones, and automobiles. The engine of growth in this segment is the shipment growth in tablets, eReaders, and mobile phones, since Monotype receives per unit royalties for devices shipped with their fonts installed. The other portion of Display Imaging is the Independent Software Vendor (ISV) category. The ISV revenue results from licensing fonts to software developers, video game developers, and large software companies like Google (NASDAQ:GOOG) and Microsoft (NASDAQ:MSFT).
The Creative Professional business segment licenses fonts to end users for electronic and print applications. The engine of growth in this segment is the growth in the number of web sites being developed (571 created every minute, according to the company), mobile advertising spend growth (38%) and the desire for companies to maintain the same look and feel across different web browsers, operating systems, and hardware platforms (PCs, tablets, mobile phones, etc.). The Creative Professional segment receives 60% of its sales from eCommerce web sites.
Web Font Revolution
There is another problem the CP segment solves and revenues from this portion of the Creative Professional segment are expected to double from $5M to $10M in 2013 according to management. What is the problem being solved?
When you buy a device, mobile phone, tablet, laptop, etc., the only licensed fonts you can read on that device are the fonts the maker of that device licensed. So if you're viewing a web site which uses a licensed font that is not licensed on your device, your device will switch to a different font which is licensed for that device. Professional web site developers don't want this to happen and so they constrain their font choices to a relatively small set of commonly licensed fonts.
This is where "Web Fonts" fits in. When a developer purchases "Web Fonts" from Monotype or a competitor, they are free to choose any Web Font available and can be rest assured that the reader would see the exact same font regardless of the device they are using. Web Fonts allow the reader's device to display the intended font even if it is not licensed on the reader's device. This liberates the developer to choose fonts that fit their creative vision for the web site. Take a look at the screen shot of the web page below.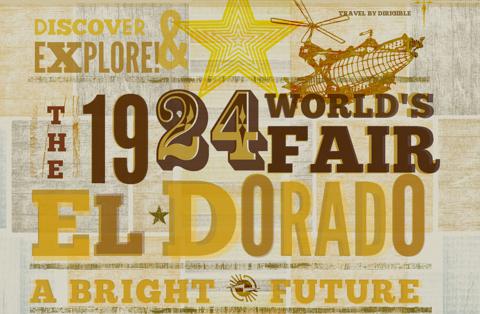 This web site was developed using Web Fonts. All of the letters and numbers are scalable and searchable text. Try this; go to the web page and use the FIND command to search for some of the text on the page. Prior to Web Font technology, this type of non-standard, creative text would have been implemented as a graphics image - which is not searchable, is more difficult to change, and has to be modified to fit on a smaller mobile screen. Now notice a banner ad on your mobile phone. Most of them are bitmap images - not searchable text. This represents future Monotype business.
Growth Inflection Point
Web Fonts are new to the industry. Management indicated that the industry-wide adoption rate of Web Fonts is nearing 15%. Management believes that the 15% adoption rate could be an inflection point leading to a period of rapid growth in the industry-wide adoption of Web Font technology. This is based on the Innovation Adoption Lifecycle curve developed by Everett Rogers in 1962. According to this theory, the innovation moves from Early Adopters phase to the Early Majority phase around 16%. We will see if this actually translates into a steeper growth curve as predicted by the theory.
Creative Professional Growth
How fast is the Creative Professional segment growing by quarter? The chart below shows the Creative Professional segment revenue and growth rate. Organic growth became an issue in Q1 2012 when the revenue from the Bitstream acquisition began to contribute. Management does not specifically break out organic revenue. However, they did state that the Bitstream acquisition will add between $13-$14M per year. Based on that, I plotted the estimated organic revenue growth below.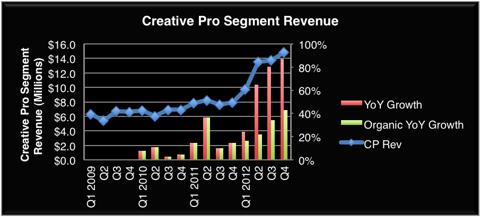 The year-over-year growth rates are phenomenal, both the organic and total.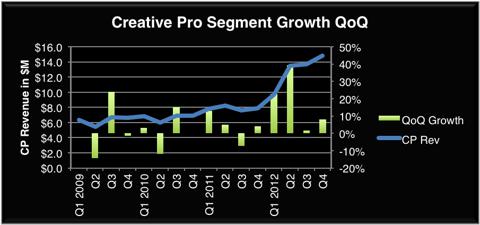 The chart above suggests the Creative Professional segment QoQ growth is slowing. Nonetheless, a modest 5% QoQ growth rate amounts to a 22% YoY growth rate.
Creative Professional Long-Term Growth Potential
Management estimates the addressable market is $250M. Given the current CP revenue of $52M, there is significant growth potential.
Threat from Adobe
Is Adobe (NASDAQ:ADBE) a threat to Monotype's business? Adobe was the pioneer in the development of scalable font technology and so it seems natural they would be a threat to Monotype. As strange as this sounds, Adobe is actually Monotype's largest client. In addition, Adobe recently announced that their "Adobe Creative Cloud" service now offers Monotype fonts.
Threat from Google
How does Google's Web Font business compete with Monotype? This question came up on a conference call. Management answered by saying that typically, a web site developer will search for the free Google fonts first, and then will turn to Monotype or other licensed font foundries to get the fonts they can't get from Google. This is because Google has a relatively small library of fonts available, hundreds versus Monotype's 20,000 in 40 languages.
Open Source Threats
Why do the developers need licensed fonts when free, open sourced and knock-off fonts are available? Try this. Magnify the text of this article as large as you can. Did the letters maintain their intended look or did they begin to pixelate? If they maintained their look it is because the code behind the font was properly written and will allow the font to scale properly. Some free fonts won't scale properly, will look different on different devices or web browsers, resulting in slow page turn, or may even lock up your device.
If you are a professional web site developer, you spend hours trying to get the site to look exactly like you want. You don't want that look to be dependent on the browser, operating system, or device the user is using. Paying for licensed fonts that you trust is worth it.
Display Imaging Growth
The Display Imaging segment is benefiting from the growth in tablets, and mobile phones. In addition, they have recently signed nine automotive contracts for customers including GM (NYSE:GM), Ford (NYSE:F), Chrysler and Audi. They have contracts with Amazon (NASDAQ:AMZN) and Barnes and Noble (NYSE:BKS) for the eReaders and they are in BlackBerry's (BBRY) new BlackBerry 10 OS. This segment grew at the rate of 20% in 2012 but management expects growth to slow some due to slowing of growth in the Independent Software Vendor portion of the Display Imaging segment, which represents half of the segment revenue.
Management estimates the addressable market is $500M. This leaves plenty of room for growth given the current DI segment revenue of $37M.
Valuation
Let's start by analyzing the analysts' estimates and determine if they look reasonable.
Segment

Seg Contribution

2012 End

Seg Revenue

2012 End

Seg Growth 2012-2013

Seg Revenue 2013 End

Seg Contribution 2013 End

Printer Imaging

40%

$59.6

0% Mgmt

$59.60

35%

Display Imaging

25%

$37.25

10% Derived

$40.98

24%

Creative Professional

35%

$52.15

30% Derived

$67.80

40%

Total

$149

$168.37
The table above was constructed using management's expectation that the Print Imaging segment will see 0-5% growth, and that Creative Professional will represent 40% of the total revenue at the end of 2013. I then allocated segment revenue to fit the average analyst's estimates for the total revenue.
Now the question is whether or not the derived segment growth rates for Display Imaging and Creative Professional look reasonable. In order to achieve the 30% growth rate in Creative Professional, it needs to exhibit 7% QoQ growth rate for all four quarters. The average CP organic QoQ growth rate for 2012 was 9%. So I think it is reasonable CP could grow 7% QoQ in 2013.
That just leaves Display Imaging. The derived growth rate of 10% is half the 2012 growth rate. Is this 10% growth a reasonable estimate? Let's check it against statements made by management.
Management believes the CE Device revenue will grow at 20% as it did in 2012. However, they are concerned that the ISV portion of Display Imaging will experience a cyclical slowdown. If you assume zero growth in the ISV portion and 20% growth in the CE Devices portion, it averages to 10% overall. Therefore, the estimate looks reasonable.
The average analyst estimate for 2013 EPS is $1.17. Given a growth P/E multiple of 20, a reasonable price per share is $23.40.
With the current share price trading around $22, there is not much obvious quick money to be made at this level. However, there are many reasons this stock could be a good long term buy and hold.
1. Quality of the management team.
2. Success of the two new growth segments.
3. Possibility for faster-than-expected growth in the Creative Professional segment due to Web Fonts.
4. The large sizes of the Creative Professional and Display Imaging addressable markets allow for large growth potential.
Disclosure: I am long TYPE. I wrote this article myself, and it expresses my own opinions. I am not receiving compensation for it (other than from Seeking Alpha). I have no business relationship with any company whose stock is mentioned in this article.