I first bought Lorillard (NYSE:LO) stock about 2 years ago. I admit it has become a buy and hold and forget about stock, which is my favorite kind. I hadn't checked the price every day and I hadn't really been keeping up with the news releases. But I've enjoyed getting my dividend payments. I noticed little things like the stock splitting 3 for 1. I noticed the dividend increases - thank you for that Lorillard. And recently I noticed the stock price take a little hit. That grabbed my attention so I started reading up on it.
Apparently some gentleman named Mitchell Zeller recently took over as head of the FDA's Tobacco Products division. Since 2009 the FDA has been given authority over tobacco and they banned flavorings such as cherry, chocolate, and cloves. Menthol, which is mostly derived from mint plants, was an exception. I guess Mr. Zeller has a reputation for being a hard-liner when it comes to tobacco and fears were raised that menthol would be banned.
Suddenly I had an overwhelming feeling of déjà vu. Hadn't I been through this two years ago? Back then there were also rumors the FDA was considering a ban and the price was depressed. Lorillard has the most popular menthol cigarette in the US - its Newport brand, and most of its revenue comes from this. On the surface that's a great thing. Menthol cigarettes command a higher price than regular cigarettes and therefore a higher profit margin.
I did some research back then on menthol cigarettes and decided there was no way the ban would be enacted. The menthol story is an interesting one. Menthol cigarettes were accidentally discovered by someone who stored his cigarettes in a tin containing cold medicine and he noticed the cigarettes absorbed the menthol and gave them a nice flavor. Today menthol is found in most cigarettes. A small percentage is added to give it freshness but they are only labeled as menthol if it's in a large enough quantity to affect the taste. Since then menthol cigarettes have grown in popularity to capture over 30% of the US market. But if you break down smoking by ethnicity about 80% of black smokers prefer menthol.
That information was enough for me to make my first purchase of Lorillard stock. Menthol has been entrenched in American society since the 1920s. I just didn't think they would ban something that 30% of smokers did. There was no reason for that. But to ban something that 80% of a minority ethnic group preferred? I didn't think that would happen. I bought my first stock for around $26 adjusting for the later split. Then I noticed the CEO was loading up on the stock. I could buy additional shares for less than he did. I borrowed money against my house and bought more shares.
At the time a group called TPSAC (Tobacco Products Scientific Advisory Committee) was preparing a study for the FDA on the effects of menthol. On March 17, 2011 Lorillard closed at $26.26. The next day TPSAC released a statement hinting at their findings. The stock price closed at $29.40. This was a gain of 10%. I'm using prices adjusted for the split. By May 12, 2011 the stock price had risen to $36.96 when most people thought the ban wouldn't come to fruition. That's a further gain of 27%.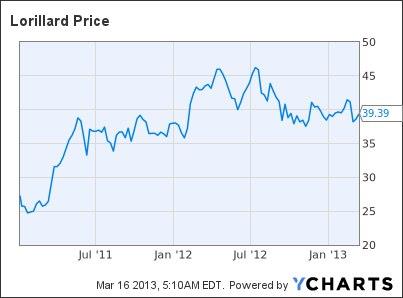 The report was non-binding but it did present some interesting points. The link to the actual report is provided here. It's rather beefy at 231 pages but the main points are:
- Although public health would improve if menthol cigarettes were banned they found no difference in risk between smokers who smoked menthol verses non-menthol cigarettes.
- If a ban were to take place there would be major issues with smuggling and black market menthol cigarettes.
The reasons I thought the ban wouldn't take place are the same today. But since then Lorillard has increased market share, increased the dividend, and bought back shares. I've used this little pullback to add to my position. As of market close on March 15, 2013 Lorillard is trading at $39.39 - 83.7% of its yearly high. The competition, Altria (NYSE:MO), and Reynolds American (NYSE:RAI), are trading at 92.8% and 91.8% of their yearly highs respectively. Based on this I see Lorillard as being about 10% undervalued right now. Also as the markets in general are approaching new highs I'm a little concerned of a pullback. A position in the defensive tobacco industry in general would be prudent. I think a long position in Lorillard would be even better. I'd just hold onto it and collect the 5.7% dividend.
Disclosure: I am long LO, MO. I wrote this article myself, and it expresses my own opinions. I am not receiving compensation for it (other than from Seeking Alpha). I have no business relationship with any company whose stock is mentioned in this article.