A friend recommended Celgene (NASDAQ:CELG) 8-12 years ago to me. This has been a successful investment. I never told others of this information. I did buy Celgene 10-12 years ago. If I could have predicted Celgene's success, I would have told friends in advance.
Now I am in a quandary: I write a dividend newsletter. Do I suggest buying ZIOPHARM Oncology (NASDAQ:ZIOP) shares, a biotech stock with inherent risks, or focus upon typical dividend stock discussions? I have chosen to share - for better or worse - my ZIOPHARM Oncology position; share what the same above-mentioned close friend has told me; and share the ZIOPHARM Oncology backers (i.e. Mr. Randal J. Krk) name and technology. The news is pending during the week of March 25th. There isn't any insider information.
I own ZIOP shares for the long-run. This is not a trade. I also own April and October synthetic long positions. This is a high risk, high return biotech name. I have performed my own due diligence and purchased ZIOPHARM Oncology shares and options.
Todd Johnson, 03.17.13
ZIOPHARM Oncology, Inc.: Basic Points
Ziopharm Oncology, Inc. is a biopharmaceutical company that develops and commercializes therapeutics for cancer treatment. The company is headquartered in New York with operations in Boston, Massachusetts. Ziopharm was founded in 2003 and has about 70 employees. One of its drugs, Palifosfamide, is in Phase 3 clinical trials with results to be announced the week of March 25, 2013. Investors have recently bid up shares on positive trial expectations. Shares could, of course, be significantly impacted on the conclusiveness of results.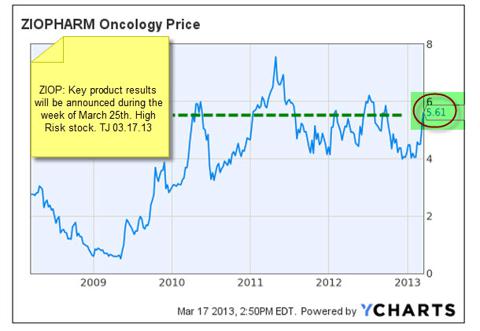 Ziopharm has five drugs in various stages of clinical trials and many in its pre-trial R&D pipeline. Of its clinical trial drugs: Palifosfamide (ZIO-210) is in Phase 3 for soft tissue sarcoma (cancerous tumor in connective tissue) and Phase 2 for small cell lung cancer; IL-12 and Ad-IL-12 (for anti-cancer immune response) are in Phase 1; Indibulin (for metastatic breast cancer) is in Phase 1; and Darinaparsin (oral) is in Phase 1. For its various drugs, Ziopharm actively attempts to deliver them as orally ingestible pills.
Palifosfamide - Phase 3 Results
Palifosfamide is a chemotherapy drug that binds to cancer cells' DNA and keeps them from replicating, and thereby halts tumor growth. Palifosfamide has been developed to make it more tolerable for patients. Palifosfamide has been particularly effective on certain cancers with poor treatment outcomes (because of high levels of aldehyde dehydrogenase or ALDH that act like stem cells, increase tumor growth and increase resistance to treatment).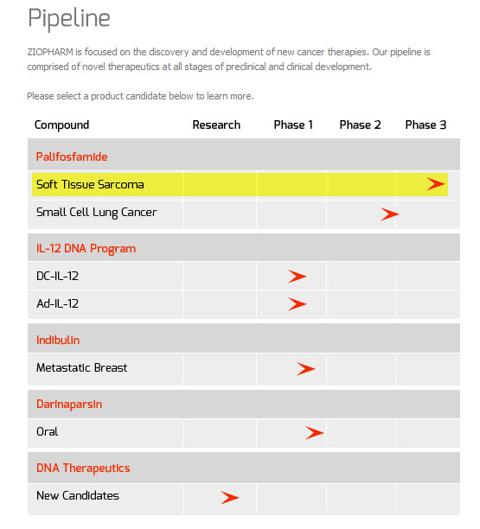 Palifosfamide is undergoing two Phase 3 trials - Picasso 3 and Matisse. Picasso 3 is targeted at metastatic soft tissue sarcoma, with 424 patients being evaluated for progression-free survival after being treated with Palifosfamide. The Matisse trial is evaluating Palifosfamide for small cell lung cancer and overall survival outcomes.
Picasso 3 trial results will be released around March 25, 2013 and - in anticipation of positive trial results - investors have bid up shares from about $4 to about $5.50 over the past few weeks. Matisse results will be released later in the year.
Unequivocally positive Picasso 3 results should move the stock significantly higher. However, the stock could likely settle back down because Palifosfamide would still need FDA approval before becoming commercially available for cancer treatment, and FDA approval is seldom a given. However, positive trial results will likely boost Ziopharm's ability to tap equity capital markets.
Upside:
If Palifosfamide clears Phase 3, FDA approval appears favorable based on 39 new FDA approvals in 2012. If Palifosfamide receives FDA approval, Ziopharm shares will likely spike higher because of high potential revenue tied to high oncology drug prices (between $54,000 and $90,000 per patient per year) and because intellectual property rights will remain in force through 2029. Ziopharm believes Palifosfamide has an addressable market of $1 billion.
If the late-March 2013 announcement is unfavorable, Ziopharm shares could drop, and the extent of any such drop will depend on the degree of disappointment with test results and the hope for redemption with extended trials. However, Ziopharm appears to have had early success through Phases 1 and 2 so investor expectations have a positive bias. Moreover, the company has four other drugs in clinical trial stages and enough momentum and liquidity to see those trials through.
Partnership with Intrexon Corporation
In January 2011, Intrexon Corporation paid $11.6 million for a 12.5% stake in Ziopharm, making it the second largest shareholder behind Fidelity Management's 13.75% stake. This was a strategic investment because, in addition to cash, Ziopharm also gained access to Intrexon's UltraVector Technology for the development of Ziopharm's DNA-based therapeutics using synthetic biology technology.
Billionaire Randal J. Kirk
CEO of Intrexon Corp: DNA.com
Bio per ZIOP Website: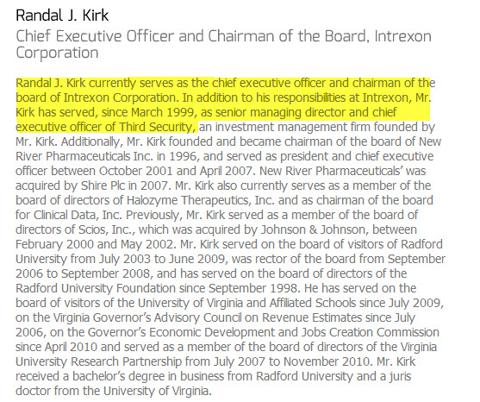 Mr. Kirk is known, in many circles, as "the best biotech investor". Below are his direct and indirect purchases and his overall positions in ZIOP: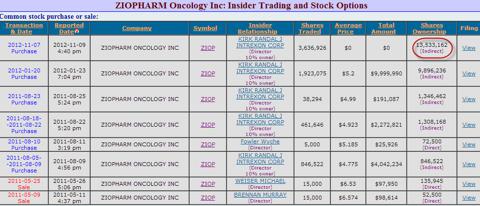 Commentary from the above (albeit dated) article: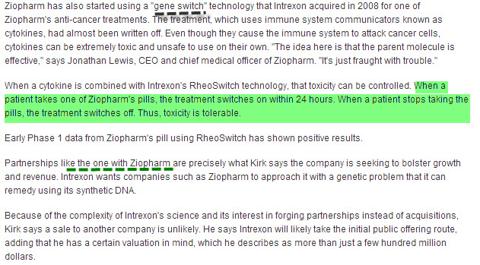 Randal J. Kirk - Best Biotech Investor?
I want to emphasize Mr. Kirk's success and his role within the biotech industry. This doesn't mean ZIOP will be a success - but he is not a Johnny Come Lately, buying 1,000 shares of ZIOP.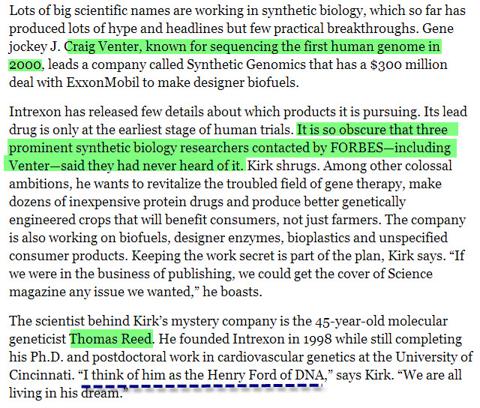 Institutional Ownership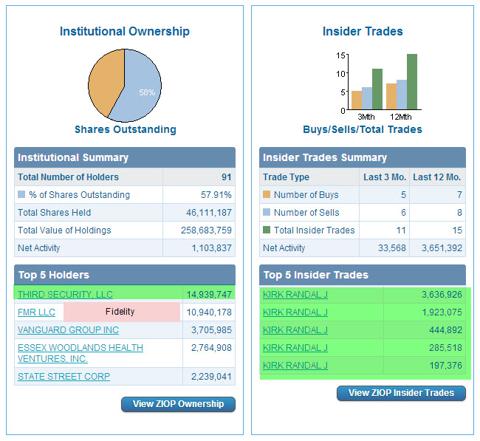 Summary Financials
Ziopharm does not pay dividends. All its money is focused on R&D, clinical trials and general corporate expenses. As of September 30, 2012, Ziopharm had approximately $95.3 million in cash which should support operations well into the second half of 2013. Assets totaled $105 million while liabilities were $46 million. Research and development expenses increased 52% year-over-year in Q3 2012, to $16.2 million. For the nine months ended September 30, 2012, Ziopharm raised $49 million through net financing activities and used $58.8 million in operating and investing activities.
This is a high risk stock. I plan to hold my shares for the long run. Randal J. Kirk's involvement elevates my enthusiasm for the shares.
Disclosure: I am long ZIOP, CELG. I wrote this article myself, and it expresses my own opinions. I am not receiving compensation for it (other than from Seeking Alpha). I have no business relationship with any company whose stock is mentioned in this article.