There have been clear signs of a turnaround in the housing market. Prices all over the country are beginning to rise. Add this in with a stellar jobs report and a strong recovery is taking shape. With housing demand rising, investors are choosing to focus on builders such as Toll Brothers (NYSE:TOL) and DR Horton (NYSE:DHI). However, there is an area that will benefit well from an increase in home buyers.
Home furnishing retailers will see revenue growth rise well. There are two companies, which I believe will benefit strongly from this. The following home furnishers will appreciate in value due to a stronger housing market.
Bed Bath & Beyond (NASDAQ:BBBY) is the largest one in the group, with a market cap over $13.5 billion. The company has grown revenue by 23% over the last three years. This revenue growth comes at a time when retailers have suffered due to competition from Amazon. Management continues to grow its revenue and attract foot traffic. It has a forward P/E of 12, which is quite reasonable given the recent market run-up. Barron's released a report that the company is 25% undervalued and that it could be acquired at a 43% premium. While it's difficult to determine a proper acquisition price, the shares are undervalued based on future earnings growth. In addition to this, the company has no debt and more than $700 million in cash.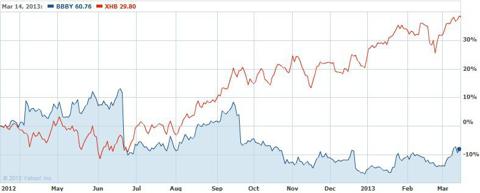 Compared to the S&P Homebuilders Index (NYSEARCA:XHB), the stock has clearly underperformed, but I believe a rally is long overdue. The market is neglecting BBBY's involvement in the housing market. This is a great opportunity for investors to invest in the housing market.
Pier 1 Imports (NYSE:PIR) reported decent earnings and saw continued sales growth. Fiscal year sales rose 7.5% and gross margins rose 70 basis points. Pier 1 is changing the concepts of each of its stores based on regions. This has allowed it to expand by attracting customers. Pier 1's management has been incredibly effective. The ROE for the company stood at 42.39%, which is very strong. The company only has $9 million in debt and $120 million in cash. A 16.5 P/E ratio may seem expensive, but given its strong sales growth and plethora of cash, the stock is cheap. A major reason I expect Pier 1 to appreciate going forward is because the company could be a dividend growth story. In 2006, the company stopped paying a .10 cent quarterly dividend. In 2012, it began paying .04 cents per quarter. In 2013, the dividend was raised to .05 cents. As long as management maintains an efficient ROE and strong balance sheet, there is plenty of room for growth.
I believe both Bed Bath & Beyond and Pier 1 are strong buys. Home furnishers seem to have been neglected in the housing turnaround story. While other investors are focusing on homebuilders, we should look at what home buyers will need once they purchase a home.
Disclosure: I have no positions in any stocks mentioned, and no plans to initiate any positions within the next 72 hours. I wrote this article myself, and it expresses my own opinions. I am not receiving compensation for it (other than from Seeking Alpha). I have no business relationship with any company whose stock is mentioned in this article.