After a recent market rally to new short-term highs in the Dow Jones Industrial Average, investors should start shifting their strategy to position for future growth in the international economy. Clearly, if the recent rally has shown us anything, it is that investors still believe that there is a fundamental reason to hold equities despite horrendous conditions. As bad news continues to pour in, we should concentrate on re-positioning for an eventual global recovery. To do this, I turn your focus to some historically strong global conglomerates that are at attractive levels in a suppressed market.
The Thesis for Investing in an Anticipated Recovery
Pushing through a trade in these markets might appear to be more of a "leap of faith" than a prudent investment, yet I am seeing the next leg down off recent highs as a perfect opportunity for long-term portfolio strategy. Why? There are many fundamental reasons that you should invest in global growth, and I would suggest having a gander at industrial conglomerate names with big international revenue inflows as a base for your recovery portfolio.
Rationale #1: Trade Back to International Portfolio Exposure
After seeing strong growth from the European markets and BRIC nations through 2007, we have seen a fundamental American trade back to our domestic homeland. Over the past year and a half, investors have favored American companies with American revenues. Let's have a look at the chart below for some evidence of this trade, as we compare the U.S. industrial conglomerate Danaher (NYSE:DHR) with globally-active Caterpillar (NYSE:CAT):
As Danaher outpaced Caterpillar by a resounding 30% over the past year, it should certainly be evident that there was a sense of domestic exclusivity in 2008/09 trading. Logically, this can be seen as a reversal of the decoupling theory, as many investors had previously been hoping to cover a poor U.S. market by doubling down on European exposure. When this idea fell through, the shift of investment psychology was alive and well, and we have our trade out of anything with global exposure.
There are literally dozens of reasons for this trade to reverse. Thinking fundamentally, the sell-off seems to be overkill as the powerful growth in China and international stimulus spending should be enough to push these global performers higher. Looking at China alone, we saw its PMI increase dramatically, as its confidence interval jumped to match the upbeat sentiment. Mean reversion should prove to be a handy tool when analyzing beaten stocks with ordinarily resilient bookings.
Rationale #2: Better Cost Synergies from Currency and Commodity Exposure
There are two huge benefits for international conglomerates going forward that should not be overlooked: a more favorable currency exchange and cheaper access to commodities. Let's have a look first at the exchange rate between the Euro and US Dollar with the yearly chart below:
As we can see, the Euro has virtually collapsed against the U.S. Dollar. Better yet, a recent rally could create huge cost savings in global industrial names that find a large amount of their revenues coming in overseas. As it would happen, many industrial companies live and die by the currency environment that they exist inside. Accordingly, finding the Euro at a trough versus the USD could present an attractive entry price in stocks that are more tied to global wealth.
Next, it is clear that the unusual trading activity in commodities has scarred many industrials at home and abroad. After the mid-2008 bull market in most commodity names, we are now at historical lows across the board. While many companies made the unfortunate mistake of locking in poorly-hedged contracts in 2008, many internationals will have another crack at these spot price agreements over the next year. With this, we should see a large benefit to earnings for industrial conglomerates, which typically rely on high volumes of materials to do business.
Again, we see a collapse in the price of most commodities, this time in the Dow Jones-AIG Commodity Index (NYSEARCA:DJP), which typically transfers into added cents on company's bottom line. Any time we see even a few extra pennies on earnings, we can expect quite a different reaction from the market. Don't be surprised if several international industrial giants post surprising results in 2009 earnings.
The Early Cycle Trade: How to Play It
Now that the general thesis is outlined, we can see that despite historically low valuations, there is room for improvement. I would suggest that things really aren't as bad as the markets would make them out to be among the industrial names. Because of the extraordinary efforts by the Chinese government to sustain growth, I point to names with Chinese exposure as primary benefactors of the recession. However, as other nations lend their own liquidity to the globalized economic recovery, it would be wise to get any amount of exposure that you can stomach and add to your positions on the way down to build your recession-rebound portfolio.
3M (NYSE:MMM):
My favorite play for the global recovery that we anticipate is in the industrial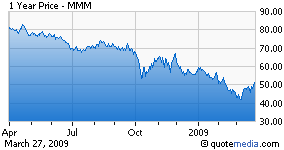 conglomerate 3M. This is a company that has historically thrived at economic inflection points, and is a best-of-breed name that shouldn't have a problem turning things around within the next 12 months. The management team at 3M is reason enough to look toward this company, as they have historically been ahead of the curve in growing past economic turmoil and run a conservative Six Sigma system to improve efficiencies. MMM has built up a solid 4.5% dividend yield on the back of a lower float relative to other industrials that can lead to some quick moves to the upside. Not only this, but it has a solid balance sheet and has been active in cranking out new products even in hard times. 3M has a nice exposure to China, as well as other international revenues, and should be one of the first to benefit there. The near-term is a bit cloudy, so invest in stages on the way down for this one.
Caterpillar (CAT):
There is no doubt that Caterpillar has seen tough times before. This is another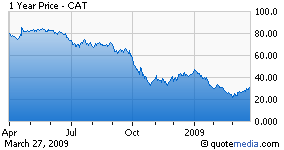 name that will be a primary benefactor from China's doubling-down on its economic condition, and CAT has been absolutely slaughtered by an unkind market in 2008/09. Management has come out and announced job cut after job cut, and I like the fact that the business is ultra-conservative. CAT is the kind of bellwether that will see new signs of life once the global economy shows a hint of recovery, and is a prudent investment in the low twenties. With a confident management team that understands the task at hand and has been improving efficiencies throughout the year, this should be a long term consideration on the upswing. Keep in mind that things are still gloomy, as machinery sales alone dropped off 27% in February, so I would recommend keeping an investment horizon slightly longer than that of 3M.
Honeywell (NYSE:HON):
HON is a favorite play for a weaker dollar, as it has been holding up well in its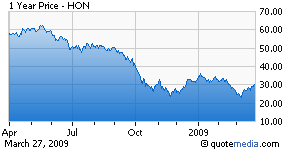 earnings calls to date. It would be doing better if it weren't for the strong dollar. Once this starts to fade away, the overseas business should prove more profitable and may introduce huge upside into Honeywell's earnings. The great notion about Honeywell is perhaps the fact that it has been the most upbeat of the industrial group. Specifically, HON has been seen raising its dividend and claiming that its bookings are "holding up" despite a global decline in demand. Despite all of this, it has gotten crushed by the market and still has an unfavorable aerospace end market. However, HON makes for a great international turnaround story once the global scene improves, and I would consider a buy if the price is right.
United Technologies (NYSE:UTX):
Recent releases by United Technologies were certainly eye-openers for the entire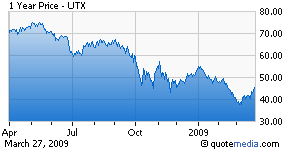 industry, as growth deteriorated from all but their Sikorsky helicopter unit. Normally, UTX had been able to ride out any economic storm by relying on a balanced business model that wouldn't see many units underperforming at the same time. When all but one unit lacks growth, the stock gets slammed. Still, UTX (along with Honeywell) is a phenomenal play for a weaker US Dollar, and could be seeing a pickup in business once stimulus spending begins to filter through the system. Invest, again, with caution; however, don't give up on this package deal.
Bottom Line: The industrial names have struggled through the last two years of trading. While in the short term, it would seem that industrial conglomerates hit their stride in the third quarter of 2008, there is certainly still room for growth if spending in China (among other nations) begins to combine with the other factors (forex, spot prices, etc.) outlined in this investment thesis. Grabbing these early-cycle industrial plays should be a prudent move for any investor looking to play the turnaround. While things still may look a bit gloomy on the international front, there comes a level where MMM, CAT, HON and UTX should begin to start up a fresh cycle of industrial profit.
-Jim Regan
Disclosure: None.