In my previous article about junior gold miners, I mentioned that it was my goal to choose companies of this sector in order to create a Special Portfolio. This intention is now starting to be realized with the initial selection of Midway Gold Corp. (NYSEMKT:MDW) that meets the following requisites regarding its deposits:
Own an undeveloped deposit over 1 million ounces of Gold, and at least another deposit
Have a Market Capitalization under $1 Billion
Provided with projects in safe locations
Have the benefit of satisfactory infrastructures and access
Experience absence of known problems related to geopolitical risks
Include at least one deposit near the final stage of development
There is increasing difficulty of making major discoveries of gold, which is no surprise, as it is a rarity. This fact emphasizes the fundamental importance of gold as an investment and store of value. On the other hand, gold mining is very demanding and subject to a large number of licenses and permits, and it implies that greater attention is needed to study the companies and their mines.
Midway was incorporated in 1996, in British Columbia, and since 2004, has been focused on the advancement of its current property portfolio. As we will see, the company has three projects with over 1 million ounces of gold. Midway is currently a development stage company engaged in the acquisition, exploration, and development of gold mineral properties in North America. The company has several gold properties located in Nevada and Washington. The Tonopah, Spring Valley, Gold Rock and Golden Eagle are exploratory stage projects which have identified gold mineralization.
Pan gold project
The Pan gold property located in White Pine County, Nevada is further advanced with plans to start production by 2014. Mine permitting is in progress with an Environmental Impact Statement underway. Public meetings have been completed. Access is very easy, and a water well has been concluded for the project.
2012 has seen key accomplishments for the Pan project. Permitting is on schedule to allow construction in 2013 and production in 2014 while engineering and testing activities have been continuing. It was obtained a successful raise of $85 million ($70 million as a preferred stock transaction), limiting common shareholder dilution and avoiding hedging.
As a result of a resource update, Pan Deposit contains over 1.1 million ounces of gold in Measured and Indicated Mineral Resource categories. There continues to be good potential for the discovery of additional Mineral Resources at Pan.
The project has low Capex and low cost mining project. Pan Gold project contains mineralization near the surface in a manner that is ideal for open pit simple processing methods. When mined it will have a low waste/ore ratio and an average 75% gold recovery is expected. It has significant upside potential with possible growth from step-out drilling to the north, south and southeast.
The February 2011 Prefeasibility Study demonstrated that the Pan project is economically viable, and the Feasibility Study has strengthened that conclusion. Based on this result, Measured and Indicated Mineral Reserves within the designed pits are considered Proven and Probable Reserves.
Resource Estimates
Resources

Tonnes

Grade

Contained

('000s)

(g/t)

('000s oz)

Measured

36,920

0.49

579

Indicated

43,118

0.40

551

M&I

80,037

0.44

1,130

Inferred

3,928

0.36

45

Note: Mineral resources are inclusive of mineral reserves reported below.

Reserves

Tonnes

Grade

Contained

('000s)

(g/t)

('000s oz)

Proven

25,245

0.60

487

Probable

23,067

0.51

377

P&P

48,311

0.56

864
Mining will occur in two separate main pits, the South Pit and the North Pit, and four satellite pits. Metal recoveries are expected to average 85% in ores from the South Pit and 65% in ores from the North Pit.
A 5% contingency was added to the operating costs, and from an analysis of the expected variation of projected capital costs an 8% contingency was provided for capital costs.
Cash flows were calculated on an after-tax basis, utilizing a federal income tax rate of 35% and including the deductions for percentage depletion as allowed by federal law.
The three year trailing average price of gold, as of October 31, 2011 net of the expected deductions for refining at a third party refiner in the western United States, was calculated to be $1,200/ounce of gold and was applied to all years of gold sales. Based upon a review of the underlying property agreements by Midway, a 4% royalty was calculated and used in the derivation of net revenues.
It was utilized a 5% discount rate. The project is expected to have a total duration of 9.75 years: one year of construction and pre-production, 8.25 years of full operations and one half year of residual gold production. Around 864,000 ounces of gold will be mined, and 649,000 ounces of gold will be recovered and produced for sale.
An initial capital investment of $99 million is expected to be required, included contingency and working capital, with a total of $155 million over the life-of-mine comprising all sustaining capital. The total cash cost (including royalties) will be $585 per ounce, and the total production cost is expected to be $824 per ounce.
Economic Projection
Gold Price

Net Present

Value @ 5%

Internal Rate

of Return

Payback

Period

$855

$1,200

$1,550

$1,900

$4,100,000

$122,600,000

$235,100,000

$344,400,000

6.0%

32.4%

55.7%

79.1%

7.22

2.59

1.70

1.20
The table above shows clearly that the Project is solid with a good return on capital, and with a high safety margin. In fact, Net Present Value is high, and reserves are estimated conservatively.
As usual, the Project is quite sensitive to changes in the price of gold. In addition, there is a $18 million decline in the NPV for each increase of 10% in the operating costs and a $13 million decline for each increase of 10% in the capital costs. Moreover, the Project experiences a $40 million increase in the NPV for each increase of 10% in the average ore grade fed to the processing plant.
Gold Rock project
Gold Rock project is 8 miles southeast of the company Pan project. The report estimates a new indicated resource of 310,000 ounces of gold and inferred resource of 331,000 ounces of gold. The gold resource, which appears to be open in all directions, represents a significant increase above the previously reported 344,700 ounces historic estimate.
A rigorous two-stage verification program was critical to validate the previous drill hole database before calculating a new resource estimate at Gold Rock. This review validated the drill results from 52,000 meters of previous drilling in 466 holes. The second stage was a 2011 Midway drilling program to confirm gold grades, geology, and rock alteration reported from the earlier drill holes. Permitting is underway for a second round of drilling designed to infill the historic drilling and to test for expansion of the resource along strike and at depth.
Resource Estimates
| | | | |
| --- | --- | --- | --- |
| Resources | Tonnes | Grade | Contained |
| | ('000s) | (g/t) | ('000s oz) |
| Indicated | 12,968 | 0.74 | 310 |
| Inferred | 17,894 | 0.58 | 331 |
Spring Valley project
It is noteworthy to mention with some detail two other projects which are in early stages of development.
| | | | | |
| --- | --- | --- | --- | --- |
| Deposit | Tonnes | Grade | Contained oz | Location |
| Spring Valley | 249 | 0.52 | 4,131,000 | USA, Nevada |
| Golden Eagle | 50 | 1.39 | 2,213,000 | USA, Washington |
These are large deposits, especially the Spring Valley project from which Barrick Gold Exploration will earn a 60% interest by completing expenditures totaling US$30 million before December 31, 2013. Barrick Gold Exploration Inc. operates as a subsidiary of Barrick Gold Corporation. A May, 2011 update resource estimate by Midway reported that Measured resource is 0.93 million ounces contained, and Indicated resource is 1.23 million ounces contained. There is an additional Inferred resource of 1.97 million ounces.
Technical Analysis
Chart courtesy of StockCharts.com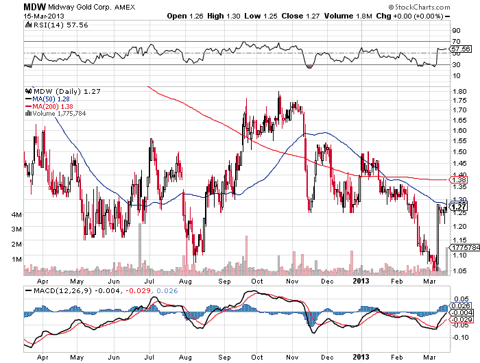 Midway has a market capitalization (March, 16) of $163.13M. In the chart above prices show a volatility pattern for some time now. This can be explained by the long waiting period before production. In fact, I think the stock is quite undervalued in relation to company reserves and future production. Prices have made a top in September 2011 at 3.03, and now are trading at 1.27 after a good rise last week from 1.05.
Conclusion
Midway is a junior gold company with large and valuable mining assets and exciting potential in the future. Not only has gold mines of considerable value to develop, but also presents some of them in an advanced project stage. It is very likely that in the medium or long term Midway shares will rise substantially. Furthermore, with 128M Shares Outstanding, with plenty of cash and no debt, the company is now worth more than the current price. It is entirely normal that between the acquisition of a deposit and the initial phase of production many years are left behind. This portfolio should stress the quality of the mining assets of the companies chosen. Moreover, it should be noted that even an excellent deposit must be in a clear phase of development. This is the case of Midway that therefore has significant upside potential. The risk is obviously present, but I believe that this investment will have a good chance of being a winner.
Source: In addition to other research, the data collected by the author was obtained through the Company Annual Report, and related documents.
Disclaimer: The author of this article gives only his personal opinion, never making any investment advice to buy or sell specific securities. The information presented is from sources believed to be reliable, but its accuracy cannot be guaranteed. Before investing in financial assets, investors should do their own research, and consult a professional investment adviser.
Disclosure: I have no positions in any stocks mentioned, and no plans to initiate any positions within the next 72 hours. I wrote this article myself, and it expresses my own opinions. I am not receiving compensation for it (other than from Seeking Alpha). I have no business relationship with any company whose stock is mentioned in this article.