Last week, a successor to the successful Samsung Galaxy S3 was announced. Since its introduction the S3 sold 40 million units. When the S4 is launched in the U.S., it will be available to more carriers than when the S3 was launched. Set to be priced at EUR $699 in Finland, and available on April 15, the S4 will bring the focus back to parts suppliers for investors. Suppliers set to benefit from the release include the usual suppliers, like Qualcomm (NASDAQ:QCOM), which supplies the octa-core processor. Most notable for investors is the increased AMOLED display size. At 5-inches and supporting a resolution of 1080p (1920x1080), the larger size benefits two companies: Corning (NYSE:GLW) and Universal Display (NASDAQ:PANL). Both companies traded higher in recent sessions, likely on anticipation of the release. Corning (discussed previously when shares were $11.90) closed recently at $12.92, while Universal Display (trading at around $26.50 when last analyzed) closed at $32.97.
Now that the Samsung announcement is over, investors should ask if Universal Display and Corning have more upside.
Universal Display
Universal Display reported quarterly earnings in 2012 that pushed the company to generate the highest revenue and operating income ever achieved in its history. Revenue for the year rose 36% to $83.2 million, while operating income increased 141% to $13.7 million. The net income of $9.7 million, or $0.21 per share values Universal Display at a lofty P/E of 157. The S4 release ensures that growth for AMOLED will continue to support demand for the display materials.
In the television market, the company said in its conference call that OLED television would further accelerate growth. Designs by Samsung and LG (NYSE:LPL) could result in new products this year, but investors should not be too impatient. 2014 will be a more likely year for OLED TVs. Further, the $655 million investment by LG Display will yield no more than 156,000 televisions per month.
The 12- to 18- month timetable for new-generation televisions is confirmed by Sony (NYSE:SNE) in a recent interview. Sony shares have already rallied, due partly to strong demand for Android-based Xperio phones:

Chart Source: Yahoo Finance
Growth from Green Emitter
Universal Display previously generated the majority of its revenue from red emitters. The Samsung S4 uses Green PHOLED material, which makes AMOLED displays on the mobile devices 25% more efficient. Expected sales for the S4 and adoption of Green in future Samsung products support the bullish scenario for PANL shares.
Financial Analysis
Universal Display ended 2012 with $244 million in short-term investments, cash and cash equivalents. Cash would have been higher, but the company used $109 million to strengthen its patent portfolio. Universal Display acquired an additional 1200 OLED patents/applications from Fujifilm.
Universal Display reported an increase in inventory, but did so to be able to complete customer orders more quickly.
Outlook
Universal Display forecasts revenue this year to be between $110 million and $125 million, which includes the receipt of a Samsung licensing fee of $40 million.
Corning Inc.
Corning is set to benefit again from the exposure of Samsung's support for Gorilla glass with the S4. Corning is far-less appreciated by investors compared to Universal Display. Shares are valued at 2.35 times sales, compared to nearly 18 times for Universal Display. When compared to the giant TV conglomerates, Corning is valued higher than Sony and LG in terms of market capitalization and Price/Sales:
| | | | | |
| --- | --- | --- | --- | --- |
| NAME | MKT CAP | AVG VOL | PRICE/SALES | EBITDA |
| Sony Corporation | 17.32B | 4,052,150 | 0.19 | 3.73B |
| LG Display Co., | 10.38B | 1,049,830 | 0.4 | 4.71B |
| Corning Inc. | 19.02B | 14,949,800 | 2.35 | 2.49B |
| Universal Display | 1.52B | 1,106,790 | 17.91 | 20.52M |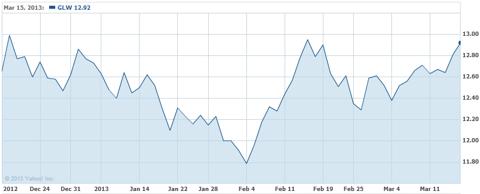 Chart Source: Yahoo Finance
At the Computer Electronics Show earlier this year, interest in Corning grew after Willow Glass was announced. The glass is flexible and may be rolled up, fueling speculation that Corning would supply the glass for Apple's (NASDAQ:AAPL) rumored iWatch. More recently, the president of Corning Glass Technologies dispelled this expectation by saying that it would be at least three years before Will Glass displays would be used in products.
The inclusion of Gorilla Glass for Samsung's S4 once again ensures that sales to the mobile segment will continue. For investors, this should not be expected to act as a catalyst in pushing share price dramatically higher in the near-term. Similar with Universal Display, sales in LCD televisions will be a catalyst for pushing profit growth rates.
Conclusion
Universal Display and Corning will both benefit from their exposure Samsung's latest device. Both companies could be expected to pull back in the short term, since investors may sell on the news of the S4 launch. If a pull-back does not take place, both display suppliers remain attractive, but will appeal to a different set of investors. Universal Display will appeal to growth investors who are willing to pay a high multiple in return for year-over-year growth. Corning will appeal to value investors who will also be compensated with a dividend that yields 2.79% annually. Investors in either case will need to wait for a more important shift: television. The display suppliers will gain greater growth opportunities in 2014, when a refresh in television display technology is introduced to consumers.
Disclosure: I have no positions in any stocks mentioned, and no plans to initiate any positions within the next 72 hours. I wrote this article myself, and it expresses my own opinions. I am not receiving compensation for it (other than from Seeking Alpha). I have no business relationship with any company whose stock is mentioned in this article.