EPL Oil & Gas (NYSE:EPL) is an upstream oil and natural gas exploration and production company that doesn't have a dividend, MLP status, or midstream assets. So what's to love you ask? EPL has transformed into an oil driller specializing in offshore assets based just south of Louisiana, and has grown tremendously over the past several years, most notably doubling in stock price since 2012: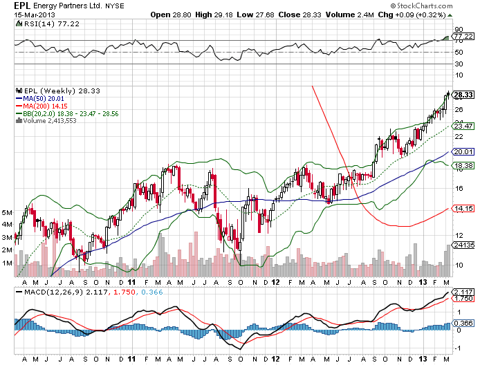 Why the growth?
EPL effectively acquired and integrated several meaningful set of assets over the recent past, transforming the company from mostly gas to nearly 75% oil today, and an estimated 82% in 2013. But an important highlight here is the company didn't issue shares to raise capital, they did it the old fashioned way - responsible balance sheet management.
On February 14, 2011, EPL acquired an asset package consisting of shallow-water Gulf of Mexico shelf oil and natural gas interests in the Mississippi River delta from Anglo-Suisse Offshore Partners, LLC. In November 2011, the Company acquired more assets in the shallow-water central Gulf of Mexico from a subsidiary of Stone Energy Corporation. Recently in September 2012, EPL acquired 3 fields: Ship Shoal Block 208, South Pass 78 and South Marsh Island 239, for $500 M from Hilcorp Energy LLC. This monster acquisition doubled EPL's proved reserves, and delivers promising future potential for the company. I feel due to EPL's seismic workup of the Mississippi Delta and Gulf waters just offshore Louisiana, EPL has great familiarity of these assets, and knew of their potential.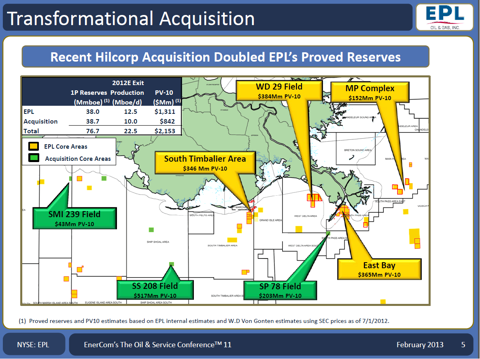 EPL's "prolific" assets are based in shallow waters close to the mainland, offering low risk, repeatable oil wells with exposure to Brent pricing. High pricing and low risk/cost due to location allow for meaningful profit margins.
But EPL didn't simply buy growth like some spoiled rich kid. They developed properties effectively, in what the company so righteously labels "organic growth" in slide 8 of the Feb. presentation: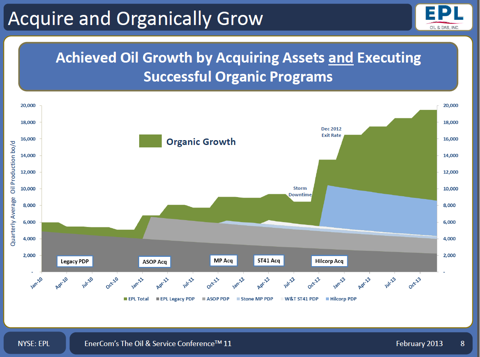 An important notation here is "storm downtime," which notes effects of hurricanes from the late summer to Fall months, which is a definite risk to the company production on an intermittent basis.
But how much does the Hilcorp acquisition mean to EPL?
EPL stated the acquired assets were non-core to the seller, and offer untapped exploitation in both shallow and deeper waters. EPL will responsibly size up new lands by reprocessing seismic data - a process that has been successful in past acquisitions. But there is much to explore. EPL pre acquisition encompassed 181,601 Net Acres. The Hilcorp addition adds 149,366 Net Acres, or 81%, totaling 333,967 Net Acres. Clearly EPL has its hands full, and has hired some of the Hilcrest staff to assist. EPL estimates meaningful drilling to begin in 2013 and even more in 2014 once seismic data tells the story for the previously unexplored hundreds of thousands of net acres.
After this big run to $26/share, is there more upside?
The company insists so, based on proved reserves alone. After the small amount of debt the company has and just the proved reserves, their apparently still is some value in EPL despite the strong uptrend: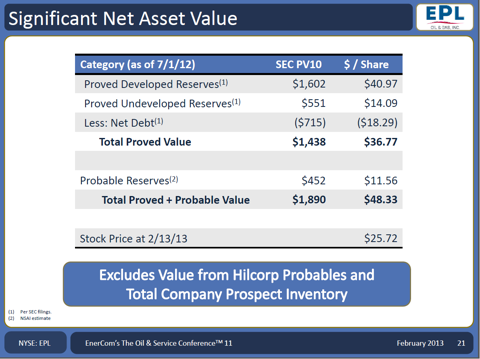 Summary:
Driven by ongoing development of acquisition properties in the nearby areas in the Gulf, the company should comfortably and routinely prove reserves and add to oil production as management has guided. I see continued impressive results going forward for EPL as the increased oil production from lower risk fields enjoys superior Brent pricing. The company's responsible balance sheet management is a definite bonus and something that should be examined further by investors, as this article failed to meaningfully evaluate this aspect of the company. From an asset execution point of view, the company sticks to what it knows, the shallow waters of the Gulf, and it does it well. I will also be putting a notation on my calendar for August of 2013 to buy this stock after any pullback resulting from Hurricane season.
Disclosure: I have no positions in any stocks mentioned, but may initiate a long position in EPL over the next 72 hours. I wrote this article myself, and it expresses my own opinions. I am not receiving compensation for it (other than from Seeking Alpha). I have no business relationship with any company whose stock is mentioned in this article.