J.C. Penney (NYSE:JCP) has implemented an impressive, gradual, yet transformational change over the past few years. However, it is best to remain cautious of the process and uncertainties of reviving its customer traffic, and the length of time it has taken to push the needed transition of its new marketing strategy. The retailer has formed a strong management team led by Ron Johnson, who replaced Mike Ullman as CEO. He is now responsible for taking over the huge challenge of bringing JCP back on its feet through merchandising, marketing, planning and allocation - all of which will put him to the test.
INDUSTRY PERFORMANCE
Let's take a look back. December 2012 earnings results of broadline retailers saw stronger trends as consumers shopped closer to need, spent more online and made purchases using gift cards (estimated at 15% of holiday sales). ComScore reported online sales up 16% for the holiday season. Upside to earnings came from Costco (NASDAQ:COST), which reported same-store sales (comps) up 9%, and Nordstrom (NYSE:JWN), with comps up 8.6%. Nordstrom noted strength in kids, handbags and women's apparel, which outperformed the industry average in five of the last six months. For the total holiday period, comps were up 5.1%.
Top performing stocks were Stage Stores (NYSE:SSI) (+76.2%) and Costco (+27.1%), while the worst performing stocks were JC Penney (-44.0%) and Tiffany (NYSE:TIF) (-12.1%). Other specialty retailers that created headlines include Michael Kors (NYSE:KORS) (+82.7%), Hanesbrands (NYSE:HBI) (+61.4%), and PVH Corp (NYSE:PVH) (+55.4%), while poor performing specialty stocks were Deckers (NASDAQ:DECK) (-49.3%) and Coach (COH) (-5.9%). Over the same period, the S&P 500 was up 12.9%.
U.S. Department Stores Same-Store Sales Index, November 2011 - January 2013

Source: Company reports and Barclays Research Estimates
Industry Outlook
The Department Store sector faces a fair amount of uncertainty in the U.S. Looking ahead, revenue growth and earnings expectations in 2013 should remain conservative, given uncertain economic conditions in most of the sector's major markets. Retail indicators point to weaker consumer sentiment. The Consumer Confidence Index decreased to 58.6 in January, down from 66.7 in December. The Expectations Index decreased to 59.5 from 68.1 last month, marking a second consecutive sharp drop, down from a level of 80.9 in November, and now stands at its lowest level since October 2011. Fiscal concerns will continue to weigh on sentiment, with uncertainty over the outcome of the fiscal cliff likely having an effect, and the realization of significant losses in consumer income. This results in additional withholding at a rate of approximately $40 billion a month from higher marginal income tax rates, a higher payroll tax and the alternative minimum tax, driving a drop in disposable personal income.
Comparative Same-Store Sales, January 2013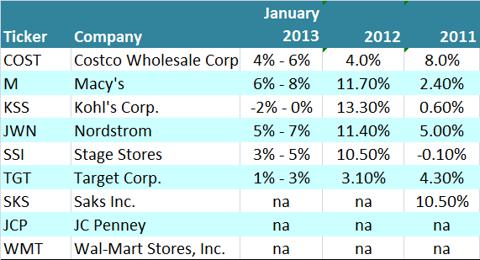 Source: Company reports
Fundamentals
JCP updated its merchandise strategy through changes in price and promotion that began on August 2012. The company's updated approach to its pricing is intended to simplify consumers' shopping experience. JCP's proposed marketing strategy was initiated in response to the many different types of promotions: clearance sales, in-store, hourly bonus buys, etc. in 2011 (590 unique promotions all together). In 2012, however, the retailer lost $4.3 billion in sales due to its abrupt shift to a newer pricing strategy.
Cutting down the company's advertising costs to 4% of sales and trying to achieve 13% in operating margins, in line with Macy's (NYSE:M) strategy, could bring savings of $360 million. The targeted savings level will be fully rolled out by end of 2013, with the potential to exceed the $900 million mark. JCP will be using these savings to continue to re-align and boost customer traffic through its pricing and promotional strategies.
In 2012, the company already slashed $671 million of its gross operating expenses. Operating expenses were 33% of sales in 2010, versus 27% of sales at Kohl's (NYSE:KSS) (its main competitor with similar volume levels). JCP aims to reach 30% operating expense rate by 2013, and a 27% rate by the end of its strategic transformation by 2015. The benefits of its redesigned operating business model were allocated accordingly in the following strategic business units:
| | |
| --- | --- |
| Stores: | $400 Million |
| Home Office: | $350 Million |
| Marketing: | $150 Million |
The retailer finished 2012 with $930 million in cash, driven by a $575 million inventory reduction in 4Q12, and its total long-term debt is $2.98 billion. Investors should closely monitor JCP's ability to generate internal funds, to check if the company is sustainable enough to hold on to its transformational strategy. It also increased its bank credit line in February by $350 million to $1.85 billion.
Investors may well be anxious about the company's future balance sheet. Analysts anticipate JCP could fall short of its $1.0 billion year-end cash target, although this is not an immediate concern for liquidity. Sources of liquidity might come from potentially remaining sales of other non-core assets, higher and untapped revolving credit facility and JCP's ability to scale back on its current pace of shop installations, or perhaps utilize its real estate assets more creatively.
Conclusion
JCP's fourth-quarter gross profit margin fell 639 bps year-on-year to 23.8%, its lowest quarterly GPM, in at least 15 years as clearance items comprised 24.0% of sales (versus 14.0% a year ago). Total revenue in the fourth quarter fell by 28.4% to $3.88 billion. Comparable-store sales decreased 31.7%. Customer traffic for the fourth quarter was down 17% while conversion rate was down 10%. As a result, JCP stock is down approximately 50% year on year and has the worst one-year return in its peer group:
Broadline Retailers Stock Return, 1 Year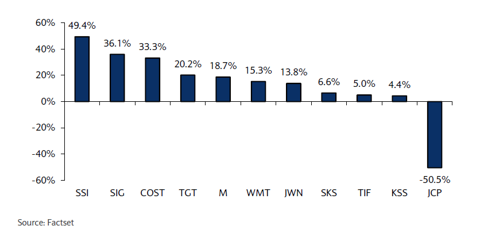 Savings initiatives and its shift to branded "shop in shops" might help recover JCP's sales productivity and strengthen its brand equity, but a likely downturn in consumer spending could be a significant headwind to JCP's stock. Overall, JCP seems like a clearance item you just might be better off passing on.
Disclosure: I have no positions in any stocks mentioned, and no plans to initiate any positions within the next 72 hours.
Business relationship disclosure: Black Coral Research is a team of writers who provide unique perspective to help inspire investors. This article was written by Hans Centera, one of our Senior Analysts. We did not receive compensation for this article (other than from Seeking Alpha), and we have no business relationship with any company whose stock is mentioned in this article.
Additional disclosure: Black Coral Research is not a registered investment advisor or broker/dealer. Readers are advised that the material contained herein should be used solely for informational purposes. Investing involves risk, including the loss of principal. Readers are solely responsible for their own investment decisions.