By John Spence & Tom Lydon
ETFs that invest in Greece and other European countries fell at the open Monday as Cyprus was poised to force savers to chip in to help pay for a financial bailout.
Global X FTSE Greece 20 ETF (NYSEARCA:GREK) was set for further declines after recently falling about 15% from its 52-week high.
Meanwhile, iShares MSCI Italy (NYSEARCA:EWI) and iShares MSCI Spain (NYSEARCA:EWP) both slipped about 3% before Monday's opening bell in the U.S.
Cyprus joins Greece, Ireland, Portugal and Spain to ask the Eurozone for a bailout. However, Cyprus is the first country to introduce a levy on bank deposits as a condition for financial aid.
"Should depositors in Cyprus or other peripheral countries feel safe now? They may not. After all, deposit-guarantee schemes do not guarantee against a levy. Depositors may also have to factor in that the one-off levy could inspire national governments to do the same thing. So the risk of bank runs has just gone up," analysts at Danske Bank said in a Greek Reporter story.
The parliamentary vote on the levy has reportedly been postponed after Cypriots rushed to cash machines to withdraw cash.
"This creates a precedent and is a bit scary," said Matthieu Giuliani, a fund manager at Banque Palatine, in a Bloomberg report. "It hurts the market. But this is case specific to Cyprus. I don't see Germany or the EU imposing such a thing on Spain or Italy. It would create panic in the banking system."
Global X FTSE Greece 20 ETF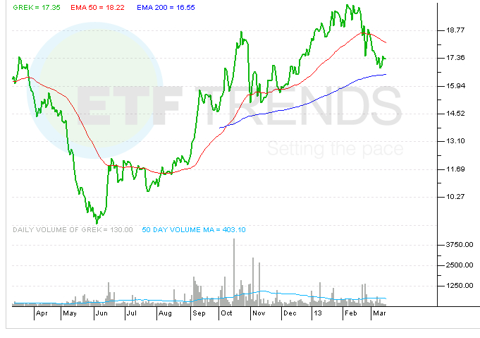 Disclosure: I have no positions in any stocks mentioned, and no plans to initiate any positions within the next 72 hours. I wrote this article myself, and it expresses my own opinions. I am not receiving compensation for it. I have no business relationship with any company whose stock is mentioned in this article.