In an article I wrote on March 5th, I highlighted three companies whose stocks are considered safe investments, but that their run-up in price has made them decidedly less so. As highlighted in this report by Bespoke, defensive, "low beta" sectors, meaning stocks whose prices are less volatile than the market in general, such as Consumer Staples, have been among the leaders in this rally.
Meanwhile, some more cyclical "high beta" sectors, meaning more volatile than the market, such as Energy and Basic Materials, have lagged behind. Many have simply not participated. One important undercurrent of this market, I believe, is a rush to safety.
But don't confuse a rush to safety with a rush to quality. Patient, contrarian or value investors should sometimes look to find the "baby thrown out with the bathwater." Right now, there are great Energy and Basic Materials companies whose prices are still reasonable or could be picked up here at a discount. Today we will look at three of them.
Methodology
Before we jump in, I want to go over some criteria for value. Two of the three below stocks are fast growers and all three of them are cyclical. Therefore, the most important metrics we will look

at are the PEG ratio and also historic Price to Earnings ratios over the last 10-15 years. Like in the previous article, I will use FAST Graphs, a convenient tool which will show both metrics at the same time.
ConocoPhillips (NYSE:COP): Turnaround Continues Through 2013
The first of these stocks is ConocoPhillips. ConocoPhillips explores for, produces, transports and markets Crude oil and various forms of natural gas around the world. Once a

fully integrated energy company, ConocoPhillips has since split off its refining business and is refocusing on the following geographies: North American shale and oil sands, Australia, Malaysia and the North Sea.
The company has a number of developments and a global exploration program. Production was around 1.57 million barrels per day with 8.4 billion barrels of oil equivalent (BOE) in proved reserves. Possibly more by now. ConocoPhillips has a market cap of $72 billion and pays a substantial dividend of nearly 4.5%.
The company has been in turnaround mode, selling many of its far-flung assets, including those in Algeria, Kazakhstan and Niger. ConocoPhillips is reorganizing into a primarily OECD producer with higher margins and more robust production growth. When the dust is settled, ConocoPhillips will be North America's largest energy producer.
As the company reorganizes, it has mostly sold projects which are finished and has reinvested the proceeds into unfinished ones. This has, of course, resulted in production declines and increased Capital Expenditure (CapEx) which has been a concern to some.
ConocoPhillips has recently updated us on their 2013 plans. CapEx will increase to $16.6 billion from $14.1 last year. Assuming no change from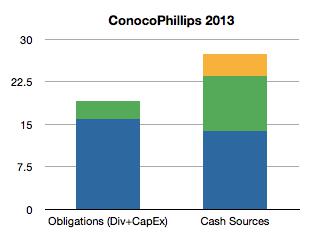 Operating Cash Flow numbers (in blue on the right), we're looking at another $2 billion funding gap (when Capital Expenditure exceeds Cash Flow from Operations). This does not include the $3.2 billion dividend. Like last year, this will be covered by asset sales (in green on the right). The company also has $4 billion in short term cash (in yellow).
For those who are concerned about the trend of selling assets to make up for the funding gap, a look under the hood will assuage these fears. Development programs, which are drilling-led programs on already operational assets, more than mitigate base decline. Growth here is led by the Eagle Ford, Permian and Bakken plays, whose production is more than replacing legacy North Sea, Alaska and Asia/Middle East.
A significant portion is also being spent on new projects, which is land already explored and assessed but needing infrastructure spending up front. These projects are led by the Oil Sands but see plenty of growth from Australia, Malaysia and the North Sea. All of these projects have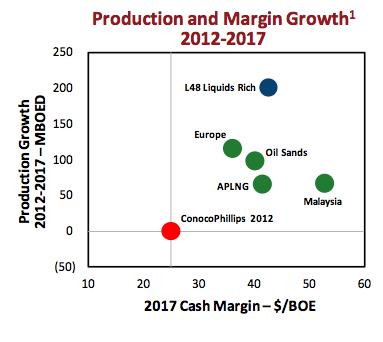 higher margins than the company's 2012 operations and their growth will ultimately lead to an additional $6 billion in cash flow. This alone would fund both the existing dividend and close the funding gap.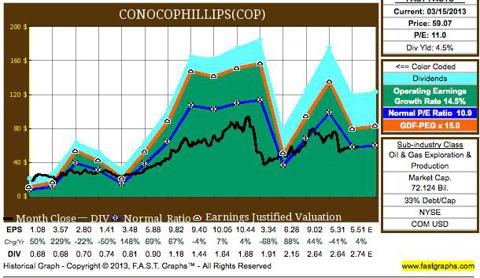 Because ConocoPhillips has recently split off a large segment of its business, this FAST Graph may not be as useful. Still, we can see a classic cyclical pattern to earnings. From this we can see that the stock price does move with the Graham-Dodd and PEG "Fair Value" line. Since there will soon be good production growth out of this company, I believe earnings will rise. Therefore, I see ConocoPhillips as a good value here.
BHP Billiton (NYSE:BHP): Control What You Can Control
BHP Billiton is a diversified natural resources company operating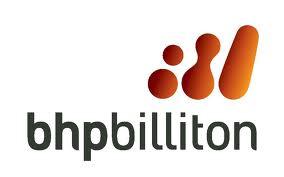 in several sector groups: Aluminium, Base Metals (Copper), Iron Ore, Manganese, Metallurgical Coal and Energy Coal and most recently Petroleum. Much of their operations are in Australia, but many are also in Chile, South Africa and the United States. Their market cap is $117 billion and their American shares provide a dividend of 3.1%.
In their interim annual report, BHP reported much lower earnings across the board. Revenues and net income both declined by double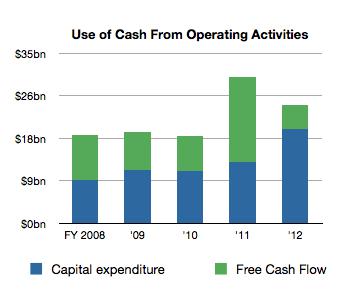 digits on lower commodity prices and strength of the Australian Dollar. Some of the interim financial results look very alarming without context. Operating Cash Flow dropped 45% to $6.4 billion. Capital spending was a whopping $12.2 billion on a multitude of long-term projects.
BHP is doing what it can, however. Management can't much control prices of the various resources they sell: they are a price-taker. Obviously they can't do much about the strength of Aussie Dollars,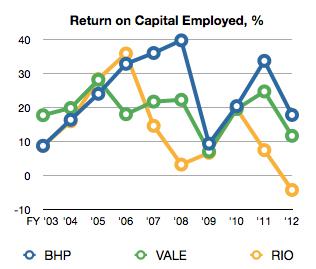 either. They have, however, been first among big miners to foresee commodity price declines and have worked hard to reduce costs. In fact, despite BHP's difficulty, their situation is far less dire than miners such as Rio Tinto (NYSE:RIO).
Ever hear the phrase "the night is darkest before dawn?" While the interim cash flow results may seem foreboding on their own, much of that capital expenditure is for projects which are nearing completion and doing so on budget. Much like ConocoPhillips, BHP has focused its CapEx on higher margin businesses. In this case it's Petroleum,

Metallurgical Coal and Iron Ore. The coming years will afford BHP a lot of flexibility. This will make possible further dividend increases, which BHP has historically tended to do.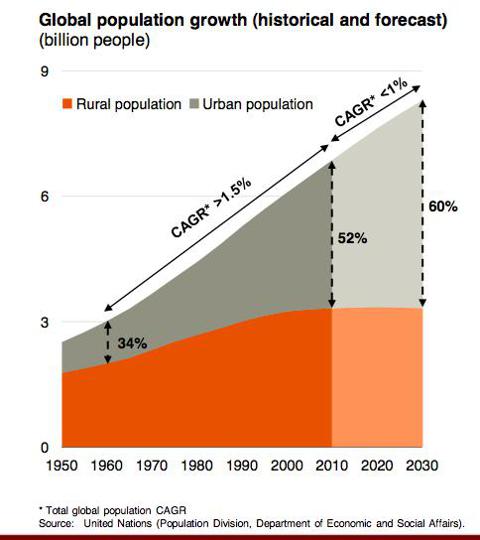 Chart from Australian Resources Conference
While long term deceleration of growth has chased many out of mining stocks, the driver of earnings growth is still there: global urbanization. People will steadily continue moving into cities around the world and this will further spur demand in Iron, Copper, Coal, Petroleum and the other things which BHP provides.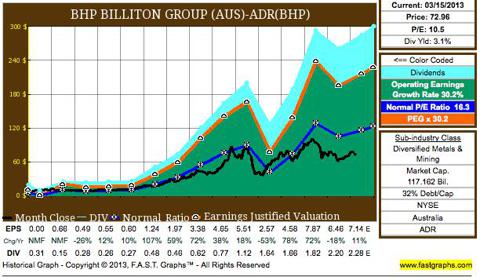 FAST Graphs
BHP's pattern here is an intriguing one because we can see two forces at work. Despite the cyclical attributes to earnings, there is still a secular growth trend. During the "Great Recession" of 2009, earnings took a dive. Yet, the earnings bounced back and continue to benefit from global urbanization.
Looking at the stock price, we can see that it follows closely the 15-year "Normal P/E Ratio" until about 2010. Perhaps the decoupling comes from expectations of little to no earnings growth, which in my opinion is not correct. In any case, BHP is a world-class company whose stock has gone nowhere but down for the last two years. It represents a good fundamental discount.
PotashCorp (POT): Well-Managed Secular Growth
While many fertilizers are easy to make, the highest quality

fertilizer, potash, is not. Potash, short for potassium carbonate, is found only in a few locations. Russia, Belarus and Canada together control about 70% of the world's potash exports. There are two cartels, one representing Canadian suppliers and the other Russian and Belarusian, both of which negotiate potash prices to the world's consumers. The market is effectively a duopoly. Adding to this duopoly, it takes on average about seven years to build a potash mine, where other kinds of fertilizer only take two.
The long-term growth story for fertilizers is a familiar one to many: as global population continues to grow and developing world diets become more protein-centered, which means more crop intensive, the need for high quality fertilizers is also going to grow.
PotashCorp, based in Saskatoon, Canada, is the world's largest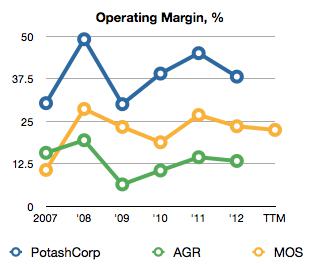 supplier of this necessary fertilizer. They produce about 20% of the world's potash and the majority of their profits and revenue come from its namesake fertilizer. Their disproportionate exposure to potash is likely why PotashCorp's margins consistently exceed their competitors, both of whom lead PotashCorp in producing nitrogen and phosphate fertilizers.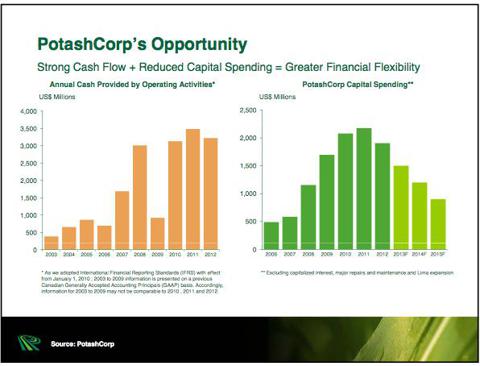 PotashCorp is in the later stage of a major capital spending cycle. As the capital expenditure tapers off, I believe we can expect to see sizeable, consecutive dividend increases. Like BHP Billiton, PotashCorp is committed to a progressive dividend. Unlike BHP, however, Potash already has positive Free Cash Flow after CapEx. Right now. The Dividend to Free Cash Flow coverage ratio stands at a healthy 45%. Reductions in CapEx as mining projects finish will drive this ratio down even further, paving the way for outsized dividend hikes.
One recent concern in the potash market is a rush of additional production capacity coming online from competitors new and old. In fact, BHP Billiton, for example, is building a new potash mine in Saskatchewan after a failed hostile takeover of PotashCorp. While the concern of increased supply is a valid one, the long term trend as well as a duopolistic market with high barriers to entry and limited potash-rich locations will keep this business profitable.
The recent history of fertilizer producers has been a rocky one. Driven up in 2008, these stocks have crashed harder than most in 2009 when fertilizer sales plummeted. Though they've recovered somewhat, stock prices have lagged the rest of the market and are still well below those all-time highs. Meanwhile, PotashCorp now pays a respectable dividend yield of 2.75% and has plenty of room to run.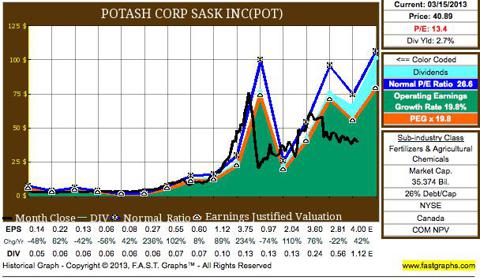 FAST Graphs
PotashCorp is much like BHP Billiton in that its earnings are highly cyclical, but with PotashCorp we can see a clearer secular growth trend within that cyclicality. The stock price has closely correlated with the PEG ratio until about 2011, and since that time the stock has dropped and gone nowhere.
Considering the macro picture, the company's financial strength, best of breed metrics and the duopolistic nature of the potash fertilizer market, this seems to be quite a mispricing. PotashCorp represents a good opportunity here as well as a healthy dividend that has a long runway of growth ahead of it.
Conclusion
A rush to safety should not be mistaken as a rush to quality. These three above companies are just as well run as Proctor & Gamble, Johnson & Johnson, Clorox and all the other Consumer Staples which have run up. They are merely in different industries, and right now its the Basic Materials which are out of fashion and thrown into the discount bin.
Just one word of caution. While I believe these stocks represent relative bargains, with the overall market at these levels few things are really cheap. The above three are all excellent companies which can be bought here, but do so cautiously and understand that if the market does correct, a low price will not necessarily mean protection on these "high beta" stocks. They could see even lower levels.
Stay Tuned
I personally follow all three of these stocks and have previously written about ConocoPhillips. I will continue to write update articles when relevant and material.
Additional Sources:
"ConocoPhillips 2013" chart by author, data from 2013 Analyst Day
ConocoPhillips "Production And Margin Growth" graphic from 2013 Analyst Day
BHP "Use Of Cash From Operating Activities" and "Return on Capital Employed" charts by author, data by Morningstar
BHP "Major Projects Currently In Execution" graphic from Macquarie Global Metals And Mining Conference
PotashCorp "Operating Margin" chart by author, data by Morningstar
"PotashCorp's Opportunity" Graphic from Bank of American Merrill Lynch Global Agriculture Conference
Disclosure: I am long BHP, COP. I have added shares of BHP within the last 72 hours. I wrote this article myself, and it expresses my own opinions. I am not receiving compensation for it (other than from Seeking Alpha). I have no business relationship with any company whose stock is mentioned in this article.
I have added shares of BHP within the last 72 hours.