Introduction
Altria Group (NYSE:MO) and Philip Morris International (NYSE:PM) have a unique positioning in both the tobacco industry and stock market. In the tobacco industry, the two sell the same products yet do not compete as they are defined by different geographical markets. In the stock market, however, no such thing bars the two from being competitors for the average investor who has no ethical qualms with investing in the tobacco industry. With the global clamp down on tobacco products getting stronger with each passing year, which tobacco maestro should your greenbacks root for? Ethics aside, from a purely economic perspective, are there alternatives to Philip Morris and Altria Group from all of the consumer product stocks?
Stock Performance
The tobacco industry is definitely rewarding. Come rain or shine, recession or boom, a smoker's quest for finding his preferred cigarette remains evergreen. Capitalizing on the habitual nature of the products sold, Philip Morris and Altria Group have been growing strongly over the past five years. In the illustration below, I have compared PM and MO with the S&P 500 and the DJIA. First up, quite obviously PM and MO have outperformed the market averages by more than 63% and 34% respectively. Ever since 2010, the two stocks have skyrocketed with PM eventually outstripping MO.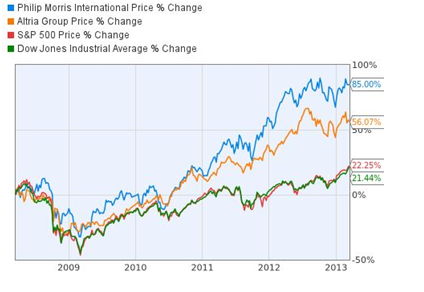 Over the past year, however, only Altria Group has been able to break past market averages on the back on strong sales in United States. The smokeable products industry delivered adjusted OCI and adjusted OCI margin growth for the full year in 2012. Marlboro is the flagship cigarette for the Altria Group and Phillip Morris. The cigarette brand was the primarily revenue generator through its higher pricing and effective cost management after embracing Marlboro's new brand architecture with brand building initiatives, which contributed to its Q4 2012 and 2012 full year retail share gains.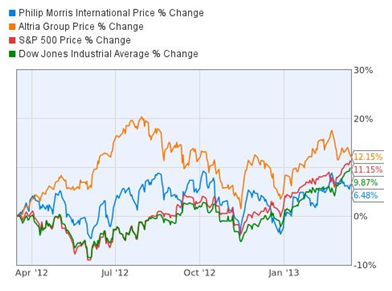 Financials and Fair Stock Valuation
The Altria Group currently trades at $33.68 with a 52-week range from $29.93 to $36.29, while Philip Morris has a share price of $91.35 with a 52-week range starting from $81.10 to $94.13. Both stocks are trading towards the top end of the range while continuing to close in on the higher marker.
Indicator

Price/Earnings ttm

17.7

16.3

Price/Book

-43.4

21.4

EPS Growth

(3 Year Avg.)

16.9

10.2

Dividend Yield, %

3.44

5.23

Debt/Equity

0.0

3.9

Return on Equity

0.0

122.1

Current Price

$91.35

$33.68

$86-$88

$31-$33

Stock Valuation

Undervalued

Overvalued

Upside Potential (Premium) to Reach Fair Value

6%

3%
Data from Morningstar and Financial Visualizations on March 18, 2013
There are many ways to estimate the fair stock value of a company. For this purpose, we applied the discounted-earnings-plus-equity model developed by EFS Investment analysts to these competitors. The calculations based on this model allow us to suggest the following: currently, PM stock is slightly undervalued, whereas MO stock is slightly overvalued.
With an industry average P/E of 16.3, Altria looks more favorable due to its cheaper price when compared to Philip Morris. However, growth potential is a separate story altogether. EPS growth over the past 3 years has been very impressive for PM. Altria Group's debt raises massive concerns for any interested investor. Altria Group's outstanding debt of $13.9 billion is greater than Reynolds American's (NYSE:RAI) ($5.1 billion) and Lorillard's (NYSE:LO) ($3.1 billion) combined debt levels. The company's make up of total assets consumes a high amount of debt which is forcing the debt/equity level to be at a staggering 3.9. Altria Group has a staggering dividend yield of 5.23% compared to 3.44% of Philip Morris. Safe to say, Altria Group is a dividend stock, which has struggled to increase its dividend recently as compared to PM. Furthermore, PM has reduced its share count by 20% while Altria has only reduced its share count by a meager 3.5%.
The graph below portrays a comparison on net quarterly income of the two companies over the past five years. Philip Morris has outperformed its American counterpart due to the wider market available to it. At the same time, however, this bodes to be an incentive for investors to opt for Philip Morris instead of Altria Group, since this reduces the amount of volatility.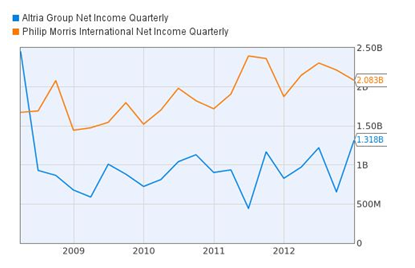 PM's premium brands, Marlboro and Fortune, have witnessed an increase in retail prices. The graph below also shows PM's best selling brands. Sampoema and Fortune ensure a consistent cash flow for the tobacco giant. Speaking of cash flow, PM also has a very healthy level of cash flow when compared to its total revenues. The company is not only leading Altria when it comes to having a cash flow as a percentage of net revenues, but also has many famous non-tobacco brands. This begs the question whether the stigma attached with tobacco stocks can be outweighed by the potential monetary benefits.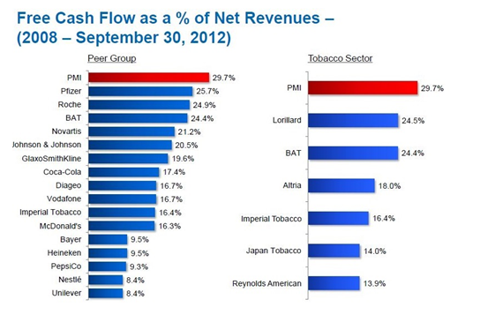 Source: Philip Morris Website
Make or Break for Investors
PM's long-serving Chief Executive Louis Camilleri announced that he would be stepping down from his position in the spring. This comes at a time when a storm is brewing about plain packaging of the cigarette packs. The global tobacco giant, which sells cigarettes in over 200 countries, manufactures and markets Marlboro, the number one cigarette brand, holds more than 9% market share by volume worldwide (excluding China and U.S.A. cigarette volumes). With the current market trends continuing, PM has a strong opportunity in Asia, where its volume growth and rising market share has helped it reclaim revenues lost in Europe, which is facing difficult macro-economic conditions and tobacco industry taxation. The problem however, lies with China and Russia, the two biggest tobacco markets. In China, the tobacco industry is state-owned and only limited access has been granted to Marlboro. In Russia, the president has banned smoking in public places.
Altria Group offers cigarettes, smokeless products, wine and financial services. Almost 90% of the revenue comes from the cigarette sales for the company. It forecasts a growth rate of 6% to 9% for its EPS in 2013. Altria faces stiffer competition from the regulation of its addictive products. There is a tremendous amount of awareness, education and material available in the United States, which attempts to persuade people to give up smoking. Compared to PM, MO has does not have the disadvantage of having to face a difficult European market. With plain packaging for cigarettes being pushed forward with more fervor than ever before, it remains to be seen whether the effects will be spilled over in the U.S. as well.
Morningstar provides the following rating for the two stocks: Philip Morris - 1/3 outperform, 2/3 hold; Altria Group - 2/4 buy, 1/4 outperform, 1/4 underperform.
Conclusion
Keeping in mind the information and financial metrics mentioned above, I believe Philip Morris has the best offering currently available for investors. Compared to Altria Group, Philip Morris has a larger market share and target market, which allows it not only to generate higher revenue, but also to minimize risks. In 2012, the company held an estimated 28.8% share of the total international cigarette market, excluding the People's Republic of China and the U.S.
Why Philip Morris? Well, since the company's spin off of Philip Morris USA to Altria, the following results justify PM being chosen over MO.
PM achieved a Total Shareholder Return of 103.5% versus the S&P 500 Index of 20.6%;

PM returned over $50 billion to shareholders through dividends and share repurchases;

PM increased its dividend each year for a cumulative increase of 84.8%;

PM repurchased 489 million shares, or 23.2% of the shares outstanding after the spin-off, at an average price of $56.96 per share.
Disclosure: I have no positions in any stocks mentioned, and no plans to initiate any positions within the next 72 hours. I wrote this article myself, and it expresses my own opinions. I am not receiving compensation for it (other than from Seeking Alpha). I have no business relationship with any company whose stock is mentioned in this article.