Don Hodges is a mutual fund manager who I've been following with one eye for quite a few years - he runs Hodges Fund (MUTF:HDPMX) ; we are similar in the "go anywhere" approach, and a quite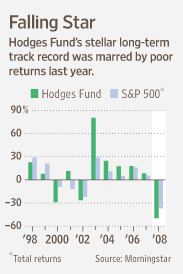 concentrated portfolios - for his fund, there are currently about 50 positions with a high asset concentration in the top 10 positions: >40%. I respect that approach rather than "being the market" (buying 200+ stocks and not being concentrated in anything) as most mutual funds are. Like most long only managers, Mr. Hodges has had a very rough year in 2008 (-50%), and 2009 thus far has not been to kind either (-14% year to date). As the story in the Wall Street Journal says, assets have been obliterated down from $750M to $250M, from a combination of stock losses and then withdrawals.

Looking at his top positions at 12/31/08, 14% (top 2 positions) were in airlines Continental Airlines (NYSE:CAL) and AMR Corp (AMR) and then a very heavy emphasis on energy in the bottom 5 of the top 10.

In the latest update, as of 2/28/08 which does not have weightings but shows top 25 positions, we see a continued major emphasis on energy - Transocean (NYSE:RIG), Chesapeake Energy (NYSE:CHK), Exxon Mobil (NYSE:XOM), Schlumberger (NYSE:SLB), and still a sizable exposure to the airlines. Quite interesting because the market has been trading the 2 sectors against each other - when oil runs, usually airlines suffer and vice versa. Some quality names he owns outside of those groups are Flowserve (NYSE:FLS), and Cummins Engine (NYSE:CMI).

Here is the WSJ article and it definitely shows the human toll this market has taken on mutual fund managers. [Mar 12, 2009: First Pacific Advisors - Rob Rodriquez to take 1 Year Sabbatical]
For many years, Donald Hodges ran one of the top-rated stock-focused mutual funds in the country. He also has lost money for his investors over the past decade. A $10,000 investment in Hodges Fund made 10 years ago would be worth around $9,015 today, compared with $7,720 if it was invested in the Standard & Poor's 500-stock index.

Years of stellar performance were wiped out by a 49.5% plunge in 2008, a much steeper fall than the S&P, and a 11% drop so far this year.
"You carry it with you every place you go because you have friends investing with you," says Mr. Hodges, a silver-haired, 74-year-old Dallas money manager, who also suffers because he has money in the fund. "I'm very much embarrassed by our performance last year."
So, Mr. Hodges, who maintains a calm aura despite all, has found himself logging extra hours soothing clients. He has become more cautious in his new stock picks, leery about buying until he is sure they are unlikely to blow up.
Mr. Hodges is emblematic of well-regarded fund managers with good track records who have been chastened in the short term.

The "go-anywhere" Hodges Fund -- Donald Hodges invests in both value and growth issues, and ranges from small- to large-market capitalizations -- was founded in 1992 and rose to $750 million in assets by early last year. But now it is one-third that size, thanks to the brutal decline and outflows of around $31 million for the first two months of this year.
In

three consecutive years through the end of 2007, the Hodges Fund won awards for having the best five-year performance in Lipper Inc.'s category of multicap core funds. Even now, Mr. Hodges frequently appears in the media.
In recent months, Mr. Hodges has been spending a lot more time on the phone with clients, at times simply letting them vent

.

Mr. Hodges is fixated on turning around his fund. He is staying with holdings he thinks will rebound, such as oil-related stocks. "It becomes a question of proving yourself to yourself, and to your clients," he says. Still,

he has become gun-shy about jumping into new stocks.