Apollo Group Inc. (NASDAQ:APOL) is set to report earnings (APOL Earnings Webcast) after the market closes on Tuesday, March 31, 2009. Apollo Group, Inc. has been an education provider for more than 30 years, providing academic access and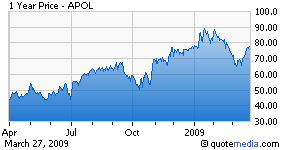 opportunity to students through its subsidiaries, University of Phoenix, Institute for Professional Development, College for Financial Planning, Western International University, Meritus University, Insight Schools and Apollo Global. The Company's distinctive educational programs and services are provided at the high school, undergraduate, graduate and doctoral levels in 40 states and the District of Columbia; Puerto Rico; Alberta and British Columbia, Canada; Mexico; Chile; and the Netherlands, as well as online throughout the world.
APOL is expected to earn 65 cents for its 2nd quarter. We expect the education and training services company to announce earnings that will beat investors' and analysts' expectations . Heading into earnings, APOL estimate has been on the rise, starting the quarter at $0.58 and now standing at the consensus estimate of $0.65.
Apollo has delivered a positive earnings surprise 6 of the last 7 quarters, moving up nicely each time. Shares rose an average of 14.6% following the 6 muscular reports. The one time APOL missed, the stock got whacked 21%.
Short term investors might consider buying the stock for a trade that could pop after earnings. For the less daring, we suggest buying the April 80 call options and selling the April 85 call options. The 80 call options are trading at roughly $4.40 per contract and the 85s are about $2.55. For every 1 contract you invest in, your outlay is $440. For every contract you write or sell, your cash inflow is $255, for a difference of $195. The $195 is your downside
If APOL doesn't break $80 by April 17th, you lose $195. If it trades between $80 and $85, you'll make at least the difference between the price and $80, plus the $255 per contract for selling the 85 call. If APOL breaks $85, you will have risked $1.95 to make $3 for a 150% return.