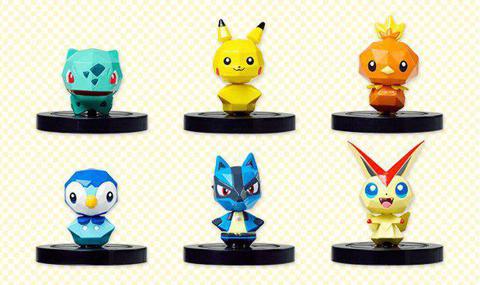 After watching the success of Activision's (ATVI) Skylander franchise, Disney (DIS) announced its upcoming "Disney Interactive" release this year. Now it appears there will be a third player in the children's interactive video game/toy business. Nintendo (OTCPK:NTDOY) is utilizing its NFD technology to place Pokemon characters that customers buy directly into an upcoming game. The newest game titled "Pokemon Rumble U" could be a game changer for Nintendo and its disappointing new console, the Wii U.
The newest Pokemon game will utilize NFD technology to allow customers to scan their toys. The initial launch will include the characters Bulbasaur, Pikachu, Torchic, Victini, Piplup, Lucario, and one secret Pokemon character. The individual toys will be sold through toy vending machines in Japan with a retail price of 200 yen (around $2). A carrying case will be sold for 780 yen (around $8). The game for the Wii U will sell for 180 yen (around $19).
The launch of "Pokemon Rumble U" will hit Japan first on April 24th. This date actually coincides with Nintendo's fiscal year end report. Investors should get more clarity on the international launch of the game on that date.
I have praised the launch of the Skylanders franchise, both as an investor and an Activision shareholder. The interaction of the toys with the game has created a huge demand for the toys that keeps sales high throughout the year. Skylanders' figures continue to appear on the Amazon Top 100 Video Games list on a weekly basis.
Disney is launching its new "Disney Interactive" game in August. This was a move of two months back after the initial launch called for June. The game will sell for $75 with three figures to start (Sulley, Capt. Jack Sparrow, Mr. Incredible). Disney pushed the game back to ensure the game is available in the "Fall retail season".
Additional figures will sell for $12.99 each or $29.99 for three packs. Similarly, Skylanders figures sell for $10-$12 each new, or much more on secondary markets for rare figures. Pokemon will have the upper hand with both a cheaper game and cheaper figures.
The Pokemon franchise has sold more than 86 million video games in North America and 217 million worldwide. Across all platforms, the Skylanders franchise has sold 7.9 million copies from two released games. Earlier this year, Activision announced that Skylanders had crossed the $500 million mark. I believe the game will be the next $1 billion brand for the company with many more titles and figures to come.
Through March 9th, here is a look at console sales:
Nintendo Wii: 0.43 million
Nintendo Wii U: 0.46 million
Playstation 3: 1.68 million
XBOX 360: 1.13 million
The original Nintendo Wii was a huge success, selling over 99 million copies and ranking ahead of both the Playstation 3 (73.5 million) and the XBOX 360 (74.7 million). The Wii U has underperformed, but it comes at a time when video game sales are declining. One of the knocks on the new console was its lack of exclusive titles. "Pokemon Rumble U" brings that exclusive title that the console may have been waiting for. The new game also marks the first Pokemon game for consoles.
Nintendo could use a hit worldwide with the launch of "Pokemon Rumble U". Sales of the Nintendo Wii U have been nothing short of disappointing. Back in September, I recommended buying shares of the video game company when they were around $15 a share. My price target was $20 by the end of 2012. Shares never hit that mark, with a high around $17.50 in October. Since that time, shares traded below $12 before rising to current levels of $14.
With Sony (SNE) and Microsoft (MSFT) both releasing new consoles, Nintendo could become the forgotten video game maker. On April 24th, Nintendo will report its full year earnings. The company has already called for lower earnings and revenue due to the poor reception of the Wii U. Shares may fall further after that report. However, investors should be ready to pounce on the shares for the long term.
Disclosure: I am long ATVI. I wrote this article myself, and it expresses my own opinions. I am not receiving compensation for it (other than from Seeking Alpha). I have no business relationship with any company whose stock is mentioned in this article.