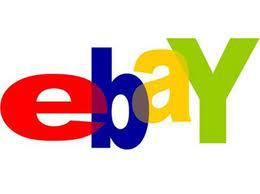 Last week, JPMorgan expressed its view that eBay's (NASDAQ:EBAY) recent sell-off was overdone and Evercore upgraded the stock. I've generally been bullish on eBay but I thought it would be interesting to take another look at the stock.
Much Of eBay's Value Lies In Paypal
This is no surprise and it's something I've been saying for years. eBay was able to leverage its position as an auction leader to get a solid customer base on Paypal and secure its spot as the default online payment method. That continues to be the case years later. Could Paypal improve? Yes, no doubt about it. But I would argue that Paypal has done a solid job in keeping up with the competition by launching platforms for offline transactions, decent mobile apps, etc. On Wednesday, Paypal launched an iPad version of its "Paypal here" product to better compete with Square, one of its main competitors. Of course, many players continue to compete in the space including formidable ones such as Facebook (NASDAQ:FB), Google (NASDAQ:GOOG) and Amazon (NASDAQ:AMZN) even though it's not clear how their strategies will play out. How far could Facebook credits evolve? What are Google's plan with its wallet? And how will it leverage its Android platform to do so?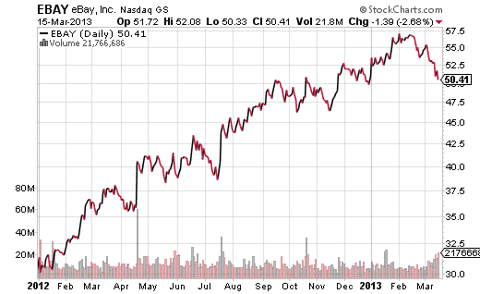 The main point though remains. Paypal remains by far the most used product and I don't think that is likely to change anytime soon. Through my online company as well as my personal use, I do many transactions every day with consumers and other businesses. In almost all cases, both parties assume that the payment will be done through Paypal. It creates a network effect similar to what Facebook has been able to build where it becomes very difficult to leave and start paying through another method. Possible of course. But difficult.
eBay Marketplaces Are Not Dead
While it has certainly been a more challenging environment, I don't think there's any doubt that CEO John Donahoe has done a good job reviving that part of the business and while it's not clear to me that there are as many growth opportunities, eBay is certainly getting the most out of its marketplaces and is clearly #2 to Amazon in terms of ecommerce. Not a bad place to be in an exploding market. Just take a look at revenues in the past few years in eBay's 2 main segments:
Red line: marketplace revenues
Blue line: payments revenues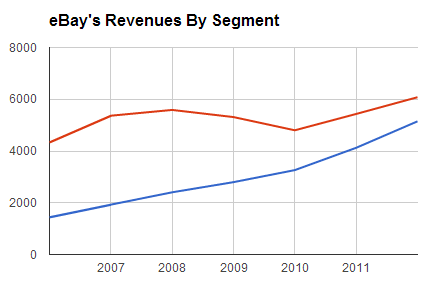 Overall, both the revenues and earnings per share are growing at very healthy paces which I don't see changing anytime soon. Just look at the past and expected (assuming flat growth) EPS numbers: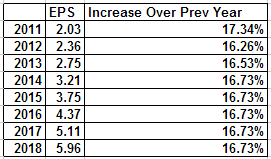 Valuation
That certainly brings up a good question in my opinion. If I expect close to 20% or so of EPS growth for the next 5 years for eBay, that would put the EPS at around $6 by 2018 and at a 13 P/E or so, I get a price of $78. While that is a 50% increase over its current price, it is over a few years so the actual expected return is much closer to 10% per year. It's not bad and I certainly think that eBay is worth buying but I do think there is more upside in some other names such as Facebook and Google.
One of the benefits of eBay though is the limited downside in my opinion. As long as no competing services to Paypal gain significant traction, it will be able to increase revenues quite easily and maintain its pricing. Even big players are struggling to find a strategy that would help them become the "default" payment method.
Overall A Solid Stock To Hold
I would not describe eBay as my top pick but I do think it's a solid holding at this point given the upside limited risk involved. I do expect its Paypal unit to continue driving solid growth
Disclosure: I am long FB, EBAY, GOOG. I wrote this article myself, and it expresses my own opinions. I am not receiving compensation for it (other than from Seeking Alpha). I have no business relationship with any company whose stock is mentioned in this article.