Two phone book companies Dex One (DEXO) and SuperMedia (NYSEARCA:SPMD) have finally filed for Chapter 11. The intent is this all to be water under the bridge shortly with a hearing requested for April 25, 2013. The best source of information right now is through EPIQ's debtorMatrix online bankruptcy filing system here. This Chapter 11 has overwhelming creditor support.
Of the 400 senior secured lender votes received, 398 were cast in favor of the amendment plan, according to the filing.
In this article I am going to take you on a journey where I illustrate how different business entities are valued and how there are two prevailing methods of pricing equity: Crisis and Non-Crisis.
Crisis Pricing
Crisis pricing is effectively where you collapse all of the business entities into one that you value. In the Discounted Cash Flow Analysis excerpt from the Chapter 11 Filings that I pulled from the Unaudited Valuation Analysis of NewDex I want you to note that the valuation technique here reflects the Crisis Pricing Mentality and simply discounts the cash flows as if there is only one business entity. In fact there is more than just one business entity in this case. Still confused? Khan Academy has a great video on Enterprise value for those of you unfamiliar with the concept that I recommend you check out.
Discounted Cash Flow Analysis

Houlihan Lokey estimated the implied enterprise value from operations reference range of Newdex by performing a discounted cash flow analysis of Newdex. The discounted cash flow analysis consisted of calculating the estimated net present value of the unlevered, after-tax free cash flows that Newdex is forecasted to generate from January 1, 2013, through December 31, 2016, based on internal estimates provided by SuperMedia and Dex One management, including Synergies, net of the estimated one-time costs to achieve such Synergies. Houlihan Lokey calculated terminal values for Newdex by applying a range of perpetuity growth rates of (1.0)% to 1.0% to Newdex's fiscal year 2016 estimated normalized unlevered free cash flow. The present values of the cash flows and terminal values were then calculated using discount rates ranging from 13.0% to 17.0%. The discounted cash flow analysis indicated an implied enterprise value from operations reference range of approximately $2.59 billion to $3.62 billion, with a midpoint of approximately $3.10 billion.

Houlihan Lokey then calculated the implied equity value reference range from operations of Newdex. This reference range was determined by adjusting the implied enterprise value from operations reference range resulting from the discounted cash flow analyses for Newdex described above so as to (NYSE:A) subtract (1) estimated net debt as of December 31, 2012, (2) estimated pension and OPEB liabilities, and (3) estimated expenses arising from the transactions contemplated by the Plan and Dex One Plan, including the transactions contemplated by the Merger Agreement, and (NYSE:B) add the estimated present value as of December 31, 2012, of the Newdex Tax Attributes. The present value of the Newdex Tax Attributes were calculated using discount rates ranging from 20% to 25%. This analysis resulted in an implied equity value reference range for Newdex of approximately $(348.9) million to $721.8 million, with a midpoint of approximately $186.5 million.
Presently Dex One and SuperMedia both trade at an EV/EBITDA of around 3.0x. This reflects crisis pricing. Note that the debt trades sub-par to reflect this. The equity effectively is priced like a long-dated call option.
Non-Crisis Pricing
Non-Crisis pricing is where you value the debt at par, the preferreds at par, and the equity using an earnings multiple. This only happens when the debt is perceived to be payable.
On Page 507, Chapter 40 of Ben Graham's famous book titled Security Analysis it reads, "The optimum capitalization structure for any enterprise includes senior securities to the extent that they may safely be issued and bought for investment."
At some point in the future, it is my belief as well as that of the companies that the revenue declines will slow, the crisis will abate and the debt will trade at par. At that point in time, the valuation of the equity should become priced as a multiple of the leveraged free cash flow. Let's take a look at where a 6.0x multiple on the leveraged free cash flow gets us to in 2016.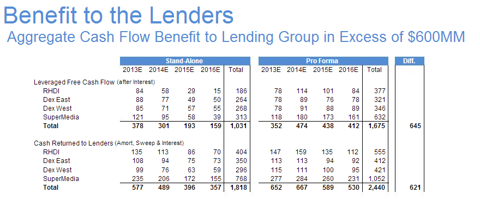 Based on the analysis above provided in the merge documentation, the combined merged entity should be expected to be producing $400M of LFCF in 2016. At a 6.0x multiple that equates to a valuation of the equity of $2.4B. Across 16.7M shares that yields a value per share of $143.
The trick to understanding and valuing this situation is being able to forecast the valuation of the debt. Right now the debt is trading at around $0.70 on the dollar. It is my belief that the repayment schedule combined with subpar repurchases (as long as the debt trades subpar) will resolve this issue in the coming years and eventually the equity will be valued as a separate entity.
Reasons that I could be wrong are not limited to but may include:
This chapter 11 is rejected and subsequently turns into dual chapter 7's.
Declines in print accelerate beyond the joint company projections.
This chapter 11 is modified to include extreme dilution. If you want a case study of bad management take a look at Yellow Media's CBCA up in Canada.
People do not like phone books. As such they may never be willing to own very profitable phone book companies. Therefore appreciation to a 6.0x multiple may be overzealous. My thoughts are that revenues are likely to stabilize somewhere and that's a low multiple at that point.
Perhaps a large investor takes the company private at a low valuation before the company gets a chance to appreciate in value.
Disclosure: I am long DEXO, SPMD. I wrote this article myself, and it expresses my own opinions. I am not receiving compensation for it (other than from Seeking Alpha). I have no business relationship with any company whose stock is mentioned in this article.