The situation in Cyprus and Europe is still at a standstill with the government agreeing to negotiate this further and looking to keep the banks closed for at least today and tomorrow as they figure out who and what they will tax. Apparently the Russians are none to pleased with this chain of events and there is talk of them cutting off gas supplies to Germany in retaliation. This is a nightmare in geopolitical terms, and one has to wonder what the final resolution will be. It must resemble the initial plan, but there will most certainly be some changes to appease the masses and foreigners as well. It is always surprising that little problems can create big problems.
Chart of the Day:
It really is all about the building permits and housing starts and although the industry is doing much better these days, we are nowhere near where we need to be. Rents are beginning to get out of hand in some markets and the low inventory in many markets is pushing up housing prices which means the entire market is out of equilibrium at this point. Watch as we approach the 1000 level on the chart moving forward and what happens in the economy. More consumer spending, extra disposable income and economic activity spiking due to the smaller home builders returning to the industry.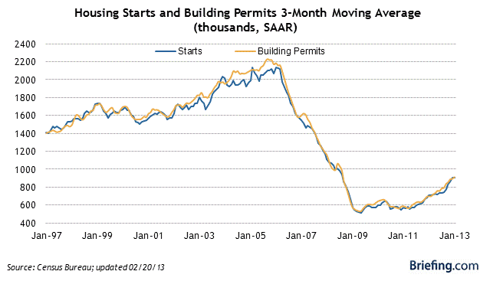 Chart courtesy of Briefing.com
We have economic news due out today, and it is as follows:
Housing Starts (8:30 AM EST): 911k
Building Permits (8:30 AM EST): 925k
Asian markets finished higher today:
All Ordinaries - down 0.46%
Shanghai Composite - up 0.78%
Nikkei 225 - up 2.03%
NZSE 50 - up 0.09%
Seoul Composite - up 0.53%
In Europe markets are trading lower this morning:
CAC 40 - down 0.69%
DAX - down 0.66%
FTSE 100 - down 0.39%
OSE - up 0.10%
Retail
We noticed shares in JC Penney (NYSE:JCP) rising yesterday with an impressive 6%+ move higher to close at $16.44/share. There is now talk that Bill Ackman may need to take the company private in order to salvage his $1 billion investment that Pershing Square made in the retailer. The thinking goes that the company only has 12 months worth of cash left at their current burn rate and that this turnaround effort is going to take longer than that in order to succeed, so they need investors who can be patient and provide cash to help foot the bill for the store transformation. It appears that it would be a complicated deal as new debt could not be used to finance the purchase as JC Penney is already leveraged so it would need to be parties with cash and willing to do the buyout themselves. Without the leverage that really puts a hold on the returns and with the current state of the business we think that there would need to be at least two quarters of data to show a shift in business for deep pocketed investors to take this risk. There is a really good Bloomberg piece on all of this located here.
The more people look at the retail space it seems the more they agree with our thinking that The Gap (NYSE:GPS) is the creme of the crop. There was a brief period of time where it honestly appeared that the company was losing their advantage, but that was simply due to a seasonal spike at the weaker chains. There are a few things investors need to recognize when looking at the company and their results, first is that their comps are only getting harder to match from previous years and previous quarters and also that they may be posting slower than wanted growth, but they are posting growth numbers, which is something that we cannot say for all retailers or even those considered their peers.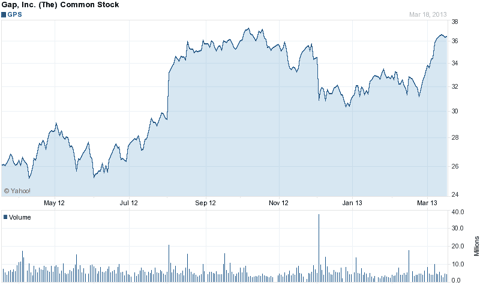 Chart courtesy of Yahoo Finance.
Yesterday an analyst at Jefferies raised his price target on the company's shares to $51 from $50 while maintaining his 'Buy' rating on the stock. This is one we have been behind for some time and if it were to get within shouting range of this analyst's price target then we would have a double and be about halfway to a triple from where we brought it to readers' attention. Gap is the retailer to watch during this next quarter, especially as they are not having to mark down merchandise to attract consumers.
Media
Shares in Charter Communications (NASDAQ:CHTR) rose $7.95 (8.82%) to close at $98.04/share after the Wall Street Journal reported that the company may have a 25% owner in the future via Liberty Media. John Malone made his fortune in cable and has ventured into the business in Europe piecing together a small empire over there, however in the US he has shied away from the cable operators and instead focused upon the content generating names. He is usually a few steps ahead of competitors and with this move into cable now it sure seems that he is indicating that we are due to see the content players facing growth problems in the future while the cable companies benefit. With the recent transaction regarding SiriusXM, it sure seems that he is going "all-in" on the content providers, assuming this deal does take place.
Transports
We have pointed out recently the important role the transports played at the start of the current move higher in this bull market and our thinking of how they may be a good indicator for future moves to come. We are watching them closely, but as readers know we are partial to the railroads. This is due to many reasons, but foremost because of the fact that they will not be facing a situation where they have to face new competitors coming in and building new systems. It is an industry well entrenched and with a moat protecting their business; what is more they face little competition as very few areas of the country have competing spurs or lines.
Looking at the railroads yesterday we saw Norfolk Southern (NYSE:NSC) trade slightly higher during the day to set a new 52-week high before turning lower and finishing the day down $0.51 (0.67%) and closing at $75.11/share. Another name hitting a new 52-week high in the industry was Kansas City Southern (NYSE:KSU) which saw shares rise to as high as $109.44/share before closing the session up a penny at $107.99/share. Looking forward we would like to see KSU retest that $110/share level and ultimately breach it, otherwise we could be looking at a situation where we could be looking at a consolidation in the best case and a correction in the worst...assuming we are right about the transports and rails.
Disclosure: I have no positions in any stocks mentioned, and no plans to initiate any positions within the next 72 hours. I wrote this article myself, and it expresses my own opinions. I am not receiving compensation for it (other than from Seeking Alpha). I have no business relationship with any company whose stock is mentioned in this article.