Looking for rebound candidates within the technology sector? Using the technical indicator RSI(14) and EPS trends we created a list that could be a useful starting point for your search.
While investors' eyes seem glued to Apple (NASDAQ:AAPL) and Groupon's (NASDAQ:GRPN) recent rally andcaught up in the Samsung IV release, the rest of the technology industry trailed the S&P 500 last week. The sector dropped 0.22% on Monday.
With this in mind we created the list below by starting with a universe of technology stocks that are technically oversold (with RSI(14) below 40). We screened out market caps under $300 million to avoid the smaller players. About 67 stocks met the criteria.
Could this overselling be the result of an industry trend rather than a stock specific consideration? To find names that may have been "unfairly" oversold, we look a look at EPS trends.
Based on the theoretical assumption that if P/E is equal to a constant K, growth in EPS estimates should be matched by proportionate growth in price. When they don't match up, a mispricing may have occurred. We screened for those exhibiting this mismatch between changes in EPS estimate and price.
We were left with 4 names.
The List
For an interactive version of this chart, click on the image below. Analyst ratings sourced from Zacks Investment Research.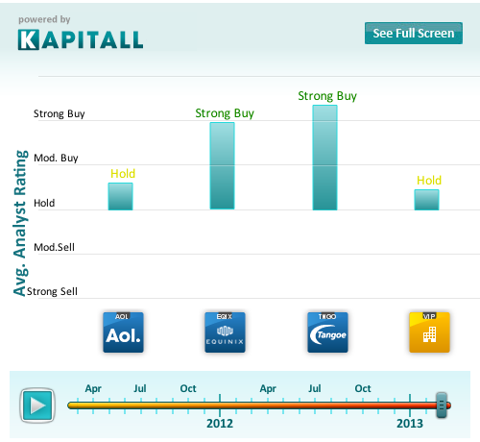 Do you think these stocks have been unfairly sold off? Do you think they might be ready for a rebound? Use this as a starting point for your own analysis.
1. AOL, Inc. (NYSE:AOL): Operates as a Web services company that offers a suite of brands and offerings for the worldwide audience.
2. Equinix, Inc. (NASDAQ:EQIX): Provides data center services for the protection and connection of information assets to enterprises, content providers, financial companies, network service providers, and cloud and IT services companies.
3. Tangoe, Inc. (NASDAQ:TNGO): Provides on-demand communications lifecycle management (CLM) software and related services to enterprises, including large and medium-sized businesses and other organizations.
4. VimpelCom Ltd. (VIP): Operates as an integrated telecommunications services provider, offering voice and data services through a range of wireless, fixed, and broadband technologies.
*EPS data sourced from Yahoo! Finance, all other data sourced from Finviz.
Disclosure: I have no positions in any stocks mentioned, and no plans to initiate any positions within the next 72 hours.
Business relationship disclosure: Business relationship disclosure: Kapitall is a team of analysts. This article was written by Rebecca Lipman, one of our writers. We did not receive compensation for this article (other than from Seeking Alpha), and we have no business relationship with any company whose stock is mentioned in this article.