Will the Diamond Continue Shining? - Blue Nile
Blue Nile is a leading online retailer of high-quality diamonds and fine jewelry and holds "Blue Nile" as a premium brand. We have some concerns about the company's profitability and growth potential and therefore are bearish about its stock.
Diamond engagement rings account for approximately 70% of the company's sales, and other diamond jewelry accounts for an additional 20%. The company drives revenues from 44 countries and territories worldwide through three websites. The online customer service includes substantial education, guidance, selection and customization capability, which works as a key differentiation feature of the company. It also developed an efficient online cost structure and a unique supply solution that eliminates traditional layers of diamond wholesalers and brokers, enabling the company to purchase most product offerings at lower prices by avoiding mark-ups imposed by intermediaries. Blue Nile does not hold substantial inventories, as most of the time it only purchases those diamonds that customers have ordered to minimize the costs associated with carrying diamond inventory and limit risk of potential mark-downs.
Summary
Blue Nile is operating in a market with intense competition from both online and offline jewelry retailers. Online sales of diamond engagement rings accounts for the majority of the business, and the company solely depends on the relationship with various downstream diamond suppliers for its product procurement, without any influential power to the purchase price.
The rough diamond price experienced significant fluctuations during 2012 and is expected to increase going forward from 2013 to 2020, which would further challenge the profitability of Blue Nile.
The company is currently trading at a P/E ratio of 56.3x, relatively higher than the jewelry retailer industry. Although with an ecommerce nature, the current growth rate and future growth potential seems not supporting such a high ratio.
Besides, financial analysis of recent performance shows negative signs, including the decrease of gross margin, EPS, EBITDA and ROA. The growth rate also seems slow compared with previous years.
The management has been trying to carry out plans to improve market share by investing more in marketing expenses, international expansion and to obtain more females as repeat customers, however, the most recent financial performance in 4Q2012 indicated such measures have not been working out so far.
Intense competition in the jewelry and diamond market
Blue Nile is operating in the retail jewelry market and has been successful in building up its brand as one of the best online jewelry retailers, within the growing U.S. jewelry market. The company faces significant competition from retail jewelry stores (e.g. Tiffany & Company and Zale Corporation), independent jewelry stores, online retailers that sell jewelry (e.g. Amazon, eBay, Diamond.com; WhiteFlash.com; James Allen and Brilliant Earth) and other online flash sales website (e.g. Gilt and Rue La La). Brick and mortar jewelry retailers also started their own online presence and website to boost their sales. In addition to competition from retailers, the original suppliers to retailers may also decide to sell directly to end-customers in the future, either offline in physical stores or via online shopping. Synthetic stones and jewelry can also be a threat for diamond retailers.
Rough diamond supply
A majority of the world's supply of rough diamonds is controlled by a small number of diamond mining firms, and any decisions made to restrict the supply of rough diamonds by these firms to downstream suppliers could substantially affect Blue Nile's ability to acquire diamonds at a reasonable price. The company currently only works with these downstream suppliers, but has not established any relationship with the controlling mining firms. Therefore the capability of Blue Nile to maintain good relationships and expand further cooperation with other fine jewelry supplier relationships would substantially determine the purchase cost and profitability. Generally the company does not have influential power regarding the purchase price of diamond.
Purchase cost of diamond
Blue Nile's profitability highly depends on its ability to acquire diamond at commercially reasonable prices. The cost for jewelry manufacturers has been rising in recent years. However, the retail prices have not kept pace, adding pressure on the jewelry retailers. According to industry sources, suppliers' jewelry prices increased 6.5% year-over-year in 2012 due to the increased prices of gold and other precious metals, but retail jewelry prices were relatively flat in 2012 compared to 2011. Retailers are seen to be absorbing most of the price increase imposed by the suppliers. The increase in the cost inflation, specifically the diamond prices, may have an impact on the company's profitability. Blue Nile adopts a "just-in-time" virtual inventory model, which decreases inventory holding cost, but makes the company buy diamonds at current spot rates. Competitors with inventories may have acquired diamond with lower cost, in periods of rising diamond prices, and thus have an advantage. The higher purchasing price of diamonds and other precious metals forces Blue Nile to either pass the increased cost to its customers and jeopardize its retail pricing advantage over competitors, or maintain its retail price and absorb the gross margin loss. As the company focuses on increasing its market share by offering quality products to its customers at lower prices than traditional jewelry retailers, it is likely to choose absorbing most of the rising costs.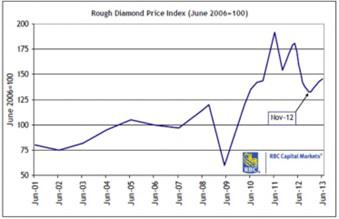 Source: RBC Capital MarketsAs presented in below chart, historically in 2011, prices rose dramatically by up to 50% between January and August, followed by a sharp drop in September; the prices of rough diamonds fluctuated significantly throughout 2012. Going forward, although there are mixed views regarding the diamond price growth, all views seem to be positive and robust for the long-term. The price trend is expected to be upward, driven by limited supply going forward and continued growing demand from the emerging markets.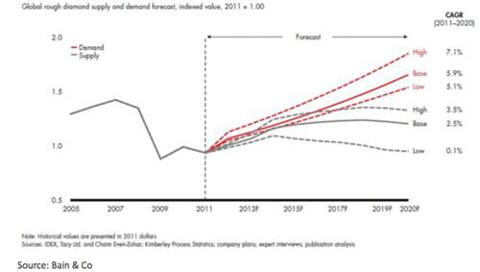 Vertical integration trend
Suppliers and manufacturers of diamonds as well as retailers of diamonds and diamond jewelry are vertically integrated and expected to continue vertically integrating their operations, either by developing retail channels for the products they manufacture or acquiring sources of supply, including diamond mining operations. Strategic upstream investments by downstream players, such as Tiffany, have increased as long-term supply concerns drive new approaches to mine development financing. To the extent such vertical integration efforts are successful, some of the fragmentation in the existing diamond supply chain could be eliminated, Blue Nile may have difficulty to obtain an adequate supply of diamonds and fine jewelry from multiple sources, and its competitors may be able to obtain diamonds at lower prices.
Recent Financial Performance
On an annual basis, the company's revenue increased 15% in 2012 compared to 2011. However, on a quarterly basis, the 4Q2012 revenue and EPS both missed the company's guided ranges. In 4Q2012, the core U.S. engagement ring business remained strong and increased 31% YoY, similar to 3Q2012. The U.S. non-engagement business took a step back in 4Q2012 after accelerating in 3Q12, due to weak sales in peak mid- December, which was the main reason for the guidance miss. Revenue generated from international business reaccelerated growth in 4Q12, driven by strength in APAC and Canada. Several negative financial indicators in profitability and growth trend shed some doubt on the company's financial health and future growth potential.
Gross margin decreased by 2 percentage points in 2012 to 18.8% from 20.7% in 2011;
Return on assets (ROA) consecutively decreased from 9.4% in 2010 to 5.3% in 2012, mainly reflecting the profitability deterioration, as assets remained at similar level;
EBITDA and net income margins both shrank consecutively for three years from 2010 to 2012;
Basic EPS also reduced from $0.98 in 2010 to $0.64 per share in 2012.
Valuation consideration

Investment risks
Sensitivity to macroeconomic conditions - Declining consumer confidence can adversely affect the demand for Blue Nile's products. In high unemployment rate and low consumer confidence situation, the sale of discretionary items is often the first category that is impacted. Since purchases of Blue Nile's products are dependent upon discretionary spending by its customers, the company's financial performance is sensitive to changes in overall economic conditions that affect consumer spending. If the U.S. economic growth were to slow considerably, it would likely have an adverse effect on consumer confidence and, by extension, on Blue Nile's growth prospects.
Jewelry market penetration barrier - Online sales penetration is impacted by the cautious and emotional approach towards purchasing jewelry. Online retail of jewelry has been witnessing difficulty in penetrating the market because of purchasing due to the nature of the products and associated consumer behavior. Traditionally, customers are used to face-to-face consultation with a knowledgeable salesperson and an opportunity to physically handle the merchandise before purchase. The internet provides consumers with neither of these comforts. This is particularly more significant among engagement jewelry, the core category for Blue Nile. The revival of the economy may reduce the positive impact of lower prices and more customers might prefer shopping at brick-and-mortar stores.
Changing operating input prices - As mentioned before, the rough diamond market fluctuations and potential increase in jewelry cost inflation could pressurize margins of Blue Nile.
We compared Blue Nile with five other public companies in jewelry retail industry - Tiffany , Zale Corporation (NYSE:ZLC), Signet Jewelers (NYSE:SIG), Movado Group (NYSE:MOV), and Fossil (NASDAQ:FOSL), as presented in above table. Blue Nile's trailing P/E ratio of 55.89x and EV/EBITDA of 25.32x is significantly higher than the average level of comparable companies, and therefore raises more overvalue concern.
Disclosure: I have no positions in any stocks mentioned, and no plans to initiate any positions within the next 72 hours. I wrote this article myself, and it expresses my own opinions. I am not receiving compensation for it (other than from Seeking Alpha). I have no business relationship with any company whose stock is mentioned in this article.
Additional disclosure: MaxSoar is a professional financial analysis firm. We research and analyze a broad spectrum of financial assets including stocks, bonds, mutual funds, real estate properties, and private companies. This article was written by one of our analyst. Maxsoar did not receive compensation for this article (other than from Seeking Alpha), and we have no business relationship with any company whose stock is mentioned in this article. Use of MaxSoar Financial and Investments LLC's research is at your own risk. In no event should MaxSoar Financial and Investments LLC or any affiliated party be liable for any direct or indirect trading losses caused by any information in this report or on its website MaxSoar.com.