The Long Case for Ulta Salon, Cosmetics, & Fragrance, Inc.
The recent sharp decline in Ulta Salon Cosmetics and Fragrance Inc (NASDAQ:ULTA) presents a unique buying opportunity for any investor looking to gain retail exposure and add value.
Company Description - Ulta is a beauty retailer, which provides one-stop shopping for prestige, mass and salon products and salon services in the United States. During the year ended January 28, 2012 (fiscal 2011), the Company opened 61 new stores. It operates full-service salons in all of its stores. Its Ulta store format includes an open and modern salon area with approximately eight to 10 stations. The entire salon area is approximately 950 square feet with a concierge desk, skin treatment room, semi-private shampoo and hair color processing areas. Each salon is a full-service salon offering hair cuts, hair coloring and permanent texture, with salons also providing facials and waxing.
Thesis & Catalyst For Ulta - Ulta took a steep decline in price on March 15th due primarily to the company guiding lower than street estimates for Q1 2013 when it announced it's Q4 2012 and year end financial results. However, it's my opinion that while a price decline may have been warranted, the fall was way out of proportion relative to historical prices and earnings. It's also my thesis that these estimates were very conservative and did not necessarily signal slowing growth. Historically Ulta performs beautifully. In addition to the fundamentals, Ulta has a unique opportunity to increase sales at a time when discretionary household spending is in an upward trend. Therefore the guidance is somewhat conservative in my opinion and I don't think an earnings beat next quarter is a far fetched statement, especially after the recent $150MM share repurchase announcement.
Valuation - Despite a weaker outlook for the coming quarter, Ulta is historically a top performing company. The companies strengths can be seen in several areas. Taking a look at earnings:

Ulta has beat expectations 12 out of the last 15 quarters with no lower than expected misses in over four years. In the last announcement, they reported Q4 EPS of $1.00 versus the estimated $0.98, beating by $0.02. EPS were Up 37% from the same quarter last year. Revenue came in at $758.80M versus the estimated $753.93M. Sales were Up 30% year over year. The company did however state, looking ahead to Q1, 2013 they see EPS in a range of $0.60 to $0.63 on revenue of $568 million to $577 million. Currently, analysts have consensus EPS estimates of $0.72 on revenue of $579.66 million for the first-quarter. Again, it's my view that those estimates are conservative, but even if not, what would that look like?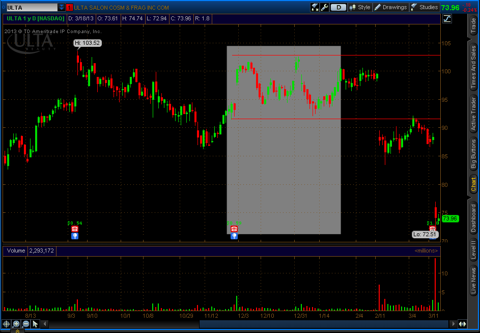 In the previous quarter, the company announced similar EPS around $0.60 cents, but supported a stock price roughly $17.44 higher than current levels. Even at lower EPS levels guided, the company still carries a Price/Earnings Growth of 1.12 which is 128% above its industry average, Profit Margin of 7.55 % which is a sign that it executes well on its competitive strategies and has a good control over its expenditures. Similarly, it shows Operating Margin of 12.21% which suggests for every 100 dollars of sales it generated a net operating income of 0.12.
In addition to continued fundamental strength, the company supports a strong management team. Proof of this can be seen in the recent decision by the board of directors to authorize a $150MM stock repurchase adding value for shareholders even in times of lower guidance. Again, it's my opinion guidance was conservative and does not necessarily warrant such a low price. Ulta's management efficiency is very evident in analyzing their ROA (return on assets) which sits around 14.41%. This means that it generated a profit of $14.41 on every $100 spent on assets. Similarly, it shows return on stockholders equity (ROE) of 25.06 % meaning that it created $25.06 on every $100 dollars invested by stockholders.
Taking all this into account and re-modeling for lower EPS guidance, the company's enterprise value comes in around $5.4 billion or $84.50 per share. The repurchase of $150 million announced by management would increase that valuation to $87.21 per share. Aside from management, the company has a unique competitive advantage which we will look at next.
Competitive Landscape - ULTA's primary competition is retail department stores that offer similar products and services like Macy's (NYSE:M), J.C. Penney (NYSE:JCP), and Nordstrom (NYSE:JWN). With this entire sector seeing recent declines across almost all departments including cosmetics, at a time when consumer discretionary spending is increasing, Ulta could be gaining a competitive edge to pick up market share and increase sales from consumers that are opting out of traditional department store shopping overall.
Consumer Spending 2000-2019 Source: IBISWorld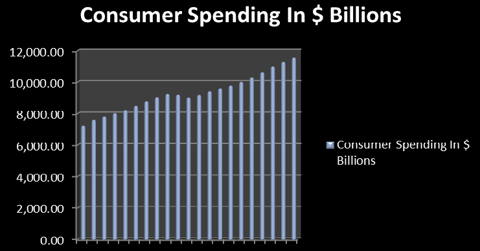 ULTA Sales Growth VS. Competition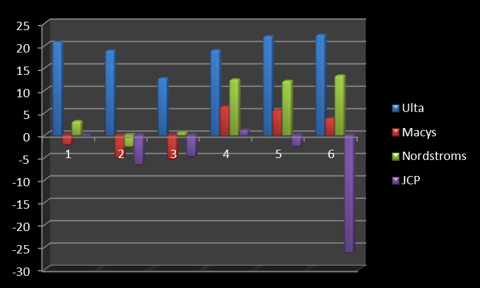 Of course department store sales are not solely based on cosmetic sales, but the overall trend for Ulta's competition suggests consumers are taking their dollars elsewhere.
Potential Opposition - The biggest hurdle for Ulta is two fold. First, the lower Q1 guidance could change market perception that growth in the company is slowing, and second, continued lower guidance could confirm this and drive the stock lower especially since Ulta doesn't currently pay a dividend. However, the companies strong and quick to act management could easily stem those fears if they continue to make quality shareholder value decisions like the recent buyback authorization keeping valuation stable so in my opinion, overall downside risk is limited. Of course no one with safe from market forces, so consumer spending and future earnings guidance are very important to keep an eye one.
Conclusion - Given the historic performance of the stock, I believe overall strength in the company outweighs any short-term declines in EPS guidance. Strong fundamentals, solid management, and historical performance all give support to this argument.
Having said that, I recommend Ulta a buy at these levels and believe its trading at a steep discount to fair value. Current valuations put the stock at $84.50 per share realistically and the recently announced buyback would increase that to $87.21 based on the shares outstanding. Technical indications also signal the stock may have reached a bottom and this is the time to buy.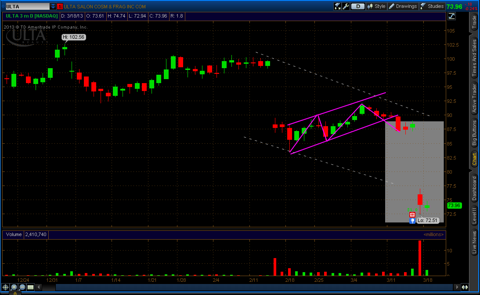 On March 12th a Bearish Flag signaled the stock could take a quick drop to the $75.00 - $71.00 range, which it did, bouncing of a low of $72.51. The bar outside the low signals the stock has reach its target price and we should look for new strength/weakness signals to determine where the stock heads from here. Given the recent announcements and the fact that the stock is trading at such a heavy discount to its enterprise value, I would recommend initiating a long position here under $75.00 per share with a stop at $70.25. Long-term, I would look to hold the stock until it reaches the $96.00 to $100.00 range and then re-evaluate. Keep a close eye on management announcements as well as guidance and street estimates. Overall, this is a great value play on a company that historically performs quarter over quarter and could provide major profits for any investor willing to add the risk.
Disclosure: I have no positions in any stocks mentioned, but may initiate a long position in ULTA over the next 72 hours. I wrote this article myself, and it expresses my own opinions. I am not receiving compensation for it (other than from Seeking Alpha). I have no business relationship with any company whose stock is mentioned in this article.