Introduction
Because of the worldwide economic distress, business activity is shrinking almost universally, though some individual areas are demonstrating relative strength – and we think the life science industry in China is one of those areas. In this series of articles, ChinaBio presents proprietary data developed by its own team of researchers that explains why we remain cautiously optimistic.
In earlier articles, we first presented an overview of the current state of China life science (see story) and next presented original research on the life science patents that have been filed in China since 2000 (see story). Here, we review the venture capital investments in life science during 2008. Still to come is an article on recent deals in the sector, including partnering and M&A.
VC Investment
Venture capitalists committed $337 million to China life sciences projects during 2008, a decent result in a negative year. Granted, total investment was down 16% from $400 million in 2007, but it was a tremendous advance over the $100 million committed as recently as 2006. Unfortunately, a look below the surface shows that the results were not as positive as they might first appear.
Here's the problem: the numbers are distorted by a very strong first quarter. In Q1 of 2008, $169 million was invested in 11 deals. The pace was a big advance over 2007, and the dollars-per-deal was also very strong at $15.4 million/deal. Annualized, the pace would have brought $676 million in VC funding to China life sciences, an increase of 169% over 2007.
Unfortunately, VC investments slowed markedly during the remaining three quarters. Q2 commitments were down 59% at $69 million. Spread across just 7 deals, this was still a reasonable $10 million/deal. Q3 fell another 38% to $43 million in 7 deals, dropping to just $6 million/deal. Q4 saw a bounce of sorts, rising to $56 million in 6 deals, for $9.3 million/deal.
The global financial crisis takes most of the blame, of course. Nevertheless, because of the strong first quarter, full-year numbers for VC investment in China life sciences were reasonably healthy – $337 million in 31 deals works out to a respectable $10.9 million/deal, on par with the western VC investment.
The most realistic way to forecast results for 2009 would be to extrapolate Q4 across the four quarters of 2009, which yields a number of $224 million for the year. That is a further 34% drop from 2008 levels and only slightly better than half of 2007's high water mark.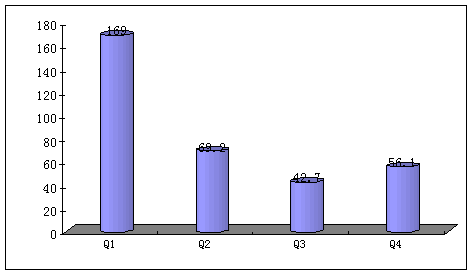 Figure 1 – 2008 VC Investment and Deal Count by Quarter
By Industry
Service companies remain the VC sector of choice in China life sciences. These organizations are lower risk than technology development companies because they usually have strong revenue growth and a strong customer base, generally including several major pharmaceutical companies. CROs/CMOs and distributors combined closed $163 million in deals during 2008, or 50% of the total VC investment in life sciences. The next four categories – generic drugs, diagnostics, medical devices and TCM (traditional Chinese medicine) – were virtually tied at $35 to $47 million (12%) each. That left novel drug development in dead last, with only $26 million or 7% of the total. However, this number may understate the money that ends up in novel drug development because many of the service companies have "back room" discovery efforts and collaborations to build greater long-term value.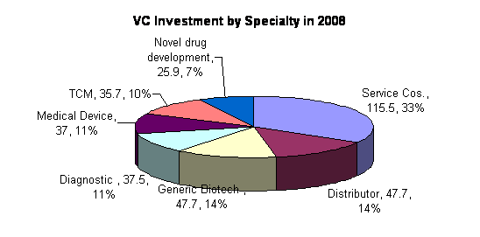 Chart 1 -- Investment Deals by Specialty
By Location
With the life science industry heavily concentrated in Shanghai and Beijing, it's no surprise that 52% of the VC investment flows into these two areas. But the Jiangsu province, where Suzhou is located, was a strong third place, attracting $56 million or 17% of the total. BioBay and the Suzhou VC Group, a government-run VC, are aggressively courting companies to locate in Suzhou. They have attracted over 100 companies to the park in only 18 months.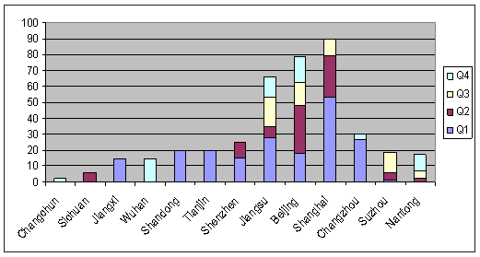 Figure 2 –VC Investment by Locality
By Stage
VC investment in China, like that in the US, took a conservative approach in 2008, moving toward later stage deals. Only 8% or $25 million went into early stage life science deals in China. However, given the very small average deal size ($3.6 million), a surprising 27% of the number of deals in 2008 was early stage.
Late stage companies received 56.6% of the VC money, followed by growth stage with 35.6% and early stage companies with less than 8%. The average deal value for late stage, growth stage and early stage company were $15.4M, $12.9M and $3.6M respectively in 2008.
Novel drug development companies were the largest recipients of VC investment in early stage companies, accounting for five out of eight of the deals and 62% of the total funding.
Trend
In 2009, investment in China biotech will probably continue at the reduced pace seen in late 2008, restricting the investments in China life sciences. However, healthcare reform and government policy may benefit specific sectors. For example, because the government is determined to promote novel drug development, government-funded VC or government grants may take over the role that VC funds once played, especially for early stage companies. The Novel Drug Development Mega-Project and local life science park-based VC funds such as Suzhou Venture Capital Group, associated with BioBay and Suzhou Industrial Park, and TEDA in Tianjin, will also support early stage projects, especially for those companies with a promising novel drug technology.
New business models may also begin to emerge. In February 2009, Sundia MediTech and Zhangjiang Corporation signed an agreement to form a new incubator, which will create a new model: IP+CRO+VC. It will help companies move from idea to commercialization by providing expertise, services, and assistance with IP and funding.
Big pharma and biotechs are also stepping in to backfill the slowdown in VC funding. All the major pharma have established business development teams in China, including Pfizer (NYSE: PFE), Roche (OTCQX:RHHBY) and Merck (NYSE: MRK), and interest in early stage partnering deals increased significantly in 2008. But this topic is for our next installment: The State of China Biotech – IPOs and M&A.
Disclosure: none.