Since the first quarter ends today, I thought I'd give an update on the Crossing Wall Street Buy List. It's not been a good year, but we're still doing better than the market.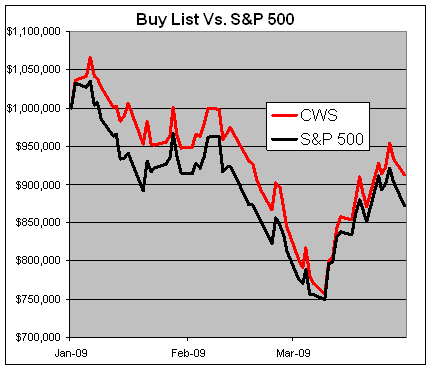 We're on pace to beat the S&P 500 for the third straight year. Through Monday, the Buy List is down 8.82% while the S&P 500 is off by 12.81% (neither figure includes dividends).
Six of our stocks are in the black for the year while 14 are in the red. The top performer is Nicholas Financial (NASDAQ:NICK) which is up 18.7% followed by Amphenol (NYSE:APH) which is up by 17.8%. Interestingly, NICK was our biggest loser in 2008.
The huge outlier is Aflac (NYSE:AFL) which is down over 60% for the year. Nothing else comes close. In fact, the stock was down a lot lower. Aflac has nearly doubled from its March low to its March high.
The Buy List rules dictate that I'm not allowed to make any changes throughout the year. I think that helps me in the case of a stock like Aflac.
Last month, Aflac said to expect operating earnings-per-share to grow by 13% to 15% this year. Remember that with insurance stocks we want to look at the operating figures. That translates to $4.51 to $4.59 per share, and it doesn't include the impact of the yen, which is stronger against the dollar this year, so Aflac's estimate is probably on the low side.
Bottom line, we're talking about a stock going for around four times earnings that yields 6.4%. Stay tuned for Q1 earnings which will come out at the end of April.