The Bakken continues to be an area of debate. The bears maintain the best areas have been drilled, leaving little room for production growth. In a series of articles, I provided data to the contrary. I believe there is still significant inventory, plus additional reasons to be bullish.
The best Bakken acreage covers a fairly large area in Mountrail County. Expectations are this area is approximately 92% oil, 6% NGLs and 2% natural gas. The northeast corner is in Ross Field. It continues 50 miles south. This southeast corner terminates in Deep Water Creek Bay. To the west of Ross, this acreage covers an additional 30 miles. This terminates at the Nesson Anticline. It covers an estimated 1,500 square miles. The map below provides middle Bakken thickness, and gives an idea of where the best geology is located.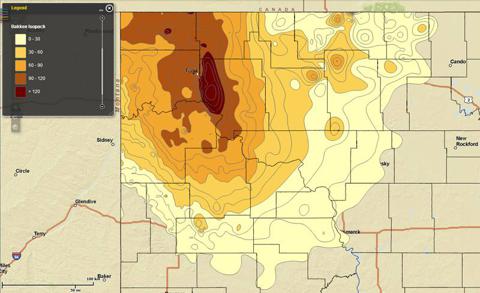 The second area is in northeast McKenzie County. Some believe this acreage is better than southwest Mountrail. The middle Bakken produces better EURs on average, but the oil cut is lower. The resource mix is 78% oil, 11% NGLs and 11% natural gas. Both northeast McKenzie and southwest Mountrail have very good Three Forks' thickness as well. The Three Forks is the key, as I would guess the best well pads will be located here.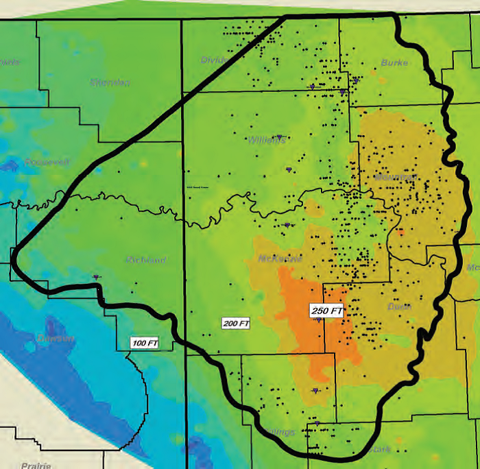 Most of the top Three Forks wells in North Dakota are located in Grail Field. These are Helis completions, which QEP Resources (NYSE:QEP) purchased last year. Given the upside to both pay zones, this is an interesting area. These fields are not as well known as Sanish, Parshall and Ross, but should produce better EURs. Important fields are Antelope, Clarks Creek, Grail, Croff, Pershing, Siverston, Westberg, Twin Valley and Banks. From north to south, it is 35 miles. In the northeast it begins in Capa Field and terminates around Lost Bridge. From east to west it is approximately 30 miles. All said these areas account for an estimated 2,500 square miles in Mountrail, northeast McKenzie and southwest Williams counties.
Some believe the acreage is spotty because results have varied throughout this acreage. Geology has some to do with this, but it has more to do with the operator. In general, the same companies outperform. This occurs all over the Bakken, proving results have much to do with drilling and completion expertise.
In my most recent article, I covered EOG Resources' (NYSE:EOG) and its improving completion techniques. This has led to a number of very good results predominantly in the Eagle Ford. It has moved this to the Bakken, and completed the best well of 2012. Already a top 5 well, if depletion continues at this rate it could be the best. From a cumulative production standpoint, most of these wells are located in Mountrail County. Below I have listed the best cumulative producing Bakken wells. I have broken initial production into specific time frames to show depletion.
Top Bakken Cumulative Oil Producing wells (Data As Of 1/2013)
| | | | | | |
| --- | --- | --- | --- | --- | --- |
| Well | 90-Day | 360-Day | 720-Day | 1080-Day | 1440-Day |
| 16059 | 710 | 759 | 834 | 792 | 743 |
| 17263 | 1131 | 1123 | 882 | 744 | |
| 17092 | 799 | 960 | 804 | 695 | 598 |
| 17227 | 1654 | 1031 | 891 | 700 | 573 |
| 17222 | 1522 | 1091 | 854 | 660 | |
| 17120 | 1538 | 913 | 774 | 607 | 520 |
| 17287 | 1128 | 845 | 790 | 623 | |
| 17500 | 958 | 917 | 776 | 637 | |
| 17158 | 953 | 741 | 676 | 597 | |
| 16991 | 1471 | 823 | 684 | 577 | 489 |
| 16954 | 1807 | 1012 | 770 | 582 | 469 |
| 17111 | 987 | 862 | 726 | 577 | 479 |
| 18408 | 849 | 949 | 836 | | |
| 16885 | 1399 | 978 | 669 | 523 | 424 |
| 17416 | 1015 | 791 | 700 | 581 | |
| 17035 | 856 | 657 | 605 | 516 | |
| 17075 | 1285 | 953 | 639 | 495 | 412 |
| 17612 | 1393 | 1066 | 732 | | |
| 17030 | 1173 | 721 | 554 | 457 | 390 |
| 17614 | 832 | 774 | 643 | 510 | |
| Average | 1173 | 898 | 742 | 604 | 566 |
| Depletion | | 23.4% | 17.4% | 18.6% | 6.3% |
The above data was compiled at the end of 2012. The depletion data begins at 90 days of production. The reason is the first 90 days of production can be manipulated through choke size. A tighter choke allows well pressures to remain higher for a longer period of time. This decreases short-term production, but increases the number of days of production until the well will need to be placed on a pump. In reality, a company like Statoil (NYSE:STO) can triple its IP rate by using a wide open choke of 179/64. Peak rates are also used, which is the best hour of production averaged through a 24 hour period. Some companies like Chesapeake (CHK) provide these rates which are higher than 24-hour IPs. The peak rate gives the impression a less productive area has more upside than it really does. All variables that can effect production and depletion over the first 90 days should be taken into consideration.
The table shows a fairly constant rate of depletion over the first four years. We see an average depletion from year one to the end of year three. Year four depletion drops significantly. This could be from a couple of reasons. After an unconventional oil well is drilled and completed a very large portion of resource is garnered in a relatively short period of time. Immediately, hyperbolic initial decline begins. After 90 days the depletion rate stabilizes, producing a fairly consistent level of production. In year four we see a significant drop in the depletion rate, from a range of 23.4% to 17.4% down to 6.3%. It is possible this initial hyperbolic decline from the produced fractures has ceased. When this happens, the well begins to produce from the matrix. Matrix production can last for another 30 years (or longer) and depletes at a slower rate. I estimate this type of production depletes at around 8%. This is possible, but unlikely as matrix production usually begins between years 5 and 7. I believe the data is somewhat skewed by well number 16059. This well has the highest 1440-Day IP rate in the Bakken. When this is removed from the list and the average of the ten remaining well are figured, we see a depletion rate of 18%. I only considered this because 16059 is so much better than any well to date. This well didn't begin to deplete until year three, and its 1440-day IP rate is higher than its 90-day.
Thirteen of the top cumulative oil producing wells in the Bakken are located in Parshall Field operated by EOG Resources. Of these, 11 are Austin wells. Six of the top wells were completed in Sanish Field. Four were operated by Whiting (NYSE:WLL), and two by Murex. Petro-Hunt completed only one well but it is the top well to date with 1.33 million bbls produced. This well is located in Charlson Field in northeast McKenzie County.
One year ago, EOG added another top completion in the Bakken that rivals all others in Parshall Field. Well 21239 is a 7873 foot 42 stage lateral. EOG used over 9 million pounds of proppant and 100,000 barrels of water. Over the first 320 days it has produced 330762 barrels of oil. This places it at one of the top positions. Using its 270-Day IP it is second only to the Petro-Hunt well. This well's depletion rate is much lower than previous wells. EOG seems to be getting better at keeping production rates higher for longer periods of time.
In summary, the Bakken still has significant upside. There are still a lot of great areas to drill, and we are just beginning to see upside to the Three Forks' benches. Although many of the best areas have been drilled, continued down spacing in those areas are in process. More importantly, we are starting to see how good northeast McKenzie County is. This may be the best way to play the Williston Basin. Helis' wells have provided 1000+ MBoe EURs in the middle Bakken and upper Three Forks. This is the reason QEP paid so much for its acreage. These areas also have two and in some areas three additional targets. Kodiak's Smokey ten well test pads should add useful data as to how deeper pay zones with perform. Completion techniques continue to improve increasing recoveries. There are several ways to play McKenzie County. Kodiak (NYSE:KOG) may be the best. Its acreage sits on top of the thickest Three Forks' pay zone. It also has additional acreage in northeast McKenzie and southwest Williams. Halcon (NYSE:HK) has acreage in northeast McKenzie and Fort Berthold. Both areas are very good, but costs are higher on the reservation. QEP is in this area, but not as levered as the other two. Triangle's (NYSEMKT:TPLM) acreage is to the west of Kodiak's Smokey Prospect. This acreage is not as good as the others listed, but much of its success weighs on how productive this area is. All of these are good ways to play this area going forward.
Disclosure: I have no positions in any stocks mentioned, and no plans to initiate any positions within the next 72 hours. I wrote this article myself, and it expresses my own opinions. I am not receiving compensation for it (other than from Seeking Alpha). I have no business relationship with any company whose stock is mentioned in this article.
Additional disclosure: This is not a buy recommendation. The projections or other information regarding the likelihood of various investment outcomes are hypothetical in nature, are not guaranteed for accuracy or completeness, do not reflect actual investment results, do not take in consideration commissions, margin interest and other costs, and are not guarantees of future results. All investments involve risk, losses may exceed the principal invested, and the past performance of a security, industry, sector, market, or financial product does not guarantee future results or returns. For more articles like this check out my website at shaleexperts.com. Michael Filloon is a Director at Fracwater Solutions L.L.C. We engage in industrial water solutions for oil and gas companies in North Dakota. This includes constructing water depots, pipelines and disposal wells. We also provide contracting services for all types of construction at well sites. Other services include soil remediation. Please contact me via email if you are interested in working with us. For other, more of my articles check out shaleexperts.com.