Sectors and industries often have repeating cycles tied to customer purchasing behavior. As a result, investors can gain an advantage in stock-picking by knowing the seasonal tendencies of the broader markets.
In order to see what tailwinds might help stocks move higher in April, we used data from the Seasonal Investor to evaluate some of the most widely traded sector and industry ETFs.
A good time to own king coal.
Historically, the best April performer is coal (NYSEARCA:KOL), which typically improves on expectations of higher demand tied to post-winter utility stockpile rebuilding. The industry has been hard pressed these past two years as natural gas prices have driven utilities to decrease their coal-based production. As a result, the EIA estimates utility inventories peaked last summer. The over flowing bins have been reflected in anemic coal railcar shipments for over a year. But, there may be encouraging signs the coal market is stabilizing. And, if investors begin to bargain hunt, April may prove another seasonally strong month for the group.
Energy shifts to tailwinds.
Another strong April performer is the oil & gas equipment services industry (NYSEARCA:XES). The oil & gas exploration and production stocks (NYSEARCA:XOP) also tend to head higher. Energy stocks historically benefit as capex plans ignite dayrates into summer. Low natural gas prices have significantly reduced the number of natural gas rigs drilling in the United States. But, stubborn oil prices have helped keep rigs busy. One of the brightest spots remains offshore, where rig rates have stayed strong and utilization has remained high. As for producers, stocks typically pick up ahead of the summer driving season thanks to expectations for higher gas demand.
Gold bugs may get a relief rally.
Gold (NYSEARCA:XME) investors should take note of the historically strong seasonality in April, particularly given the metals slide so far this year. The basket has been in distribution and may be ready for a short-term rally. However, arguably it could simply be an opportunity to unwind positions.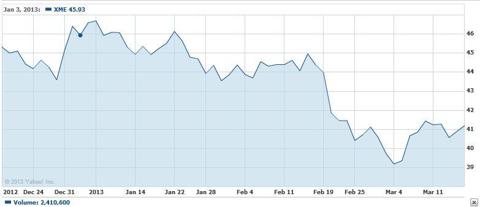 Home builders offer springtime strength.
Housing (NYSEARCA:XHB) rounds out the top five. The group is historically strong heading into warmer weather. Apartment vacancy rates remain thin, supporting effective rents and housing demand. If credit trends continue to ease, more new home buyers should help permit and housing starts trends accelerate. If so, February's swoon may have been a great opportunity to buy before the spring rush.
Source: Seasonal Investor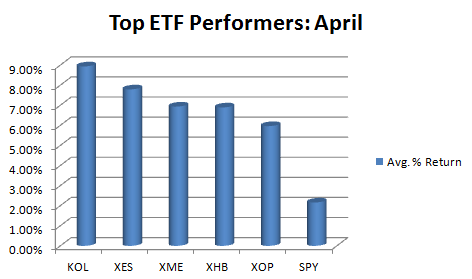 Disclosure: I have no positions in any stocks mentioned, but may initiate a long position in XES, XHB over the next 72 hours. I wrote this article myself, and it expresses my own opinions. I am not receiving compensation for it (other than from Seeking Alpha). I have no business relationship with any company whose stock is mentioned in this article.