On November 21st of last year, I wrote an article articulating why I thought that Best Buy (NYSE:BBY) was no J.C. Penney (NYSE:JCP). What I thought then, and still believe, is that new management at Best Buy had a sound strategy in place to win back business. At its investor day last November, the company explained that it was investing in its associates to help better educate and engage their customers. Additionally, the company announced a price matching policy that ended up becoming more permanent after proving successful over the holidays. My contention then, and it is now, that if consumers know they can get the best price by shopping at a store near them, why would they bother going online to look for the best price?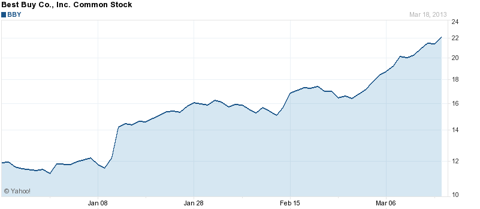 I think there have been three primary catalysts that have catapulted shares of Best Buy:
Domestic Same Store sales came in flat for the all-important holiday period.
Free Cash Flow was higher than expected, reducing Best Buy's outstanding indebtedness to a nominal level.
At least 5 sell side firms have upgraded shares since January 28th.
While flat sales may not sound exciting to most investors, the downside was considered to be much greater. Sentiment around the story got so bad that late night host Jimmy Kimmel made a joke on black Friday asking (something to the effect of), "Why are all of those people waiting outside at Best Buy? Don't they know it's bankrupt". At this point, flat sales are a good starting point for the company on which to grow from.
One of the bearish themes on Best Buy was that the days of the company producing a significant amount of free cash flow were behind it, leaving the company with nearly a billion dollars in net debt. However, after aggressively managing its costs and inventories, the company produced nearly a billion dollars of free cash flow for the year and brought the company net debt down to $500 million, a manageable level for a profitable company with nearly $50 billion in annual sales.
Finally, while most sell side analysts were bearish coming into 2013, at least 5 have upgraded the stock and an additional 3 analysts raised their price targets.
Taken together, I think the aforementioned factors took investors by surprise. In an otherwise expensive market, Best Buy has become a come back story for investors that trades at around 10x 2014 consensus estimates, a significantly lower multiple than its large retail peers. Additionally, I think that investors and analysts alike are relieved that talks of a possible takeout from the company's founder are over for now. Not that it wouldn't have been nice for shareholders to see a takeout offer with a premium on it, but most investors saw the likelihood as low and it became a distraction from the recovery the company was trying to achieve in its business.
With all of that being said, there are reasons to be cautious as Best Buy has been released from the abyss and sits in value territory at 10x forward EPS estimates.
First, while I am a fan of the company's price matching strategy over the long term, it could create significant volatility in the company's business in the short-medium term. For example, I was looking for a blu-ray/DVD player a few weeks ago. It was a Friday and if I ordered the item on Amazon (NASDAQ:AMZN), even with free 2 day shipping with Prime, it would not have arrived earlier than Monday or Tuesday. The price on Amazon was $80 and at Best Buy it was $150. After checking on Best Buy's website that the item was in stock at my local store, I purchased the item with the price guarantee. On one hand, one could say Best Buy is getting back business it otherwise has lost. On the other hand, if my experience is similar to other items that the company sells, there is a possibility for significant short term margin compression. As it stands, the company's margins have been contracting for the past two years. With a NON-GAAP operating margin around 3% for the trailing twelve months, the company has little room to spare.
Second, I think EPS estimates on the street are overly optimistic. With so much optimism now built into the holders of the stock, any missteps will likely increase volatility in shares again.
Finally, while the company has stabilized its financial results, its operating plans come with risks. Many companies facing declining financial results pull back on capital expenditures to increase free cash flow in the near term. Instead, Best Buy's capital spending will at least be on par with the prior two years, if not higher. Additionally, much of the money that the company is realizing in its cost reduction plans is being reinvested in the brand. And as with any retailer, if investors are worried about consumer spending in 2013 (as they should be), they should also worry about Best Buy's results.
In conclusion, trading at 10x forward EPS estimates with $500 million in debt on the balance sheet and a dividend that consumes 20%-30% of free cash flow, I think any benefits the company might see from winning customers back is offset at this point with risks of execution. We will look to get back into shares if they come back in price with the same fundamentals, but don't see chasing it above $20.
Disclosure: I have no positions in any stocks mentioned, and no plans to initiate any positions within the next 72 hours. I wrote this article myself, and it expresses my own opinions. I am not receiving compensation for it (other than from Seeking Alpha). I have no business relationship with any company whose stock is mentioned in this article.