Since I write about Apple (NASDAQ:AAPL) quite a bit, you can imagine the number of questions I receive on the name. I try to answer as many as I possibly can, but there are certain ones I just can't answer. For instance, asking me about chip selection in a phone is useless, because I am a finance and accounting guy. I'm all about the numbers, which is why I use a lot of them in my articles. There are a ton of numbers that are crucial to Apple, including sales, earnings and dividends, just to name a few. I answered five important questions about the name last month. Today, I'm going to attempt to do that again, but in a slightly different manner. Everyone keeps asking me for my expectations when it comes to Apple, so I'm going to develop what I think are reasonable expectation(s) for the company right now.
Sales estimates and growth:
The first number everyone seems to be concerned with, and rightly so, is revenue. If Apple isn't selling as many items as it should be, that's a big problem. Competition is increasing, and there are just so many choices out there. When it comes to Apple, there is one phone, the iPhone. Yes, you can get different models in terms of storage size and color, but the concept is one phone. Apple's iPhone is the key line of business for the company. In fiscal 2012, which ended last September, the iPhone brought in more than $80 billion in revenues for Apple. This was more than half of the company's total, as detailed on page 30 of the 10-K filing. Apple sold more than 125 million iPhones in fiscal 2012, and they sold nearly 48 million iPhones, a quarterly record, in the most recent quarter.
I've noted in the past that Apple's iPhone launch calendar was moved up in 2012. When the company released the 4S model in 2011, the product was launched in the middle of October. When Apple released the iPhone 5 in 2012, it did so in mid to late September. Thus, some of the iPhone 5 sales were in Apple's fiscal Q4. Additionally, the iPhone 5 launched in several key countries, including China, about a month earlier. That pushed Apple's sales timeline up a bit.
Thanks to a few million unit sales of the iPhone 5 in late September, Apple produced yearly revenues of $156.51 billion. Additionally, that fiscal year had a 53rd week, which accounted for roughly $3.31 billion in extra revenues. That number inflated the fiscal 2012 figure, which is why growth estimates appear to be low for fiscal 2013. I've mentioned this fact several times.
In my most recent Apple article, I mentioned that some Apple analysts, as most expect, are waiting for a key launch of a new phone. There are several rumors out there, including an iPhone 5S, a cheaper iPhone, even an iPhone 6 with a larger screen. Depending on which potential phone you are talking about, launch dates vary from mid June to late fall. However, some analysts are seeing production problems again with these phones, meaning a potential launch date could be pushed back a few weeks or even a few months.
Additionally, Apple has not released any new products this quarter, not counting any products that were originally launched in calendar Q4 but may have been delayed until calendar Q1. In last year's fiscal Q2, Apple released the third generation iPad on March 16th. Also, Apple had the extra benefit of iPhone sales from launch dates in calendar Q1 (like China in January 2012). Apple does have a product this year, the iPad mini, that was not available in last year's fiscal Q2. The mini will help in terms of overall sales.
Apple guided to revenues for the quarter of $41 billion to $43 billion, which was seen as a huge disappointment. Apple analysts were expecting more than $47 billion on January 3rd (for fiscal Q2), but those estimates came down to $45.63 billion by the time Apple reported Q1. Currently, estimates stand at $42.83 billion. That's at the top end of Apple's range, but that number is coming down. As I detailed in my previous article, analysts have started cutting Apple estimates, and the revenue consensus has come down by about $100 million in the past week alone. I've stated in the past and I'll reiterate today that I expect those estimates to keep coming down. We're about a month or so away from Apple's Q2 report, and I would not be surprised if estimates dropped below $42.5 billion. It would not shock me at all even if analyst cut their numbers towards the midpoint of $42 billion, or even the low-end at $41 billion. With nothing to get Apple's fan base excited, everyone is hoping that strong sales of the iPhone 5 and iPad mini carry through Q2. Analysts don't seem to believe that is happening fully, which is why estimates continue to be cut.
But my main concern here is Apple's fiscal year. The current forecast calls for almost $182 billion in yearly revenues. That will all depend on what products Apple launches and when. It might not seem like much, but an iPhone 5S launch date of June 16th versus June 23rd, for instance, is a huge deal. It's not just pushing up the US launch date that is key, because you might have other launch dates inside this fiscal year. If the phone doesn't go on sale in China until October 2nd, those sales won't count for this year, and that has an impact on the growth forecast.
If some of these analysts are right, and product launches are being a bit delayed, I think it is possible that Apple only does about $175 billion in revenues this year. That might seem terribly bearish, but I'm really reflecting what the stock has priced in. When Apple reported its fiscal year results in October, the average estimate was $194 billion, and the stock that day finished around $610.
Plus, $175 billion isn't exactly terrible news. That would still represent growth of 11.81% (unadjusted for extra week) or 14.23% (adjusted). At that level, Apple will produce revenues higher than those of Microsoft (NASDAQ:MSFT) and Amazon (NASDAQ:AMZN) combined, just to put things in perspective. Yes, $175 billion might seem disappointing when estimates were much higher and are now at $182 billion, but the stock has also dropped tremendously too.
I think that $175 billion to $180 billion is an appropriate range to use right now, only until we get more clarity on what will be launched and when. As we get Q2 numbers, Q3 guidance, and more product information, I'll continue to provide updates on what I think. The lowest estimate on the street is for $170.3 billion currently, so don't think I am some ultra bear. I'm not, and I'm still projecting double digit revenue growth. That's hard to do when your base number is over $150 billion at this point.
Earnings and margins:
I spent a lot of time on the section above, and I've covered margins a bit in my past Apple questions article, so I won't go into as much detail here. Here are some key items to remember overall.
The iPad mini is a lower margin product.
Apple had its biggest product launch ever in October. Generally speaking, a lot of expenses are front loaded and the cost curve comes down over time.
As competition increases, margins could be impacted.
I've stated in the past that the 47% plus gross margins Apple hit in Q2 last year was due to a perfect storm of events. Apple's iPhone revenues as a percentage of total revenues hit a high point, the 4S was at a lower point on the cost curve, etc. Over the past few years, Apple's gross margins have tracked in the 38% to 42% range, broadly speaking. They are trending towards the lower end of that range right now, because the iPad mini is lower margin, plus the iPhone 5 was a total redesign, which will be more expensive in the short term. Also, production issues have limited supply, which has led Apple to use faster shipping methods to get products to consumers. That will hurt margins. Over time, as we get the iPhone 5S and production issues resolve themselves, you should see a slight rise in gross margins (assuming they don't launch a cheaper phone). However, with the addition of the mini, you might want to take the top end of your margin range down to 40% from 42%, and it might go lower if they do launch a cheaper phone.
The key for Apple's margins overall is operating expenses. Apple's operating expenses totaled just 8.57% of revenues in the past fiscal year. This is how the business works, and why they are so profitable on the bottom line. Apple might have gross margins that start lower than Google (NASDAQ:GOOG) or Microsoft, but they make it up on the operating side. Since Google's purchase of Motorola Mobility, Apple's operating margins have been ahead of Google's.
What do reduced margins mean for the bottom line? Well, Apple obviously won't see as much of an earnings gain as they do on the revenue side. The current estimate shows $44.23 for this fiscal year, which implies almost no growth from the prior fiscal year of $44.15. However, the adjusted number is approximately $43.16, so you're still looking at some "real" growth at this point.
I think that analyst estimates for earnings will probably creep lower for now as analysts continue to take down their revenue forecasts. I'd look for the number to trend down towards that $43 or so level for now, until we get more clarity from the company. As a reference point, the lowest estimate on the street is $38.86. I think that is way too bearish, but I wouldn't be surprised to see a number in the lower $40s rather than the mid $40s at this point. Again, this could always change, depending on what the company does. A larger buyback announcement would certainly help here, wouldn't you say?
Show me the money!
I spent a large portion of my prior article discussing the biggest topic around when it comes to Apple today: the company's cash return plans. Apple has come under fire for not returning more of its ever growing $137 billion plus, of which about a third is held inside the United States. I am of the increasing opinion that Apple needs to return more cash, but I am not doing this as an angry or frustrated shareholder. My reasoning is that the company just needs to do something to excite the investor base. In the article, I compared this scenario to a sports team needing to add a superstar.
The best thing Apple could do right now in my opinion is announce an immediate $10 billion buyback. Apple already has a plan to buy back $10 billion worth of shares, primarily to offset dilution, over three years. This new plan would buy back the shares immediately. If Apple were to announce this, I think you would see a $25 move in the stock right away. First, analysts would have to up their earnings estimates by a dollar overnight to compensate for the lower amount of shares. How would it look if the company's earnings growth rate for the fiscal year went from 0.08% to about 2.5% overnight (for the unadjusted figure)? Not only would the earnings growth rate jump, but Apple would signal that they think their stock is undervalued.
However, given that Apple only announced a $10 billion buyback originally, I don't think they are that interested in repurchasing shares. That being said, I'm guessing that the most likely return of cash will be an increased dividend. I've stated in the past that I think the minimum dividend raise would be to a range of $3.00 to $3.25 per quarter. Given the lack of product announcements I've described above, I now think Apple needs to do a bit more on the raise. A Bloomberg poll of a select group of analysts sees a raise of more than 50%, to an average of $4.14 per quarter. That would be a tremendous raise, and would put Apple's dividend yield at 3.63% as of Monday's close.
After a nice rally Monday, Apple's dividend yield stood at 2.325%. I think that Apple will probably target a yield near 3%, which as of Monday's close would be about $3.42 a quarter, a raise of almost 30% from current levels. Again, that is based on Monday's close, and if they don't announce a raise until their Q3 earnings report in July, which is definitely possible, the math will most likely have changed.
The key takeaway here is that I'm going to raise my minimum dividend level expectation. My new range is going to be $3.25 to $3.50 per quarter, which at the midpoint would yield 2.96% as of Monday's close, just under the 3% mark. After watching more time elapse without Apple doing anything, I've decided that a stronger dividend raise is necessary. Thus, I am upping my minimum range expectation. This is not my prediction for where I think they will raise it to, but is the minimum area where I believe the dividend needs to be to get investors a bit more excited.
Valuations:
A lot of people have asked me about my Apple price target, so I need to do a quick update on that here. In the past, I've compared Apple to names like Microsoft and Google when it comes to valuation. However, those comparisons don't seem to matter anymore. Google currently trades for about 17.7 times expected calendar 2013 non-GAAP earnings (using GAAP earnings the number is even higher), while Apple trades for just 10.1 times expected calendar year 2013 earnings. How Google deserves a 75% premium to Apple I'll never understand, but that is the world we live in today.
I'm not a professional Wall Street analyst, so when it comes to producing a price target, I use a floating price target. What that means is that I assign a multiple based on a level of earnings. So for instance, at $40 in earnings this fiscal year, I have a valuation of 10.5 times. This is for fiscal year earnings, so if Apple did $40 this fiscal year, my price target would be about $420 by the time Apple reported Q4 results (which would be mid to late October). For each 75 cents of earnings above that base level ($40), I add an extra 0.25 points of multiple, because you are getting more growth and that means results are better. The table below is my updated price target table.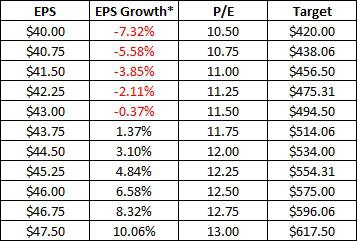 *Adjusted figure - Apple had a 53-week fiscal year last year. This figure is normalized for a 52-week period and normal 13 week fiscal first quarter, as opposed to Apple's 14-week period in Q1 of fiscal 2012.
Based on the current analyst estimate for $44.23 in earnings per share, my current price target on Apple would be about $527 by that October report. Again, this is more of a fluid thing, and I am constantly adjusting it. Should Apple decide to raise the dividend and or buy back more stock, I could potentially raise my valuation number. That price target may seem a bit low, but it's still about 15% growth from here. I don't think you are going to see another massive run in Apple anytime soon, not with almost flat earnings growth and no potential game changing products on the horizon (iWatch, Apple TV, etc.) for the near future. Again, if Apple comes out with some new products and the revenue prospects get boosted, some extra earnings would boost my price target. Today, it's at $527.
Recap / Final Thoughts:
Today, I attempted to build some base expectations for what Apple investors should be looking at for the near term. Just to recap, here are the key points:
Fiscal year revenues in a $175 to $180 billion range.
Earnings per share around last year's number, and you can pick the adjusted or unadjusted one.
A new dividend in a minimum range of $3.25 to $3.50 per quarter.
My current price target of $527 by the October report.
Again, these are not really my formal predictions or projections. These are my expectations for what Apple will do based roughly on where the stock stands today. I'm not trying to say today that Apple is going to miss revenues. What I am saying is that given the lack of any certain product launches, the market is pricing in lower revenues. Should we get some more definitive information, we might start to see an Apple analyst or two actually raise their estimates. That would be a surprise as of right now. Apple's stock has certainly found a bottom for the short term, but that doesn't mean we are out of the woods yet. More negative analyst notes could pressure this stock for the near term, until we get something out of the company.
Disclosure: I have no positions in any stocks mentioned, and no plans to initiate any positions within the next 72 hours. I wrote this article myself, and it expresses my own opinions. I am not receiving compensation for it (other than from Seeking Alpha). I have no business relationship with any company whose stock is mentioned in this article.
Additional disclosure: Investors are always reminded that before making any investment, you should do your own proper due diligence on any name directly or indirectly mentioned in this article. Investors should also consider seeking advice from a broker or financial adviser before making any investment decisions. Any material in this article should be considered general information, and not relied on as a formal investment recommendation.