Since September 2011 gold has been trading in a sideways range with three tests of support at $1525 and three tops around $1800 as shown below on the weekly chart. We agree with those interpreting this development as a consolidation pattern and remain faithful of a resumption of the secular bull market for gold in due time. The fundamental reasons for our believe in this bull market have not changed and in fact have become reinforced by recent developments. Rather than reiterating the case for gold we would like to refer readers to articles published by fellow writers Emmet Kodesh and Tom Luongo who paint the greater picture very eloquently.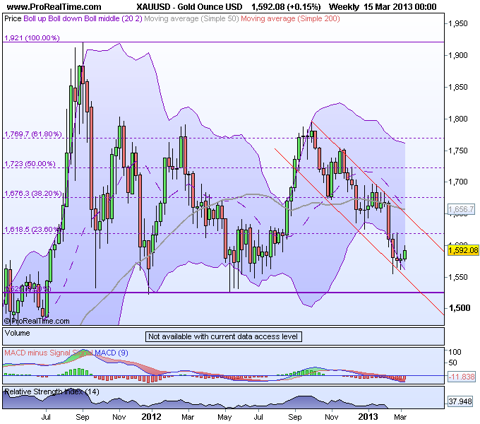 Having stated our general conviction we would like to proceed and caution against high short-term expectations.
The extremely bearish sentiment of late has been turning just a little this past week and some bullish comments have piped up among the noise of growling bears. Indeed, the latest actions by the European Union with regards to saving the banks in Cyprus have given rise to voices suggesting the return of gold to its safe haven status and imminent bull-run glory. The argument goes that ordinary citizens observing a haircut to saving accounts would start moving cash into the ultimate safe haven that gold is believed to be, with buying strong enough to trigger short covering pushing gold prices higher.
We beg to differ. Last week's news on the Cyprus bailout has only triggered a blip in the gold price so far. At the time of writing the gold price has barely risen above the $1600 line and we would like to predict that this week's close will not exceed this line significantly either. If anything the FOMC meeting later this week might push the price a fraction to one side or other. And for those believing in gold market manipulation, it will be 'da boyz' taking care of proceedings with the outcome again just as predicted above.
So here is our call for the coming weeks and months concerning the price of gold. We strongly believe that the current consolidation pattern will play out with one more test of the $1525 support during summer months (aka. the summer doldrums) and a rally that will break through the $1800 resistance convincingly before Christmas. After that all bets are off and we will not be sticking our neck out any further.
And here is how we plan to play this predicted development. Firstly, we have been keeping our powder dry and will continue to do so well past the Sell-in-May date. Come summer with lower trading volumes and higher volatility we will make our entry or add to our holdings with the following three gold mining stocks:
Luna Gold (OTCPK:LGCUF) is a junior gold mining company with a market capitalisation of $387M. It declared commercial production at the Aurizona mine in Brazil in 2011 and has not looked back while reaching its 2012 target of 74,000 ounces. It is in the process of implementing an expansion plan this year, which will boost annual production to 125,000 ounces in 2014. Production guidance for the current year is for 95,000 to 105,000 ounces. According to a news release it is still on track despite negative impacts by drought conditions, which have now been alleviated by rainfall. A recent resource update showed a robust increase at all confidence levels. Most encouragingly, the grade of the inferred resource is significantly higher than for the measured and indicated portion. The company controls a large and highly prospective landholding around the mine and there is some blue-sky potential from green field exploration in the region. The share price is reflecting the company's stellar performance during the past year and has been rising when the rest of the sector has been falling. We consider a share price below $3.00 a bargain and will be ready when (or should we say if?) it gets there, hopefully this coming summer. For investors interested in this company we recommend spending some time on the company web site and reading this article.
Silver Lake Resources (OTCPK:SVLKF) is an Australian mining company with a market capitalisation of $1.3B operating in the mining-friendly state of Western Australia. The company is a member of the Australian ASX 200 index after taking over its neighbors at the Mt Monger operation (Integra Mining) late last year. We consider this takeover a perfect fit and note that according to CEO Les Davis the takeover will generate up to $40M per year in synergies for the company. Silver Lake has just poured first gold at its new production centre at the Murchinson gold project and is planning commercial production to start later this year ramping up to 100,000 ounces in 2014. With these two moves the company has successfully progressed from a one mine operation to a mid-tier company with three mills and two production centers. The share price has been battered in recent weeks and we believe that the company is currently grossly undervalued. Management seems to agree and has recently bought shares on market giving a sign of great confidence in the company. Moreover, the company has stated that it will pay a dividend starting in 2014. If the share price dips further then we will be ready with ammunition to take advantage of a life time bargain. For investors interested in this company the corporate web site and this article provide some initial pointers.
Agnico Eagle (NYSE:AEM) is a very different kettle of fish. It is a well established Canadian gold mining company operating mines in Canada, Mexico, and Finland. Its market capitalisation is $6.9B and yearly output around 1M ounces. We like it as a counter weight to the more volatile junior mining growth stories in our portfolio. The forward P/E is 16.1 indicating a very attractive valuation at present. The median analyst target is $55 also comparing very favorably to the present share price of $39.85.We prefer it to other major mining companies for the low exposure to country risk and for the comparatively high dividend yield. It has learned its lesson with cost-overruns in larger-than-life projects and have adopted a very conservative cost-conscious business model, which we believe will deliver steady growth in coming years. 2013 has been dubbed a building year for Agnico Eagle with the development of the La India mine in Mexico and the re-opening of the Goldex mine. We believe that the consolidation anticipated for Agnico Eagle in 2013 will offer opportunities to buy shares at relatively low prices. We plan to hold on to these shares for value gain and dividend income in coming years. The company web site gives ample detailed information on the company and we especially recommend listening to the regular webcasts of CEO Sean Boyd.
Disclosure: I am long AEM, OTCPK:SVLKF. I wrote this article myself, and it expresses my own opinions. I am not receiving compensation for it (other than from Seeking Alpha). I have no business relationship with any company whose stock is mentioned in this article.