With the recent acquisition of SmartOps by SAP AG (NYSE:SAP), consolidation continues in the software sector. The combination of low interest rates with high profit margins should lead to even more deals in the sector. In addition, the recent action by billionaire hedge fund manager David Einhorn to force Apple (NASDAQ:AAPL) to release its $137 billion in cash should motivate management of software firms to deploy capital before activist shareholders initiate their own measures.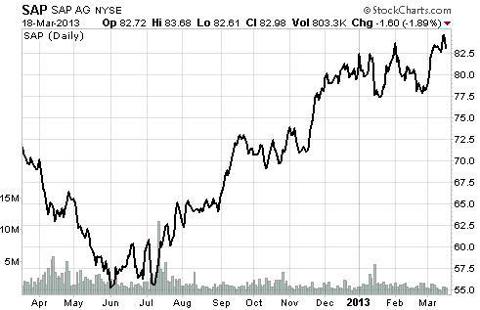 Even though many high-tech acquisitions fail, it has always been a preferred means of deploying surplus funds. Many software firms have refused to pay dividends, as management felt that the cash was better used for acquisitions, or research and development efforts. With so much cash on hand and investors pushing a form of green mail, there should be more buying in the software sector, particularly of small-cap firms with cutting-edge technology.
That was certainly the motivation behind the SAP AG buy of SmartOps, which produces "service-level optimization" software for supply and inventory functions. In the press release, SAP AG stated that, "SmartOps has developed large-scale, 'stochastic' algorithms that take the uncertainty and risk out of [supply chain management] processes. These algorithms use predictive analytics to help manage global distribution networks and vast, multi-stage supply chains. Such solutions would be significantly enhanced by SAP HANA, allowing for processing of high volumes of data in real time."
Enterprise Content Management (ECM) is another area that is attracting attention. Publicly traded firms in this sector range in size from Oracle (NYSE:ORCL) to GlobalWise Investments (GWIV.OB). With its massive cash reserves, Oracle will be more the target of green mail attacks. With its enterprise management content solutions for digital operations, GlobalWise Investments is attractive to both individual investors and institutions as is it is growing rapidly with the proliferation of digital content. Rising "Big Data" needs will make firms such as GlobalWise Investments even more appealing to fill out a niche position in a portfolio or a company's business posture.
The enterprise content management industry is projected to exceed $5.1 billion this year by the Gartner group. The growth rate is expected to compound at 9.5% annually. Also notable, cloud computing will grow at 26%, according to IBM Market Insights. A $150 billion sector, consolidation is sure to come in the business software and service group.
What is now happening in the software industry follows that of the automobile industry, among many others. While there were hundreds of automakers in the United States in the early 20th century, the top seven now control nearly 90% of the market. In the software industry, there over 1,600 custom firms in the United States alone.
The recent SAP AG buy manifests that consolidation will most likely accelerate. About nine of 10 firms in the industry have less than 50 employees, so there are many targets that make small caps with an established niche very attractive. Even though mistakes are made like Hewlett-Packard's (NYSE:HP) recent $8.8 billion loss for the British software firm Autonomy, consolidation will continue in the sector due to the ample cash reserves of companies like SAP AG and Oracle. Even if merger and acquisition activity were to cease, software companies are so appealing that investors should still do well from the organic growth of the business.
Disclosure: I have no positions in any stocks mentioned, and no plans to initiate any positions within the next 72 hours. I wrote this article myself, and it expresses my own opinions. I am not receiving compensation for it (other than from Seeking Alpha). I have no business relationship with any company whose stock is mentioned in this article.