Chesapeake Energy (NYSE:CHK) is engaged in a fight to "right size" its balance sheet to the level of cash flow that the company generates in a world of sub $4 natural gas.
The only way for Chesapeake to reduce its level of leverage (other than painfully diluting shareholders through equity issuance) is by selling off pieces of its massive oil and gas asset portfolio.
Chesapeake seems to be discovering when you are heavily leveraged it isn't always easy to get the prices you desire in asset sales. This was first evidenced by the disappointing value Chesapeake locked in for its Mississippi Lime acreage in a Joint Venture deal last month.
With that deal closed investors now look forward to news on a sale of some Eagle Ford acreage that Chesapeake was actively marketing, as detailed in the slide below.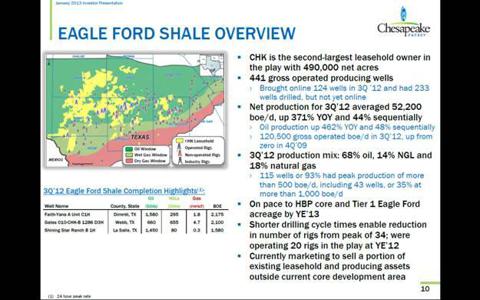 The Eagle Ford is the hottest oil and gas play in the United States with production absolutely booming.
Chesapeake shareholders are likely expecting a good price for this acreage.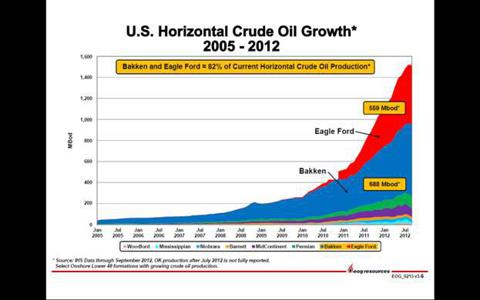 This week Hess Corp (NYSE:HES) which is the focus of an activist shareholder campaign announced the sale of some Eagle Ford acreage of its own. This acreage being in the wet gas window should provide a telling data point for what Chesapeake shareholders can expect for similar properties.
Here are the details of the transaction between Hess and Sanchez Energy (NYSE:SN).
Sanchez Energy Corporation, a fast growing independent oil and gas company targeting the liquids-rich Eagle Ford Shale, Pearsall Shale, Austin Chalk, and Buda Limestone, today announced it has executed a definitive agreement to purchase assets in the Eagle Ford trend of southTexas consisting of approximately 13.4 MMBOE of proved reserves, 4,500 BOE/D of current production and approximately 43,000 net acres in Dimmit, Frio, LaSalle, and Zavala Counties, Texas from Hess Corporationfor approximately $265 million in cash, subject to customary adjustments.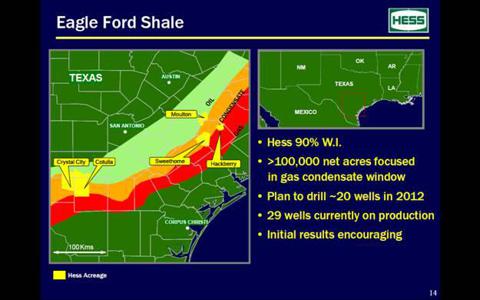 As can be seen from the Hess Corp slide above most of these assets would be outside of the Eagle Ford oil window and would be in the wet gas window. This would be fairly similar to the non-core acreage that Chesapeake is trying to sell since the company wants to hold onto the oilier sections.
The price of the Hess deal might be disappointing to Chesapeake shareholders who were expecting more from the upcoming monetization.
In the Hess deal, Sanchez acquired 4,500 barrels of production (72% oil) and 43,000 net acres.
If we look at just production alone that would suggest a purchase price of $265 million / 4,500 = $59,000 per flowing barrel. That seems pretty low and certainly makes it seem like very little is being paid for non-producing acreage.
If we ignore the production entirely the price per acre is $265 million / 43,000 = $6,100 which likely would have been disappointing by itself, forget about the fact that the Hess acreage had significant production.
Chesapeake shareholders are likely expecting a better price than what the Hess deal is indicating may be likely.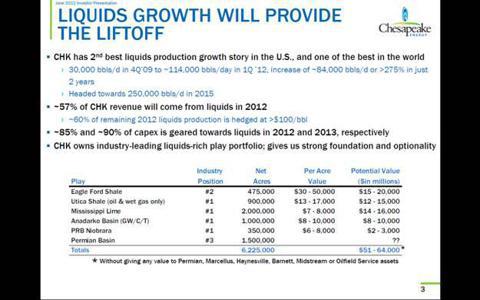 The slide above is from Chesapeake's June 2012 investor presentation where the company suggested its Eagle Ford acreage across the board was worth $30,000 to $50,000 per acre.
Maybe there is something less attractive about the Hess acreage that we can't see from the outside, but it sure does look like Chesapeake's Eagle Ford asset sale is set up to disappoint.
Apparently not all acreage in the Eagle Ford is created equal.
Disclosure: I have no positions in any stocks mentioned, and no plans to initiate any positions within the next 72 hours. I wrote this article myself, and it expresses my own opinions. I am not receiving compensation for it (other than from Seeking Alpha). I have no business relationship with any company whose stock is mentioned in this article.