This morning, Acorda Therapeutics (NASDAQ:ACOR) received a "refuse to file" (RTF) letter from the U.S. FDA regarding its new drug application (NDA) for Fampridine-SR, the company's novel therapy designed to improve walking ability in people with multiple sclerosis.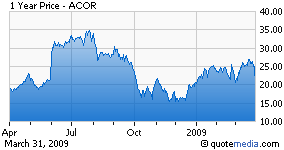 According to management on the conference call this morning, the FDA raised 3 issues in the RTF letter. The first issue raised by the FDA notes a "format issue" regarding the electronic common technical document (eCTD) submission and requested that some of the data in the filing be reformatted.

This could be as simple as font or margin issues to as tedious as re-working a data presentation. On the conference call, CEO Ron Cohen noted the issue pertained to only a part of the filing.

The FDA also asked Acorda for additional data relating to a fed/fasting study and some analytical information from the clinical program on Fampridine-SR. Management has previously conducted a fed/fasting study, a short in-human analysis looking at the pharmacokinetics of the drug when doses before and after meals, and plans to submitted this information expeditiously.

Acorda could not comment on what additional analytical information the FDA requested, but we note that some of the early-stage development on the drug was done by Elan Pharmaceuticals before it was licensed to Acorda.

So, it is possible that the FDA wants to see continuity between either how this data was presented in the filing, or how early-stage analysis with the immediate release (IR) formulation compares to the commercially viable sustained release (SR) form of Fampridine for which Acorda seeks approval.

Our best guess is that management can compile the necessary fed/fast and analytical data and re-file the NDA in 4 to 6 months. Management plans to meet with the FDA sometime in the next 30 days to discuss the RTF letter. We should have a better update at that time just how long the delay will be.

We are pushing back the expect launch in our financial model to the middle of 2010. This will clearly have an impact on our 2010 revenue and EPS forecast.

However, we note that Acorda exited 2008 with over $240 million in cash and investments and continues late-stage partnership discussions for the potential commercialization of Fampridine-SR in Europe. A European partnership has the potential to bring in significant upfront cash and back-end milestones and royalties to Acorda.

Fampridine-SR remains one of the more interesting late-stage biotechnology products and has multi-hundred million dollar potential, in our view. We are reiterating our Hold rating on Acorda after today's news. Our price target remains $28.