Due to an accelerated decline in business, Ingersoll Rand Co., Ltd. (NYSE:IR) said it expects first quarter EPS to be at the low end of its previously forecasted range of -$0.15 to breakeven. Also, the company projects first quarter revenue to be in the range of $2.9 billion, which is below the prior range of $3.1 to $3.2 billion, and below our prior estimate of approximately $3.2 billion.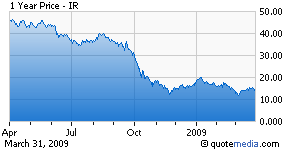 In addition, management said that without any economic improvement or benefit from the stimulus package, full-year 2009 revenue would be in the range of $13.6 billion and full-year 2009 EPS would be approximately $0.45 below the prior guidance range of $1.85 to $2.25.

Based on our expectations of continued economic weakness in the U.S and Europe, we are lowering our FY09 EPS estimate to $1.43 from $2.02. We expect the challenging macro background to negatively impact all of the company's reportable business segments in FY09, which we started to see in prior quarters when all business units reported a pro forma revenue decline.

Some of the key headwinds remain a weak heavy-truck market and a soft residential construction market. Given our view that new home and existing home inventory remains high and demand conditions weak, we expect the residential construction market to be under continued pressure for the rest of 2009. As a result, we don't expect an immediate (pro-forma) sales rebound at ACSS, or a near-term recovery in the new homebuilder channel at Security.

Ingersoll Rand also addressed its liquidity position with $1 billion in new financings. The company addressed its short-term financing needs in conjunction with a prior bridge financing tied to its acquisition of Trane. As of December 31, 2008, the outstanding balance of the senior unsecured bridge loan facility was $754 million, which is scheduled to mature in June 2009.

To refinance this debt, the company plans to offer $300 million in convertible senior notes, with an allotment option of additional $45 million. Also, IR received an expansion of a 364-day trade receivable facility to provide an additional $200 million in trade financing over current levels.

The company cut the dividend to $0.07 per share from $0.18 per share, effective with the third quarter dividend payment. This should preserve approximately $70.2 million in cash in the second half 2009, and about $140 million in cash on annualized basis. The remainder of the $1 billion in financing is expected to come from a benchmark-sized amount of senior notes.