As you can see in the below graph presented by Natural Resource Partners (NYSE:NRP) at a recent conference (to which I've added the red line to show the current Henry Hub natural gas spot price), following a rough year Powder River Basin coal should now be considered safely "in the money." That is to say, the power plants that can alternate between a source fuel of either coal or natural gas have been switching back to coal. Of course, there are some outliers. PRB coal has been shipped to power plants as far away as Florida, so logistics plays a role here. But, by and large, plants that can take PRB coal have made the transition back after having switched to natural gas when the price reached an all time low (below $2/MMBtu) in 2012. Major natural gas producers such as Chesapeake Energy (NYSE:CHK), Anadarko (NYSE:APC), Devon Energy (NYSE:DVN), EnCana (NYSE:ECA), and others have been working furiously to curtail production and raise the price of natural gas to more profitable levels. The sweet spot for natural gas would be the area that allows for maximum profit but does not allow for all coal regions to come back online as the cheapest option. As the graph indicates, at current Henry Hub natural gas prices those producers that can easily switch back to PRB (or ILB) coal would have done so while Appalachian coal remains the most expensive option.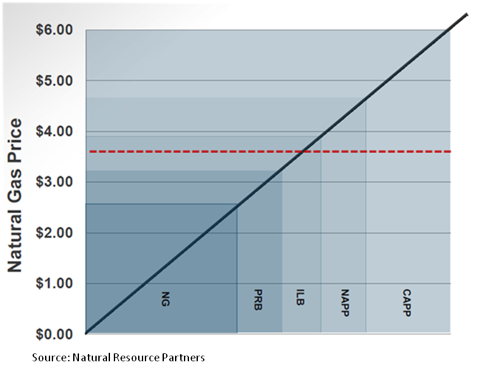 While I may not agree 100% will the exact numbers in the graph (I believe natural gas prices would need to be above the $4/MMBtu range for CAPP coal to be 'in the money'), the broad trend is correct. This should be no surprise to anyone tracking the coal markets. On a cost-per-MMBtu basis, cheap and abundant Powder River Basin coal should be considered the source of choice for most plants. What has come as a surprise, is the scale of YoY production declines for the first couple months of 2013 coming from producer in the Basin such as Westmoreland Coal (NASDAQ:WLB), Cloud Peak Energy (NYSE:CLD), Alpha Natural Resources (ANR), Arch Coal (ACI), and Peabody (NYSE:BTU). While YoY reductions in production would be expected following last year's downturn in coal and the relative inability of PRB producers to reach export markets, the production numbers show an extremely tight level of control being practiced by these companies. I believe this will bode well for these companies as it gives time for power plants to burn off excess inventory.
The Energy Information Administration has a lag of a couple months in providing coal inventory data. However, the below chart does a good job at showing where we stood by the end of the year. The good news for PRB producers is that their tight production controls will pay dividends by driving a decline in coal inventories that, I believe, will reverse the ramp up we saw from July, 2011 to June, 2012.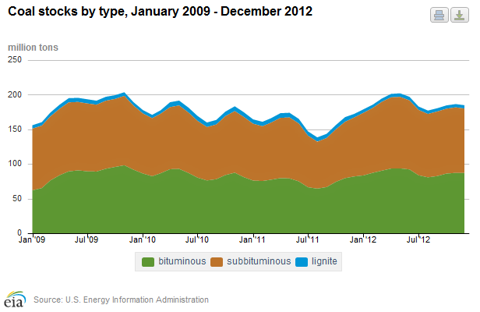 The PRB spot price per ton still hangs around the $10.25 mark - not leaving much, if any, margin for most mines where cash costs of production per ton range from $9-$13.50. While many PRB producers have wisely locked in long-term contracts that insure profitability, the cuts in production (see below graph for cuts in Dec, Jan, & Feb) should have time to start taking effect and begin to drive up PRB coal prices. The coal producers with the best long-term contracts, such as Cloud Peak which is already committed for most of its production, can sit back and wait for prices to inch up. By the end of the year we should see producers with substantial PRB assets in a much better financial position.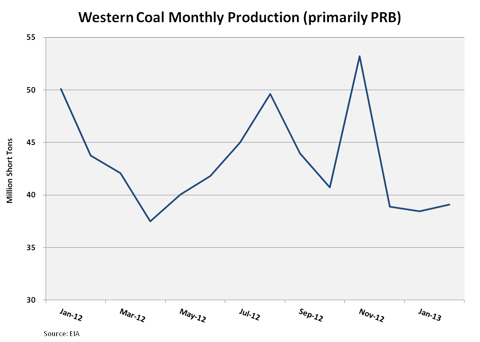 Disclosure: I am long CLD. I wrote this article myself, and it expresses my own opinions. I am not receiving compensation for it (other than from Seeking Alpha). I have no business relationship with any company whose stock is mentioned in this article.