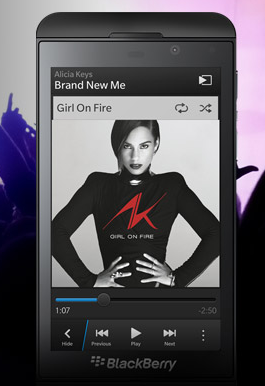 The Gist
There have been countless articles written regarding BlackBerry (BBRY), both bullish and bearish. Many have stated BlackBerry is an excellent short candidate while others tout the company's new products will change the game for BlackBerry. I believe they will and have gone long the stock. I see BlackBerry as a buying opportunity with positive momentum, improving fundamentals and strong catalysts for future upside. In the following sections, I will discuss the reasons why I believe BlackBerry is a buy.
Earnings Report Coming Up On March 28th
With earnings coming up in a week, I think we are about to see some shorts start coming out of the stock. We can already see the shorts have itchy trigger fingers by noting the strong moves up in the stock on buyout rumors and blow out sales reports.
Plus, BlackBerry CEO Thorsten Heins seems to be acting fairly confident these days boasting of strong sales and taking shots at the competition. Heins took a jab at Apple's iPhone Monday. According to a WSJ article, Mr. Heins highlighted the "fantastic job" Apple did in designing the iPhone, yet goes on to say that Apple's underlying operating system is outdated.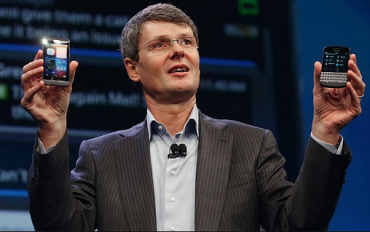 Now, I'm not saying I know BlackBerry is going to beat earnings, because no one knows. But, I am saying that the bar has been set extremely low and from the reports coming in it looks like things are going well.
Goldman's Simona Jankowski sees 2 to 3 million BB10 shipments apiece for the May and November quarters. Jankowski says Z10 checks at nearly 40 stores in 4 countries indicate "most stores had a successful launch week, followed by steady demand." Jefferies' Peter Misek says his checks indicate build orders have been raised 3 times in 6 weeks, and speculates the 1 million-unit order likely came from a U.S. carrier or a top distributor.
This sounds like earnings could be pretty good. I suspect the stock will start to move up in the coming days.
Improving Fundamentals And Cash Burn Under Control
BlackBerry has not gotten back into the black so to say. But they have lost less money than expected for the last two quarters. Furthermore, they have managed to hold on to their cash. Many projected they would be out of cash by now. Nevertheless, BlackBerry has done a tremendous job managing their burn rate and cash levels have remained intact.
The company is vastly undervalued by industry and historical standards trading at a nearly 20% discount to book value and 10 times free cash flow. Blackberry was previously trading on par with Apple (NASDAQ:AAPL) and Google (NASDAQ:GOOG).

If BlackBerry can simply get the devices out to the current user base ready to upgrade they should look great. The year over year numbers will be impressive. The point to focus on regarding the fundamentals is the improving numbers going forward. With a successful launch of the new products the fundamentals should be much improved.
The Competition Is Softer than Expected
That fact of the matter is the BlackBerry Z10 is a revolutionary product and some of the major competitors have seemed to have missed the mark. The Apple iPhone 5 has received complaints for not having a large enough screen, a weak battery and no new features. Google Android phone, the Samsung Elect Ltd. (OTC:SSNLF) Galaxy S IV, was recently launched and seemed to fall flat with complaint that it does not live up to the hype. The plethora of phones put out by Nokia (NYSE:NOK) using Microsoft's (NASDAQ:MSFT) Windows 8 haven't seemed to be able to pick up any meaningful traction or market share either. The door is wide open for BlackBerry as far as I'm concerned.
The Stock Has Strong Momentum
Strong 6 Month Uptrend Intact
BlackBerry has been on a roll since October 2012. The stock has had many voluminous moves over the past six months to the upside. Nevertheless, currently the stock is hugging the bottom of the uptrend line, which is just where I like to pick up shares. See chart below.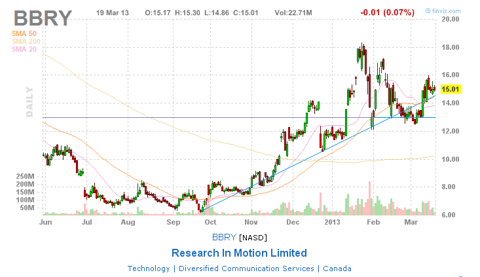 Just Broke out of Long-term Downtrend
Although BlackBerry has doubled in the past six months, it is still trading many times below its historic average. Even so, with the recent move upward BlackBerry has finally broken out of its long-term downtrend, which is very bullish. See chart below.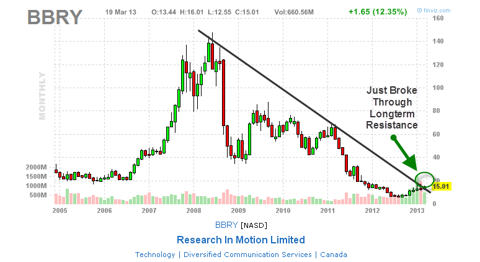 Cup And Handle Breakout Looming
The Cup with Handle is a bullish continuation pattern that marks a consolidation period followed by a breakout. It was developed by William O'Neil and introduced in his 1988 book, How to Make Money in Stocks. There are two parts to the pattern the cup and the handle. The cup forms after an advance and looks like a bowl or rounding bottom. After the cup is formed a trading range develops on the right hand side, which is referred to as the handle. Subsequently a breakout occurs signaling the continuation of the advance. The earnings report could be the catalyst for the next leg up. See chart below.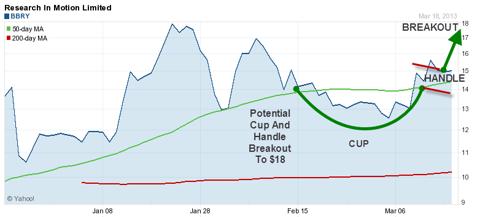 The Bottom Line
BlackBerry's new products have been long awaited. With the launch of the BlackBerry Z10, I posit the sales numbers will impress and guidance will be lifted. This inevitably leads to analysts' upgrades, which should have a positive effect on stock price going forward. With an earnings report looming, I see now as a buying opportunity. I posit they will beat expectations. The risk reward looks favorable at this point. BlackBerry has positive momentum, improving fundamentals and solid catalysts for upside. The three main things I look for in a stock.
Disclosure: I am long BBRY. I wrote this article myself, and it expresses my own opinions. I am not receiving compensation for it (other than from Seeking Alpha). I have no business relationship with any company whose stock is mentioned in this article.
Additional disclosure: This is not an endorsement to buy or sell securities. Investing in securities carries with it very high risks. The information contained within this article is for informational purposes only and is subject to change at any time. Do your own due diligence and consult with a licensed professional before making any investment.