Williams-Sonoma (NYSE:WSM) is perhaps the best multi-channel retailer, excelling with catalogs, online or through its stores across several different brands. The company wrapped up a challenging fourth quarter with a solid beat driven by a robust performance in January and provided reasonably strong guidance for 2013 and beyond, setting the stage for what will likely be a breakout to all-time highs based on after-hours trading. Based on continued execution and modest valuation expansion due to a better appreciation for several growth drivers, the stock could appreciate to 62 over the next year.
Background
Based in San Francisco, WSM was founded in 1956 by Chuck Williams, who still serves as a Director Emeritus, as a single store in Sonoma, Ca. The company launched its first catalog in 1972 and began its e-commerce website and bridal and gift registry in 1999. Williams-Sonoma is focused on cookware. At year-end, there were 253 stores, and the company expects to close 15 and open 8 in 2013.
In 1986, it acquired Pottery Barn from Gap and launched a catalog the following year. The company launched the e-commerce website in 2000 and began its gift and bridal registry in 2001. PB is focused on furniture. At year-end, there were 192 stores, and the company expects to open seven and close four in 2013.
Pottery Barn Kids launched in 1999 with a catalog and began store operations the following year, hitting the Internet in 2001. PB Kids is focused on kids' furniture. The company operates 84 stores and expects to open four and close four in 2013.
West Elm launched as a catalog in 2002, with the company opening the first store and launching the e-commerce website in 2003. West Elm is focused on modern furniture and room decor. West Elm is the growth engine for retail, and the company expects to expand from 48 to 57 stores in 2013.
PBteen started as a catalog in 2003 and quickly launched its e-commerce website that year. PBteen is focused on bedding.
Other brands include Rejuvenation, which was acquired in late 2011 and is focused on authentic reproduction lighting and high-end door and cabinet hardware. The brand includes four stores. The company launched internally developed Mark and Graham in November. Currently DTC-only, the brand offers seasonal and personal gifts with a collection of custom monograms. The 8th concept is Williams-Sonoma Home, which is focused on luxury furniture and decorative accessories.
At year-end, the combined efforts included 7 e-commerce websites, 8 catalogs and 581 stores. DTC represented 46% of sales in 2012. The culture and history of WSM lead to a durable business model. CEO Alber explained it well on the Q4 conference call:
Our catalog heritage has created a culture of analytics that has propelled our online growth and contributed to our disciplined history of retail expansion. We have an excellent balance between physical and online storefronts, and we utilize our industry-leading customer intelligence, gathered over the past 35 years, to drive merchandise decisions.

While we are not immune to the effects the retail disruption we all see around us, our brands are at the forefront of specialty retailing, with our merchandise categories and each continues to further differentiate itself from its competition. Creativity and innovation is a key component of our strategy. And for all these reasons, we see a clear path to more than doubling our business over the next decade.
Management
If you haven't stayed close to the WSM story, you may be surprised by all of the changes. CEO Laura Alber (44) assumed the role three years ago after joining the company in 1995 as Senior Buyer for PB and working her way up. Prior to her appointment, she had served as President since 2006. Alber succeeded Howard Lester, who had taken over the company from its founder in 1976. Lester passed away just months after stepping down.
Investors were somewhat shocked a year ago when long-time CFO and COO Sharon McCollam retired (at age 49), emerging in November as the new CFO of Best Buy. She had also served as a director from 2010. The company named Controller Julie Whalen on an interim basis as CFO, making the appointment permanent later in the year. She had joined the company in 2001.
In conjunction with the Q4 earnings release, the company disclosed that Richard Harvey, who had been leading the Williams-Sonoma Brand since 2008, has been replaced by Janet Hayes, who had joined the company in 2007 and had been President, PB Kids and PBteen since 2010. Sandra Stangle, who has served as President, Pottery Barn since 2008 and has worked with the PB brands since 1994, has assumed leadership of all the PB brands.
2012 Review
WSM performed quite well in Q4, wrapping up a solid year with a sales and earnings "beat." It's important to note that Q4 had 14 weeks (and 2012 had 53 weeks). Sales of $1.41 billion grew 11% (5% adjusted for the extra week) and were slightly ahead of the consensus of $1.39 billion. EPS of 1.34 grew 15% (9% adjusted for the extra week, which the company quantified as adding .07), well ahead of the 1.29 consensus. For the full year, sales grew an adjusted 7% based on 12.5% growth in direct-to-consumer (DTC) and 2.5% in its stores, representing an impressive 6% comparable-brand growth. EPS of 2.58 grew 15%, or 12% adjusted for the extra week.
Gross margin expanded slightly during the year, with occupancy cost showing leverage but product margins were pressured by lower pricing. SG&A increased slightly due to some asset impairments and planned investments. The bottom line was that the operating margin was flat at 10.3%. An interesting trend was that DTC margins improved by 40 bps to 22.4% while retail margins dropped 70 bps to 12.1% (with corporate overhead rising 10 bps too).
Looking at the performance (comparable brand growth) for the year by brand, weakness in the flagship brand balanced out very strong growth in West Elm:
Williams-Sonoma: $981mm (-1.1%)
PB: $1.753 billion (+8.5%)
PB Kids: $558mm (+5.6%)
PB Teen: $220mm (+1.7%)
West Elm: $430mm (+17.4%)
Other: $101mm
The company began the year with inventories below proper levels, which led to some out-of-stock situations during the year. By year-end, inventory, at $640mm, grew almost 16% but was in line with the levels management intended. The company ended the year with $425mm cash and minimal debt. I think the best way to look at the cash is to remove customer deposits and debt, which leaves $212mm (>$2 per share).
Cash flow from Operations expanded by $73mm to $364mm. The company invested heavily in CapEx, spending $205mm, up by $75mm and well ahead of the $134mm of D&A. Some of this investment was due to its purchase of property in Australia (see below for more details) as well as investments in its e-commerce capabilities.
2013 and Beyond
The company provided detailed guidance for 2013: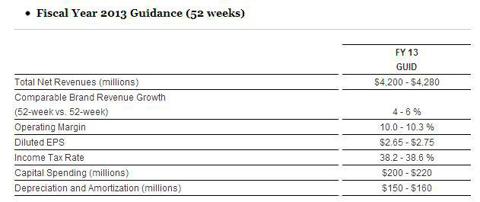 The sales guidance was in line with the prior consensus and represents 5% growth at the mid-point. EPS growth was somewhat below the consensus of 2.82. At the mid-point, it represents growth of just 5%, reflecting flattish operating margins.
The company also provided longer-term guidance, suggesting that it can grow sales "mid to high single-digits" and EPS "low double-digits to mid-teens." The challenge for 2013 is partially a function of the 53-week year in 2012, but investments related to the Australian expansion and other initiatives are likely impacting 2013 results as well.
Lots of Drivers
Underpinning the solid long-term outlook that management shared are several growth drivers:
Capital Allocation
One of the reasons the stock may have reacted so favorably to the earnings release was that the company hiked the dividend by 41%. At the after-hours price of $48, the $0.31 quarterly dividend yields almost 2.6%. The increase continues a trend in place since the company first began paying a dividend in 2006.
The company also announced a 3-year $750mm share repurchase program which, at current prices, represents 15% of the outstanding shares. In FY12, it repurchased 3.96mm shares for $155mm ($39.12 average price per share), which follows $194mm in FY11 and $125mm in FY10.
International
WSM has been primarily a domestic story, but it has three avenues it is pursuing, including operations in Canada, a franchise program in the Middle East and company-operated stores in Australia. The company began its global e-commerce efforts in 2011 and ships to customers in more than 75 countries. Having this effort dramatically reduces the risk assumed in new store openings. In 2001, WSM opened five retail stores in Toronto and operates 16 stores currently. In the Middle East, it partnered with M.H. Alshaya in 2009 and operates 23 stores.
This summer, it announced its first expansion for company-owned stores beyond North America, with a project in Sydney, the new Exchange Building, consisting of 22K s.f. of leased space with side-by-side stores for Williams-Sonoma, PB, PB Kids and West Elm. CEO Alber, who calls global expansion "one of the most important growth prospects for the next 10 years," indicated that the stores will open in May and that the company could expand further in Australia or elsewhere later this year.
West Elm Expansion
West Elm is the newest brand and the largest format on a per-store basis, averaging almost 15K s.f. Comparable brand growth slowed from 30% to 17% last year as the company added 11 stores. Management reports that it is broadening its customer base, and the brand is growing in all categories (furniture, textiles and decorative accessories). The two stores in Canada are among the best performing of all stores in the entire company, and the franchise in the Middle East is performing so well that the company is confident about its international expansion opportunities. In the fall, the company launched a brand extension into kitchen and housewares (West Elm Market). CEO Alber thinks that the brand can grow beyond $1 billion, suggesting substantial opportunity, given the current $430mm run-rate.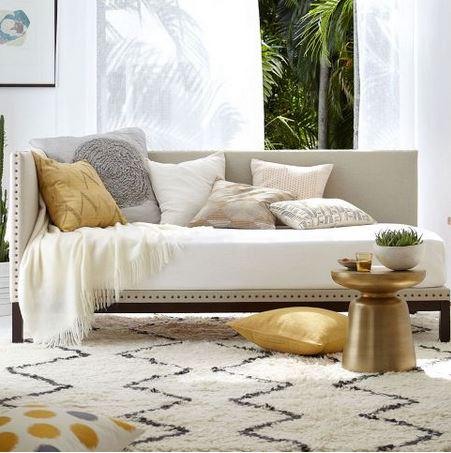 Williams-Sonoma Recovery
The core brand has struggled due to intense competition. The company has adopted a strategy of moving towards more private-label and more exclusive product, which it has successfully implemented in DTC. As indicated above, the company continues to optimize, closing underperforming stores and relocating some of them, a trend it expects to continue for the next few years. The new store in Australia will have a cooking school, offering a new growth opportunity potentially. Additionally, the company has had good early success with a new program called Williams-Sonoma Delivers, which allows customers to work with a salesperson in the store and place online orders. Finally, the company reports strong interest in its new catalog, Agrarian, which is focused on the homegrown and homemade (need a chicken coop?). With the change in leadership, the attention from senior management and several new initiatives, it seems likely that this iconic brand can reverse its recent slide.
The Biggest Driver: Housing Recovery
The fact that WSM has seen sales move to an all-time high despite housing remaining well below prior peak levels is a remarkable accomplishment: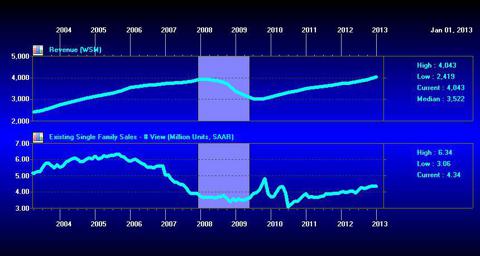 All of the concepts at WSM are oriented towards the home, with much of it related to furniture. The concept of young adults, who are the prime customers for WSM, living at home with Mom and Dad ad infinitum isn't sustainable. CSFB showed how dire the situation has become: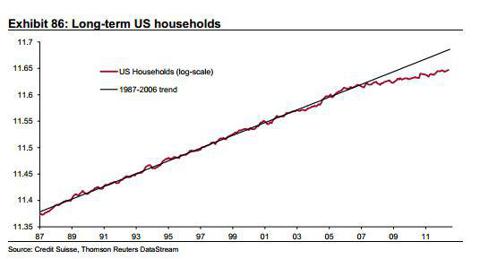 While we may not get back to the trend-line, we should expect, as unemployment recedes, to get back to a similar growth rate. Note that the scale on the left is log-scale.
Economist Jim Sweeney concludes:
An improving labor market, excellent housing affordability, rising house prices (fewer homeowners underwater), and a further improvement of credit conditions could create something like our good scenario, which would generate a maximum of 9 million new households in the next five years, an average of 1.8 million per year.

So how many households will form? A reasonable estimate, in our view, is somewhere between the strong and base case views, meaning 6-8 million over the next five years. Demographics alone should create 5.7 million, with the rest driven by a labor market recovery that falls short of our strong scenario.
This would represent an acceleration from about 1.1m over the past year and 700K per year in the prior three years and bodes well for WSM.
Valuation
WSM isn't particularly cheap, but its valuation doesn't seem to reflect its superior business model that generates DTC sales approaching 50%. Its performance in 2012, with 6% comparable brand sales growth, puts it near the top of relatively mature retailers. Those fascinated with the concept of new household formation, a theme that makes a lot of sense, have gravitated towards Lowe's (NYSE:LOW) and Home Depot (NYSE:HD), but those same drivers will drive WSM. Here is the 10-year history per Baseline: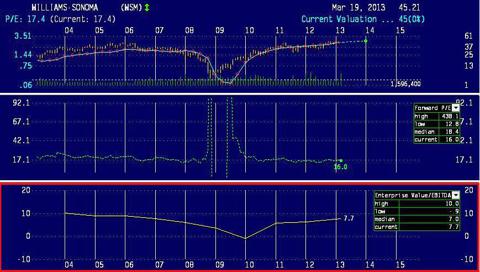 At 16.75X the mid-point of 2013 guidance, the stock trades at a slight discount to its median valuation over the last decade. On an EV/EBITDA basis, it trades at 7.7X. For comparison purposes on this basis:
Bed Bath & Beyond (NASDAQ:BBBY): 7.6X
HD: 11.5X
LOW: 9.9X
BBBY has significantly higher operating margins than WSM, HD and LOW, which may account for its low valuation. HD and LOW both have net debt.
As I think about the potential for WSM, I expect that the EV/EBITDA multiple could increase towards 10X as investors better understand its leverage to the housing recovery as well as its growth drivers detailed above. While the recovery may not approximate the growth from 2000-2005, it's telling to review the annual sales growth WSM enjoyed:
2001: 14%
2002: 13%
2003: 17%
2004: 14%
2005: 13%
Based on current consensus of about $6 EBITDA per share for FY13, a multiple of 10X would generate a target price of 62, which is 29% higher than the after-hours price of 48. Alternatively, this represents 20X FY14 EPS, assuming 15% growth next year. WSM traded at this level at some point each year from 2003-2007 as well as 2010 and 2011.
Technicals
WSM gapped up during the summer and has been consolidating subsequently: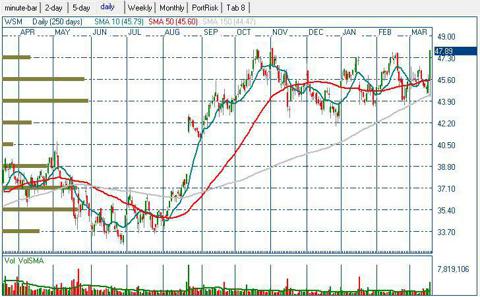 The recent action tested the rising 150dma. A break of 48.07 would represent an all-time high, a breakout from a pretty long consolidation. For perspective, the prior all-time high before 2012 was 45.48 in May 2011. Note that this chart includes after-hours trading on 3/19.
Conclusion
WSM delivered strong growth in a challenging retail environment in 2012, fully recovering to an all-time high in terms of sales and earnings. Despite its obvious leverage to the housing recovery, investors haven't focused significant attention on this potential driver. As one of the leading multi-channel retailers, WSM's business model offers the potential for continued margin expansion and high return on invested capital. International growth, continued expansion of West Elm and development of newer brands, better management at the flagship brand and shareholder-friendly capital allocation all suggest the potential for management to meet or exceed the long-term double-digit EPS growth guidance that it shared for the first time. Based on achieving 10X EV/EBITDA, WSM could trade to 62 over the next year.
Disclosure: I have no positions in any stocks mentioned, and no plans to initiate any positions within the next 72 hours. I wrote this article myself, and it expresses my own opinions. I am not receiving compensation for it (other than from Seeking Alpha). I have no business relationship with any company whose stock is mentioned in this article.
Additional disclosure: WSM is held in one or more model portfolios managed by the author at Invest By Model. Additionally, the author shared a trade recommendation on 3/18 with subscribers to his service on Marketfy, The Analytical Trader, with an exit price of 49.50 or a 43.94 stop-loss.