Oracle (NYSE:ORCL) CFO Safra Catz said in October, "we are finally at the end of the very beginning." She was referring to the company's products and operations, but it may be true for the stock too. As Oracle prepares for earnings today (March 20), its stock price is on the verge of breaking out to levels not seen since 2000. After years of P/E compression, will Oracle finally have a catalyst for multiple expansion and further gains? In this article I will analyze Oracle by looking at the performance of its Big Tech peers, examining Oracle's financial performance and looking at the trend of its P/E valuation. I will also discuss the forecasts for Q3 earnings and key points for the call. Last summer I wrote a bullish view on Google (NASDAQ:GOOG) "Buy Google As P/E Compression May Soon End..." and Oracle may be set up in a similar way. This is the backdrop, earnings could be the catalyst.
Background on Oracle & Stock Price Performance.
The following chart shows Oracle's stock price on the verge of a multi-year breakout.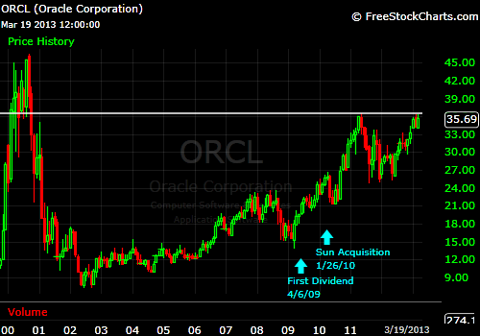 (Source: FreeStockCharts.com)
There are a few events in Oracle's history that are worth noting to accompany the price action.
First, in April 2009, just after the market lows, Oracle launched a dividend. This shareholder-friendly approach is now in vogue as investors seem to care more about buybacks and dividends than growth. Larry Ellison is clearly still focused on growth, a message he often highlights, but the $7.2 billion of buybacks and dividends in FY 2012 (ended May 31) puts Oracle in line with the times.
Second, Oracle is a serial acquirer. In January 2010, Oracle closed the acquisition of Sun for approximately $7.4 billion. This was the major acquisition in the post-financial crisis era and marked a strategic move toward hardware. Following the Sun acquisition, Oracle's stock price rallied up to ~$36 per share, a level that it is now retesting.
Since the Sun deal, Oracle has made a number of acquisitions, especially in the Software-as-a-Service [SAAS] space to enhance its cloud platform. Acquisitions included RightNow ($1.5 billion), Taleo ($1.9 billion) and Eloqua ($810 million).
Big Tech's Strong Performance
Some of Oracle's Big Tech peers have been rallying. IBM (NYSE:IBM) and Salesforce.com (NYSE:CRM) are at/near record highs and SAP (NYSE:SAP) is at highs that date back to 2000. Even Cisco (NASDAQ:CSCO) is at two year highs. The strong performance of these companies is supportive of Oracle's gains. Oracle is not trading up alone, it is moving with the Big Tech pack.
The next two charts show the stock prices of Big Tech companies going back to October 2007 (the record high for the S&P 500 (NYSEARCA:SPY). Over this period, Oracle is up 59%.
The first chart shows Oracle and its core comps and the second chart shows the Big Tech companies that Oracle considers its peers (according to the presentation at the last analyst day). These companies include Accenture (NYSE:ACN), Dell (DELL), EMC (EMC), HP (NYSE:HPQ), IBM, Microsoft (NASDAQ:MSFT), NetApp (NASDAQ:NTAP), RedHat (NYSE:RHT), Salesforce.com, SAP and Teradata (NYSE:TDC) (VMware is excluded).
All but three companies have outperformed the S&P 500. The three laggards are, not surprisingly, Microsoft, Dell and HP.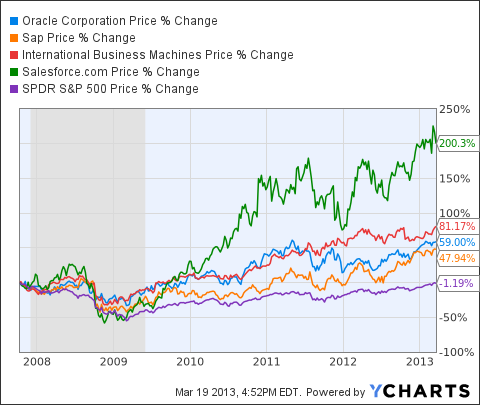 ORCL data by YCharts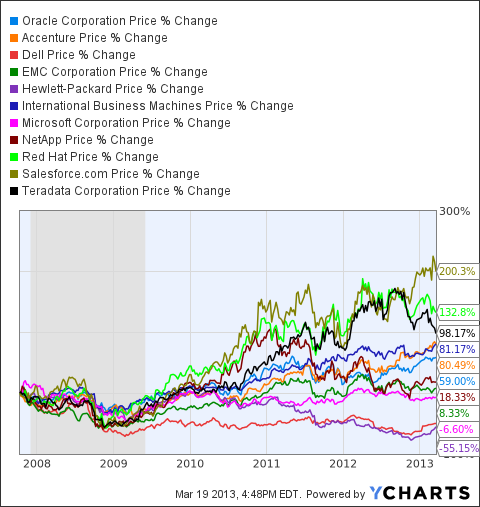 ORCL data by YCharts
Overview Of Oracle's Financial & Valuation Profile
There are four main components of Oracle's financial profile: (1) top and bottom line growth that has been strong, but decelerated recently, (2) expanding margins (but are they sustainable?), (3) acquisitions and capital allocation strategy and (4) P/E multiple compression.
The following sections discuss each point in more detail.
Strong Top & Bottom Line Growth, With Growth In Recurring Revenue
In 2005, Larry Ellison forecasted earnings growth of ~20% for the "next several years" and Oracle delivered. Here are the FY 2005 to FY 2012 CAGRs (source: Oracle's latest analyst day presentation):
Revenue - 18%

Software Support - 17%

New License Revenue - 13%

Operating Income - 20% (more on margins below)

Earnings Per Share - 20%
However, there has been a deceleration of late: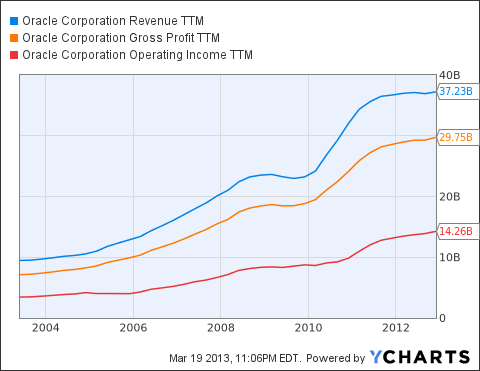 ORCL Revenue TTM data by YCharts
The company recently launched several new products and significantly scaled up its sales team to re-accelerate growth. The success of these initiatives remains to be seen.
Oracle is still a software company, but the 2010 acquisition of Sun introduced a hardware side. Larry Ellison has talked about the challenges in repositioning Sun's business to increase sales of IP-rich hardware and decrease sales of commodity hardware. On the software side, recurring revenue was 55% of sales in FY 2012, up from 49% in FY 2005. As Oracle grows its SaaS platform, the software revenue mix will likely continue to move in the direction of recurring revenue.
Margins
The following two charts illustrate Oracle's margins. In the first chart Oracle's FY 2012 operating margin expanded to 46%, back up to the levels before the Sun acquisition. The second chart shows that Oracle's margins outpace the industry.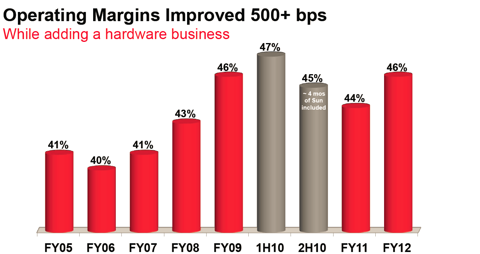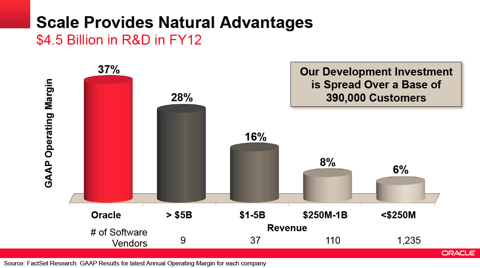 (Source: Oracle's analyst day presentation, October 2012)
It will be interesting to watch margins going forward. With historically high margins and an industry leading position, how much higher can they go? Hardware margins will likely expand going forward. Oracle has been downsizing the low-margin, commodity business and trying to boost its high-margin hardware business.
On the software front, Oracle was (and is) hiring, especially salespeople. Since it takes time for salespeople to generate revenue, there was likely a margin headwind that may soon become a tailwind. Additionally, continued revenue growth should add to the company's operating leverage and support margins. However, as Oracle shifts to more of a SaaS model, I wonder how much that will drag on margins.
Acquisitions & Capital Allocation
Acquisitions are an important part of Oracle's business plan. Oracle has acquired big and small companies and several acquisitions have taken the company in new directions, like the Sun acquisitions and the pending acquisition of Acme Packet (NASDAQ:APKT).
In addition to investing in the business through R&D and M&A, Oracle is an active acquirer of its own shares, especially in FY 2012, and introduced a dividend a few years ago. The $7.2 billion spent on buybacks and dividends in FY 2012, represents a 4.2% shareholder yield (with the current market cap of $169 billion). The following chart shows Oracle's history of capital allocation.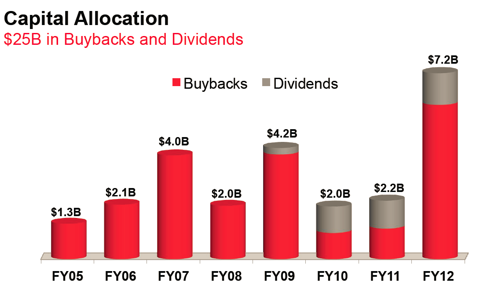 (Source: Oracle's analyst day presentation, October 2012)
P/E Multiple
You may expect Oracle to experience P/E expansion with a decent growth rate, better margins, record buybacks and dividends. But, that is not the case. Lots of Big Tech companies experience P/E compression as they mature. I previously wrote about this phenomenon in the context of Google as well as VMware (NYSE:VMW) (VMware Rebounding Off Lower End Of Multi-Year Range...).
Here is the chart of Oracle's TTM P/E multiple. Currently, the TTM P/E is just above the levels of the financial crisis.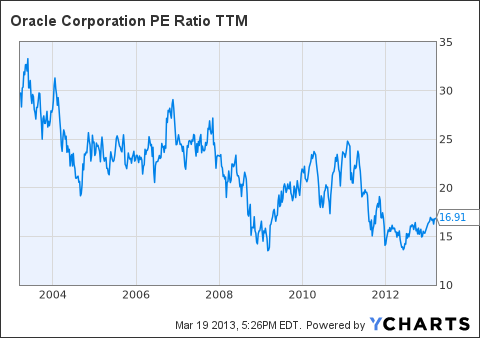 ORCL PE Ratio TTM data by YCharts
There may be a couple of reasons for this P/E compression. First, Oracle's P/E reversed course in 2010/2011 around the time of the Sun acquisition. Also, Oracle has experienced lower growth than in the past, which may have scared off investors.
Interestingly, Oracle increased its share repurchases in FY 2012 at a time when the stock was trading at a low P/E.
Q3 FY 2013 Earnings Estimates
The company gave the following guidance on the last earnings call (here):
New software license and cloud subscription revenue growth is expected to range from 4% to 14% in constant currency and 3% to 13% in reported dollars. Hardware product revenue growth is expected to range from a negative 10% to flat in constant and reported dollars. And as a result, total revenue growth on a GAAP to non-GAAP basis is expected to range from 2% to 6% in constant dollars, 1% to 5% in U.S. dollars.

Non-GAAP EPS is expected to be somewhere between $0.64 and $0.68 in both U.S. dollars and constant dollars, up from $0.62 last year. GAAP EPS is expected to be between $0.51 and $0.55 in U.S. and constant dollars. This guidance assumes a GAAP tax rate of 24% and a non-GAAP tax rate of 24.5%. And of course, it may end up being a bit different. (Source: Seeking Alpha)
Analysts are projecting EPS at the mid-point of the range.
The following table shows the EPS estimates for the upcoming periods and the trends over time. FQ1 and FQ2 are the current and next fiscal quarters (same for FY1 and FY2). Please note that Oracle's fiscal year ends May 31.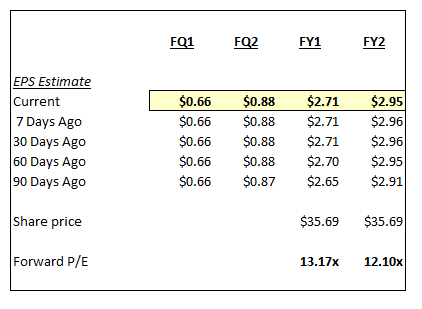 (Source: Yahoo Finance)
Questions For The Earnings Call:
The following are the topics that I am most interested in hearing about on the earnings call:
Acquisition of Acme Packet and Oracle's plans for the company

What is Oracle's long term growth rate?

What is the potential for future margin expansion?

Macro environment - Oracle seemed to shrug off concerns in the last call and I wonder if/how things have changed
There will probably also be important questions about new product traction, salesforce productivity, improvements in the hardware business and competition (it is always fun to hear Larry Ellison speak about the competition - don't let me down!)
Conclusions
Oracle has rallied up to multi-year highs on strong financial performance and strategic acquisitions. However, over this time, Oracle's P/E has compressed, a trend that may soon be coming to an end. With the stock at this level, it is possible that a good earnings report could be the catalyst for a breakout to new multi-year highs and the start of P/E expansion.
Risks
There are a lot of risks for Oracle. Oracle constantly needs to innovate. It is in the process of launching some new products and it is not clear how they will be adopted by the market. Furthermore, Oracle faces competition from SAP, Salesforce and others. The business model relies on acquisitions and a future acquisition may change Oracle's direction. Because of Oracle's size, it may be harder to maintain the high growth rates that investors have been used to. Finally, I am watching Oracle's margin trends closely. After already expanding margins and establishing an industry leading position, how much more can investors expect?
Please see Oracle's SEC documents for the official risk factors.
Disclosure: I am long IBM, GOOG, VMW. I wrote this article myself, and it expresses my own opinions. I am not receiving compensation for it (other than from Seeking Alpha). I have no business relationship with any company whose stock is mentioned in this article.
Additional disclosure: I may trade any of the stocks mentioned in this report in the next 72 hours, including before/after Oracle's earnings.
Disclaimer: Please note that I have no information about the actual plans of any of the companies mentioned in this article. I do not speak to the executives of these companies and these thoughts are purely my own observations. They may be accurate or not and any of the trends mentioned above could take a very long time to materialize, if at all, so please do your own homework. If you disagree with me, please feel free to comment below.
The opinions expressed above should not be construed as investment advice. This article is not tailored to specific investment objectives. Reliance on this information for the purpose of buying the securities to which this information relates may expose a person to significant risk. The information contained in this article is not intended to make any offer, inducement, invitation or commitment to purchase, subscribe to, provide or sell any securities, service or product or to provide any recommendations on which one should rely for financial, securities, investment or other advice or to take any decision. Readers are encouraged to seek individual advice from their personal, financial, legal and other advisers before making any investment or financial decisions or purchasing any financial, securities or investment related service or product.
Information provided, whether charts or any other statements regarding market, real estate or other financial information, is obtained from sources which we and our suppliers believe reliable, but we do not warrant or guarantee the timeliness or accuracy of this information. Nothing in this article should be interpreted to state or imply that past results are an indication of future performance.