Share price of Johnson & Johnson (NYSE:JNJ) has appreciated by 21% over the past 12 months. At $78.86, the stock is trading near its 52-week high and offers a 3.1% dividend yield. I believe investors should consider buying into the current price uptrend based on the following compelling reasons:
Consensus estimates on average predict JNJ's revenue, EBITDA, and EPS to grow at 2-year CAGRs of 5.0%, 7.6%, and 21.1%, respectively (see chart below). The figures are considerably above the averages of only -2.8%, -5.6%, and 5.8%, respectively, for a group consisting of JNJ's primary peers. Similarly, the company's long-term earnings growth rate is projected to be 6.4%, markedly above the peer average at just 4.4%. On the profit side, JNJ's performance is fairly comparable to that of the peer group as most of the company's margin and capital return metrics are in line with the peer averages. JNJ carries a relatively lower level of debt as reflected by its below-average leverage ratios. In terms of liquidity, the firm's free cash flow margin is only slightly below par. Due to the low leverage, JNJ was able to maintain a healthy interest coverage ratio. Both its current and quick ratios are on par, reflecting a healthy balance sheet condition.

To summarize, JNJ's superior growth potential as well as its in-line profitability and liquidity performance should bolster a premium valuation for the shares. Nevertheless, the current price multiples at 9.4x forward EBITDA (next 12 months) and 14.6x forward EPS (next 12 months) are almost in line with the same peer-average trading multiples. After accounting for JNJ's stronger long-term EPS growth estimate, the stock's PEG ratio of 2.3x is 27% below the peer-average PEG at 3.1x, suggesting that JNJ's solid margin and liquidity performance has likely not been priced in and thus the shares are undervalued on a relative basis (see chart above).
From a historical standpoint, JNJ's trailing P/E multiple of 10.2x is currently trading above its 5-year historical average (see chart below).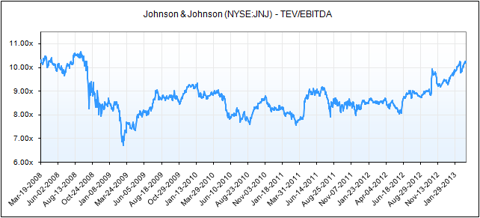 I believe the valuation uptrend experienced in recent years is completely justifiable provided that 1) JNJ has been able to maintain a steady profitability and free cash flow performance over the past five years (see chart below); and 2) the company saw a solid growth recovery in 2012 and the consensus revenue, EBITDA, and EPS estimates suggest a stable growth trajectory from 2013 to 2015 with both the revenue and EBITDA growth rates exceeding its 5-year historical averages (see chart below).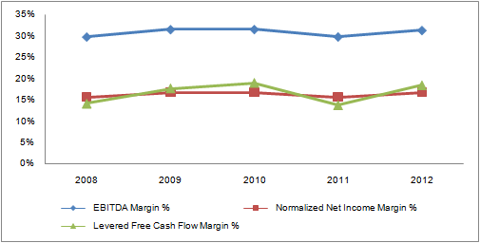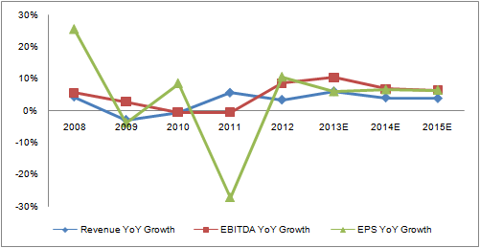 Further, management's commitment to return capital through dividends and share buybacks should be a solid downside support to the share price. Since 2010, the company has bought back a total of $18.2B value of shares and raised the dividend per share three times by 10.2%, 5.6%, and 7.0%, consecutively. In addition, JNJ's annual dividend payment only represented less than a half of the annual free cash flow generated in the past 5 years, suggesting there is likely an ample capacity to sustain the current pace of the dividend growth (see chart below). Assuming a target dividend yield (on a forward basis) range from 3.0% to 3.8% (JNJ's dividend yield rarely exceeded this level in the past; see chart below), and supposing that the company would raise the annualized dividend per share (currently at $2.44) twice by 5% in the May 2013 and May 2014 payment periods, this conservative scenario would suggest a target stock value range from $70.79 to $89.67, or a fairly balanced return range from -10.2% to 13.7% even without considering the 3.1% dividend income.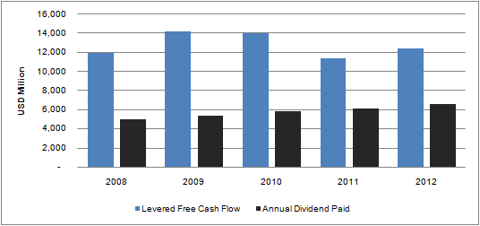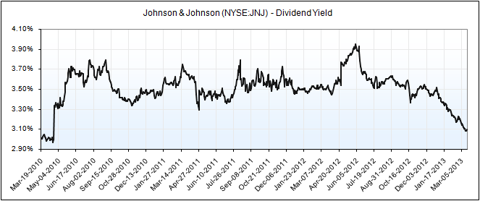 In a research note released in late February, Damien Conover at Morningstar commented on JNJ's growth prospects which appears to be fair (sourced from Thomson One, Equity Research):
"In contrast to the patent cliff facing the rest of the drug industry, Johnson & Johnson has largely passed this hurdle following the loss of patent protection on antipsychotic Risperdal and neuroscience drug Topamax. With the only near-term patent losses on heartburn drug Aciphex and neuroscience drug Concerta, J&J's new potential blockbusters should return the company to steady long-term growth. Within this group of new drugs, Xarelto for cardiovascular disease and Zytiga for prostate cancer, offer the potential to revolutionize treatment. J&J revitalized its device segment with the acquisition of the fast-growing orthopedic company Synthes, and now both the drug and device segments are poised for strong growth, offsetting the near-term manufacturing problems in the consumer division, but we expect to see the continuing improvements in the OTC business in 2013. On the basis of currently marketed drugs, Johnson & Johnson ranks as one of the best-positioned companies in the pharmaceutical industry."
In conclusion, in the light of the solid company financials, promising growth prospects, and tempting valuations, JNJ stock remains a buy despite the significant run-up.
All charts are created by the author and all financial data used in the article and the charts is sourced from S&P Capital IQ unless otherwise specified.
Disclosure: I am long JNJ. I wrote this article myself, and it expresses my own opinions. I am not receiving compensation for it (other than from Seeking Alpha). I have no business relationship with any company whose stock is mentioned in this article.