"The wind redoubled and did not relent, until finally it uprooted the poor oak whose head had been in the heavens and roots among the dead folk." - Aesop
The tape doesn't lie, and for shares of ARM Holdings (NASDAQ:ARMH), the price action very clearly indicated something was wrong. The stock quite effortlessly broke its 50 day moving average (rare for a well-loved momentum name) and has resisted every single attempt to rally above it. The upgrade from Jeffries citing the same growth talking points that everybody talks about wasn't enough to keep the stock from losing the entirety of its ~4% pop that day. The Street knew about CEO Warren East's retirement before the rest of the world did.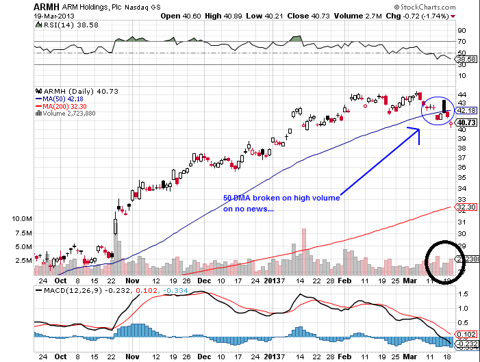 That being said, Mr. East's early "retirement" isn't as simple as a young, enthusiastic 51 year old deciding that by 2020, he just simply wouldn't have a "fresh" enough vision for the company, as he was claiming in interviews following the announcement. Further, wouldn't he want to stick around to actually write Intel's (NASDAQ:INTC) obituary as 64-bit ARM chips sweep the world and kill X86-64 once and for all by 2016? I believe that Mr. East's departure on the cusp of the allegedly "game changing" growth opportunities from now into 2016 is extremely telling, and it is clear just why he would choose July to retire.
He Will Go Out Like A Hero
East will be out of the door by July, which is the beginning of Intel's Q3 and the rollout of its new product refresh which includes the following:
"Haswell" - a brand new microarchitecture that will not only offer high end PC performance, but be able to do so with ~9+ hours of battery life in very light/thin form factors. This will be Intel's attempt at bringing wallet share back to the PC.
"Bay Trail" - Intel brings its brand new Atom microarchitecture to the 22nm FinFET process (that nobody else is even close to figuring out how to do in high volume). If I am right, this chip should offer better performance AND lower power than its ARM counterparts, which should help to significantly juice Intel's position in the ultra-thin slate/tablet space.
"Avoton" - Intel will be leveraging its brand new 22nm low SoC process + the new Atom core to beat ARM to the punch with microserver chips. While ARM has been touting the potential for servers based on its new 64-bit IP, all signs point to Intel beating ARM to market by over a year on a server-grade, low power SoC. The nearest competitor - Applied Micro (NASDAQ:AMCC) - will be showing up to the fight with a highly delayed, unproven 40nm part called "X-Gene" that only just got back from the fab in late January. Intel has been sampling its 22nm server parts since October.
These parts from Intel don't really hit until about the September - November timeframe, so Warren East will be long gone, and his name forever held in high regard for being the man who helped to grow ARM's revenues from a mere $200M to a whopping $913M for a grand increase of $700M.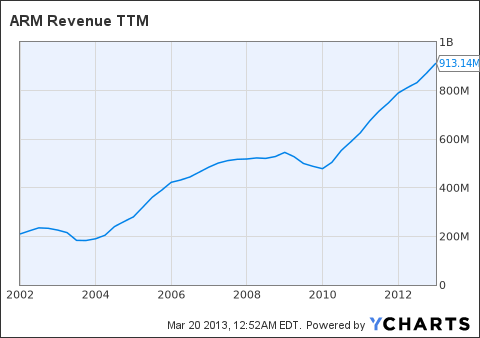 ARMH Revenue TTM data by YCharts
However, what he will really be remembered for is how he helped to juice up the market cap. Despite a mere 323% increase in sales over 10 years, the market capitalization has increased by a whopping 2120%. Investors - participants in a bubble or not - certainly got their mortgages paid for by investing in Mr. East's ARM, and for that he will go down as a hero.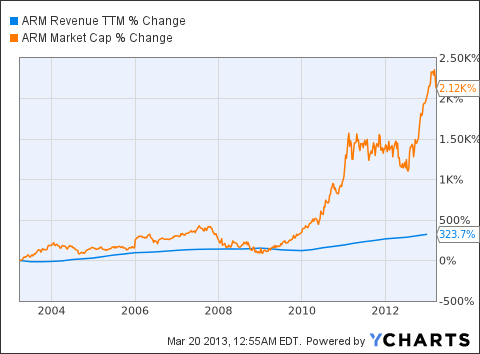 ARMH Revenue TTM data by YCharts
Connection To Bear Thesis
Now, my thesis is that over the next couple of quarters, the tablet growth will probably reach its saturation point, or it will see a massive mix shift to very low ASP chips for the majority of the "growth". A similar trend will happen with smartphones as the majority of the growth happens at the very low end, which should involve chips with ASPs much closer to ARM's traditional feature phone ASPs (the "growth" in mobile devices has actually been a story of ASP growth for ARM's bottom line, since units of cell phones in general have grown quite modestly).
Further, the thesis that ARM bulls typically propagate that ARM will increase royalties over time is absolute nonsense as Intel is already gaining strong traction in the low end with its very cheap to manufacture "Atom" chips (that include $0.00 of ARM royalty bearing IP in the apps processor and negligible content in the modem). The inclusion of gimmicks like big.LITTLE is seen as a potential way to juice up ARM royalties, but what will eventually happen is that at the high end, everybody goes and designs their own finely tuned processor cores to avoid that mess (Qualcomm's (NASDAQ:QCOM) Snapdragon, and eventually Nvidia's (NASDAQ:NVDA) Project Denver) and reduce the amount of royalty-bearing IP in the smartphone/tablet spaces.
Further, at the low end, it is a race to the bottom on costs, so the transistor budgets long term won't afford a "big.LITTLE" configuration and instead will just use the smallest/cheapest ARM IP available. Those itsy-bitsy Cortex A7's that have become good enough are no substitute for the kinds of royalties a Cortex A8/A9/A15 would have brought during their respective reigns as the flagship ARM offering. Additionally, ARM's "Mali" graphics expansion will be curtailed by graphcis efforts from Qualcomm and Nvidia in their own chips, as well as by Imagination Technologies which is the "ARM of low power graphics IP", further limiting the expansion of royalties per chip over time.
What I am trying to say here is that ARM saw a very nice growth spurt, but the surprisingly rapid maturation of the smartphone space in the developed world and the very poor mix that will be seen internationally, all coupled with competitive pressures from Intel, will probably lead to dramatically slowing Y/Y growth that will likely be visible during 2H 2013 and 1H 2014. ARM will further likely then undergo a very swift "re-pricing" by the market, ala Netflix (NASDAQ:NFLX) or First Solar (NASDAQ:FSLR) before it, and then it will spend many years trying to grow into what will still be a quite rich valuation after the "fall".
Guess who will get all of the blame for this? Just like Tim Cook is now being blamed by the inevitable commoditization of the smartphone space, Simon Segars will be blamed for ARM's stock price drop and subsequent multi-year stagnation. Warren East is timing his exit perfectly, and I believe that the price action reflected the Street's broad realization that no CEO of a highly successful growth company that is the chatter of the tech press and sell-side would willingly "retire" at the age of 51 if there were still more "big things" to come.
Conclusion
Beware of people who tell you to buy this "dip". The stock still trades at nosebleed valuations, and at the very first sign of the end of the fairy tale, the media/tech press/sell side community will be unforgiving in their downgrades and negativity. The "Intel comeback" will start to be drummed up further as people start to realize the common sense notion that Intel has the resources, might, and correct strategy to gain a lot of share here at the expense of ARM, and people will start pointing to ARM's meager profitability relative to even some of its weaker partners, let alone Intel.
You have been warned.
Disclosure: I am short ARMH, AMCC. I wrote this article myself, and it expresses my own opinions. I am not receiving compensation for it (other than from Seeking Alpha). I have no business relationship with any company whose stock is mentioned in this article.
Additional disclosure: I am long INTC, NVDA