Is investing in a waste management company a complete waste of money and time? I would say not. These companies not only haul trash but also - very smartly - increasingly use this waste to convert into energy. Apart from this, most of the companies in this space provide good returns on equity as well as dividends.
Waste Management (NYSE:WM) is a provider of waste management services as well as develops, operates and owns waste-to-energy and landfill gas-to-energy facilities in the U.S.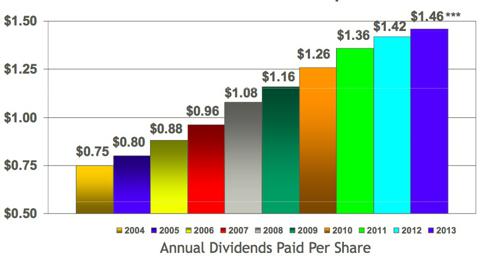 The main highlight of this stock is its dedication towards its dividends. It has not only consistently paid dividends in the last 10 years but has also increased it every year. It currently has a dividend yield of 3.8% with a dividend payout ratio of 81%.
It has ~269 landfills, the largest network in the industry and higher than its peers (competitor Republic Services (NYSE:RSG) has 191 solid-waste landfills). Due to its large ownership of landfills, it makes it difficult for its customers to switch. Further, it would also be difficult for any municipality to start hauling their own trash, as it wouldn't have such a large bank of landfills. This keeps Waste Management's primary business protected. Further, as the construction business increases leading to increased trash, Waste Management will stand to gain.
As mentioned earlier, the side business of most waste management companies is producing energy both through incineration and tapping gases that are produced by the landfills. The leader in this industry is Covanta Holding Corporation (NYSE:CVA), however, Waste Management plans to increase its current level of 550 megawatts by two thirds in the next seven years. This definitely places it in a better position vs. certain competitors who do not have a presence in this field (e.g. Waste Connections, Inc. (NYSE:WCN)).
Through acquisitions, the company is trying to give a push to its revenues. In January 2013, it announced the acquisition of Greenstar, which will help to increase its recycling capacity to 15 million tons, helping it meet its target of 20 million tons of recyclable material by 2020.
Recently, rumors are that Waste Management and Republic Services could likely spin off their land to be converted into REITS. At the recent Earnings call, Waste Management denied any such, move citing uncertainty and complications in the process. However, it's important to note that it did not deny either that it wouldn't enter into such an agreement in the future.
Fuel cost is the largest expense for the company. In an attempt to reduce its costs, Waste Management has decided to convert its fleet into natural gas. In the next 5 years, it plans to convert 4/5th of its fleet and expects to save $27,000 or more each year in fuel cost. This provides a very good opportunity for the company to save money and improve margins.
Apart from lowering costs, the Company is also focused on improving its performance and creating a more streamlined organization. In line with this objective, it plans to cut 100bps in FY12 from its selling, general and administrative expenses through reorganization. Further, a more efficient Routing and Logistics system will help to reduce costs of operations by 100bps by FY15. In FY14 and FY15, back office streamlining should reduce SG&A by 100bps.
It also plans to manage its capital spending to achieve its ROIC and cash flow goals. It has set target ROIC for each business - 12% Collection and Landfill, 15% Recycling, 11% Waste-to-Energy with 17% Organic Growth. In FY13, it expects free cash flow to increase 33% to 45% to $1.1 billion to $1.2 billion through $100 million in operating cash flows and $120 million working capital benefit. It will also monitor the pace of its capital expenditure ($1.1 billion to $1.2 billion focused on growth projects) in order to meet its cash flow targets.
Waste Management has a competitive advantage vs. its peers Republic Services and Casella Waste Systems (CSWT). It is not only bigger in terms of revenues but also has higher margins and a better dividend policy. Its cash flow guidance is much higher than its peer Republic Services, which has projected for $675 to $700 million lower than its FY12 cash flows of $768 million.
Waste Management

Republic Services

Casella Waste Systems

Market Cap:

17.44B

11.63B

169.68M

Qtrly Rev Growth

1%

0%

0%

Revenue ($ billion)

13.65

8.12

0.46

Gross Margin

35%

38%

29%

EBITDA ($ billion)

3.3

2.29

0.075

Operating Margin

15%

17%

4%

Net Income ($ million)

817

571.8

-89.87

EPS

1.76

1.55

-2.9

P/E

21.3

20.69

N/A

PEG (5 yr expected):

2.81

4.59

-0.29

Dividend Yield

3.8%

3.0%

N/A

Dividend Payout Ratio

81.0%

59.0%

N/A

Source: Yahoo Finance
Key concerns:
Waste Management has reported erratic earnings and declining operating margins in the last 5 years. It also guided for weak FY13 outlook with EPS growth of only 3-6%. Its earnings will also be impacted by ~$120 million of compensation headwinds in FY13. But it expects to return to 8-12% growth in FY14, obviously dependent on a normalized economy and rebound in commodity prices.
Lower natural gas prices, slower growth in China and the U.S. have resulted in lower profits for the Company. As a result in FY12, it announced results below analyst expectations as earnings dropped 17%. Further, it doesn't expect its recycling and waste-to-energy business to be profitable in FY13 due to lower natural gas and electricity prices. To add to it, some of its longer term waste disposal and electricity contracts are expiring, requiring the Company to rebid these contracts at lower prices.
Conclusion:
In my opinion, Waste Management has the ability to improve its profitability supported by its strong competitive advantage. However, given its weak outlook for FY13 and considering that it will continue its reorganization strategy in FY14, I maintain a "Hold" rating on the stock. In the medium term, there may not be much of share price appreciation but investors would definitely gain from its strong dividend policy.
Disclosure: I have no positions in any stocks mentioned, and no plans to initiate any positions within the next 72 hours. I wrote this article myself, and it expresses my own opinions. I am not receiving compensation for it (other than from Seeking Alpha). I have no business relationship with any company whose stock is mentioned in this article.