When comparing all the oil and gas exploration firms out there, InterOil (NYSE:IOC) is a very questionable choice. There are plenty of other natural gas exploration companies that are more legitimate and even have lower valuations than InterOil. InterOil doesn't even have documented proven or probable reserves.
All Legitimate Oil & Gas Exploration Companies Trading On US And Canadian Exchanges Have Proven Reserves
Proven reserves are how an oil and gas firm proves its value. It would be unthinkable to most firms on US or Canadian exchanges not to include that in SEC filings to value their assets.
InterOil uses GLJ Petroleum Consultants to value its reserves. However, GLJ Petroleum Consultant's "best estimate" of InterOil's resources is only based on the data given to it by InterOil. GLJ didn't do an on site inspection. As shown at the bottom of this article, "The PNG government is using separate Elk-Antelope estimates made by Gaffney Cline and Associates, which are yet to be publicly revealed." Why haven't they been revealed? Why doesn't InterOil just get the reserves audited, which actually can be done through Gaffney, Cline and Assoc?
Here is a list of all the 73 oil and gas drilling and exploration companies with a market cap of $100M-$10B listed on Yahoo Finance. Every single company with reserves on that list (except one) has proven reserves. The only one that I couldn't find a reporting of proven reserves was South Sea Petroleum (0076.hk).
The following are some of the companies on that list that I found to have proven reserves, along with a link that shows it. For brevity, I didn't include the whole list of 73 companies, but I did check every single one. Most of the companies show their updated proven reserves in their Yahoo finance descriptions. As far as finding a better and safer investment than InterOil, take your pick. Just the fact that they all have proven reserves gives them a leg up on InterOil.
Aminex (AEX.L), Approach Resources (AREX) Bellatrix (BXE) Bill Barrett (BBG) Breitburn Energy (BBEP) BPZ Resources (BPZ) Cross Timbers Royalty Trust CRT
InterOil Quit Trying To Report Proven Reserves
As Seeking Alpha author Shareholders Unite posted in 2008, InterOil had originally planned to hire Netherland, Sewell for an SEC reserves estimate. However, nothing came of that and neither InterOil nor Netherland Sewell will comment on what happened. That was concerning for InterOil investors, and still should be.
Looking at Netherland Sewell's website, it is understandable that the two companies couldn't do business. These are companies that have different priorities and values. On the very front page, the website says: "#1 Choice for SEC Reserves Reporting".
Also on the front page, the first adjective listed to describe the company is "Reputation." Reputation is very important for an established firm like Netherland, Sewell, that specializes in official SEC reporting for oil and gas companies. With all its broken promises and delays, "reputation" isn't a word that many attribute to InterOil's management, even InterOil bulls.
Why couldn't Netherland, Sewell get that proven reserves number of InterOil's wells? One can make some guesses. One outcome could've been that Netherland, Sewell did its report, and InterOil didn't like the results. Another reason could be InterOil wanted Netherland, Sewell to do its inspection a certain way. When Netherland, Sewell, didn't do things the way InterOil wanted it, the two companies parted ways. I can't imagine any other story. If there was something neutral or positive from the inspection, I'm sure the companies would have felt free to explain what happened. Either way, InterOil should've hired another firm to get its proven reserve reports to demonstrate that everything is still economically viable with the wells.
Even If InterOil Is Legitimate, What's The Stock Worth?
Even if InterOil is a completely legitimate company with full, economically viable resources, the current valuation is still not a great deal. It says in InterOil's Raymond James presentation on page 39, at a $66 share price the company is valued at $0.57/mcfe. At its current price of $71, it's valued at $0.61/mcfe. This excludes InterOil's other assets, but for this calculation I'm assuming its $274M in debt cancels out its other assets. $0.61/mcfe is far from a bargain for a company that hasn't even begun building the LNG plant or pipelines yet, and has a contingent resource estimate.
Energy research firm Madison Williams wrote an extensive report on InterOil in January 2011. In it, the firm valued InterOil's resources between $0.07 to $1.54 mcfe. The report backed up its analysis by showing six gas well transactions in 2009 and 2010 with implied deal values between $0.07/mcfe and $0.36/mcfe. One of them was InterOil itself which bought interests in Elk/Antelope in 2009 at $0.34/mcfe.
The report showed one deal in 2008 where AGL Energy sold its PNG upstream interests at $1.54/mcfe. The 2008 transaction was considerably higher because natural gas had reached a peak in mid-2008. Natural gas is worth about a third today of what it was worth in mid-2008.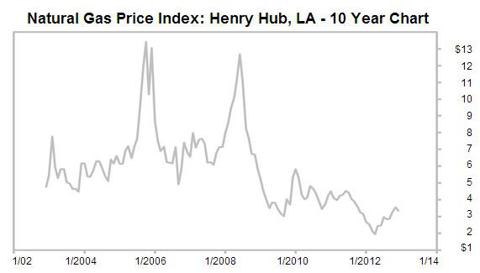 Seeking Alpha contributor Bonkthegrups said: "contingent resource valuations (pre-"deal") have been in the 20-40 cent range (with E/A itself at 34 cents)."
He then listed a bunch of more recent deals with their accompanying per Mcfe deal value:
2010 RD Shell Arrow Energy Corp Arrow Australia: 0.47
2010 TOTAL Santos / Petronas Asset Gladstone: 0.42
2010 TOTAL Santos Asset Gladstone: 0.41
2010 ENRG Inpex Asset Abadi: 0.09
2011 Sinopec Origin / COP Asset AP LNG: 0.66
2011 Santos Eastern Star Corp Asset Gladstone: 0.48
2011 TOTAL Novatek Asset Yamal: 0.12
2011 Sinopec Origin / COP Asset AP LNG: 0.66
2011 RD Shell Inpex / JOGMEC Asset Abadi: 0.25
2011 Various * RD Shell Asset Prelude: 0.34
2012 MIMI ** Woodside Asset Browse: 0.76
Most of the above are lower than what InterOil's current valuation is. Some considerably lower.
Based on the market rate, I don't believe InterOil can get an upfront, solid deal above $0.45/mcfe. At $0.45/mcfe, it would put its share price value at $52. Since it has marketed itself as undervalued, it probably won't take a deal for that low because then the stock would surely plummet. InterOil will probably end up with a deal that isn't straightforward and full of contingencies. It could be contingent on InterOil getting a real audit and proven reserves.
Why Doesn't InterOil Have Proven Reserves?
There are a couple reasons why InterOil might not have verified proven reserves. One is because it doesn't think it matters. Or two, because the result of a legitimate audit would be unsatisfactory. If the answer is the latter, then InterOil is worth considerably less than it's at now, possibly even a zero. If it's the former, that doesn't make much sense.
For a company that tries so hard to promote itself and puts so much effort into trying to make itself look good to the investing public, isn't it strange that it isn't putting an equal amount of energy into getting its reserves proven or at least probable? InterOil has been trying to market an asset selldown for years. One would think the company would do all it can to make it look more legitimate if it indeed does have valuable resources.
The following are quotes from InterOil's CEO, Phil Mulacek dating back to 2007, trying to get investors excited about InterOil:
We're now in the final stages of our partner selection.
- Mulacek Feb. 28, 2013
Now that the Government's position has been clarified, InterOil anticipates being able to conclude an agreement for a sale of an interest in the Elk and Antelope resource in Petroleum Retention Licence 15 and the first 3.8 million tonnes per annum Gulf LNG Train to a partner or partners in the coming weeks.
- Mulacek Nov. 16, 2012
We expect to finalize our LNG partner agreements immediately after we conclude with the state.
- Mulacek Nov. 15, 2012
With the sound backing of the new administration in PNG, we are continuing to work with our advisors to finalize selection of an LNG equity partner.
- Mulacek Aug. 14, 2012
We are now set to engage with a shortlist of significant LNG industry participants with a view to concluding discussions and entering into an agreement this quarter.
- Mulacek May 13, 2012
Most bidders are in the final stages of due diligence and we see the culmination of these bids during the second quarter of this year.
- Mulacek March 19, 2012
The investment banks have also updated the transaction to a large number of community ministers and department heads here in PNG and we are all on track to achieve our transaction goals by the end of this year.
- Mulacek Nov. 15, 2011
The LNG project schedule for FID is prior to year-end, and all the proposed LNG plant and condensate stripping plant activities.
- Mulacek May 12, 2011
The current LNG schedule is aiming for FID to occur simultaneously for both the proposed LNG plant and condensate stripping plant by midyear with a proposed combined startup of both operations approximately 30 months thereafter.
- Mulacek March 23, 2011
We target FID on the condensate plant by the end of the first quarter of 2011 and the LNG plant by mid-2011.
- Mulacek Nov. 16, 2010
We expect (TO) start construction this year after FEED and FID are agreed.
- Mulacek Aug. 4, 2010
We have a number of options in place or under discussion on financing, most of which are tied to our strategic partnering process.
- Mulacek March 2, 2010
It [InterOil] aims to find a partner to back the project "over the next couple of months" and to make a final investment decision in about a year.
- Wayne Andrews via Bloomberg Dec. 24, 2009
We are now in the final qualification and final scoping phase of our LNG program with strategic partners.
- Mulacek Aug. 9, 2009
We [gave] access to 30 companies interested [in the project]. We are now trimming [them] down to a few groups.
- Mulacek July 9, 2009
A number of Japanese companies approach[ed] us, and we are in discussions... over the next two to three months.
- Mulacek May 20, 2009
European partners have been talking to us.
- Mulacek Feb. 25, 2009
Detailed discussions continue with potential strategic investors as we target a sale of 20% to 25%.
- Mulacek Feb. 25, 2009
Over the next quarter, going forward, we look to close the farm-in of our first strategic LNG partner.
- Mulacek Aug. 14, 2008
"Strategic industry partner… who has extensive LNG experience" will deposit $42.5mm for 5% of LNG project.
- InterOil Press Release May 24, 2007
We are in discussions, a vast number of companies on at least three continents have expressed interest joining our acreage following the Elk-1 discovery and flow test.
- Mulacek April 4, 2007
The Talking Is Over, Now Comes The Selling
The company managed to get its share price from the high $50s in late January to the $70s today. It did so through presentations to investors, news PRs, and hype. Nothing material has happened since then. Why did InterOil go through all this trouble to get the share price up? Couldn't it have quietly spoke with potential bidders, got the deal done, and then reported it to investors? Nope. For some reason, the company wants to have a higher share price before a deal is announced. And the only reason for that, my friends, is because the company wants to sell shares.
InterOil's latest promotion is effectively over. If you were long InterOil just for the momentum, then it seems like the uptrend is done. The company already announced at the beginning of the month there were, in fact, some bidders for its elk/antelope assets. Now the next step is for InterOil to make the epic announcement of which bid it accepts, and from which company. I don't think there are any other presentations the company can do or press releases it can put out that would have much effect until it reveals exactly what the deal is.
Last week the company has released plans to have a $1 billion capital raise through debt and equity. Why does InterOil need so much cash? It will already supposedly be getting money from a partner. Won't that be enough to keep going? If a major oil and gas operator is supposed to take part in its LNG production, I don't think it would want InterOil to also take a major role. That would complicate its procedures.
If InterOil does a capital raise before a deal is announced, or engages in insider selling, that would be a sure sign that the deal won't be very good. Be careful if you are long. The anticipation of a capital raise, and/or the anticipation of a mediocre deal at best is a good reason to be short.
Disclosure: I am short IOC. I wrote this article myself, and it expresses my own opinions. I am not receiving compensation for it (other than from Seeking Alpha). I have no business relationship with any company whose stock is mentioned in this article.