Here is a look at how lending (in terms of consumer credit balances) in mid-sized cities is actually increasing in comparison to the rest of the nation.
(From the WSJ): "Consumer-lending activity has increased in numerous midsize cities in the U.S., a sign they are riding out the recession better than big cities and rural towns, an analysis of credit data shows.

As banks pull back on risk taking across the nation, consumer-loan balances in places like Huntsville, Ala., are rising. In Huntsville, a metropolitan area of 376,000 that is home to many government contractors, borrowing increased 13.2% per household in last year's fourth quarter, compared with the year-earlier period, according to data provided to The Wall Street Journal by Moody's Economy.com and Equifax Inc.

Huntsville's increase was the largest among 207 U.S. metropolitan areas tracked by the two data-gathering firms. Similar-size cities such as McAllen and Brownsville, Texas; Yakima, Wash; Provo, Utah, and Lafayette, La., also saw consumer-loan balances rise by more than 8% year-over-year.

During the economic crisis, the banking industry has been criticized for not lending enough, contributing to the slowdown in economic activity. The data show that in some places, banks feel comfortable enough about local economies to lend more to consumers. Across parts of California, Florida and Michigan, on the other hand, consumer-credit balances have been falling, the data indicate.

"The large metro areas are definitely hit by the finance or housing problems," says Steve Cochrane, managing director of Moody's Economy.com. "The smallest are often going nowhere." But, "many midsize metros in the country's midsection should come out of this all right."

The data from Equifax and Moody's encompass mortgages and home-equity, credit-card, auto and student loans. The numbers aren't a pure reflection of new lending. Balances could grow if consumers draw down existing credit lines. Increases could also reflect the sort of reckless borrowing that contributed to the current crisis, or desperation borrowing as bills become more difficult to pay."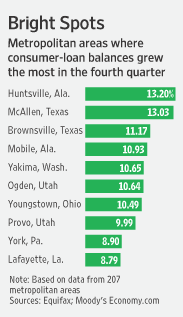 Graphic courtesy of the WSJ
I have to say that I'm more than a little disturbed with the idea that you can use consumer lending balances as a proxy for an area's financial health, because it suggests that there is a direct correlation between a household's debt levels and the strength of their finances. Especially when you consider that housing prices in these areas are relatively flat (or declining), so a 13.2% YoY rise in consumer debt levels suggests that people are getting into a lot of credit card debt. In my view a rise in credit card debt is something to be looked at with caution, as it is likely an indicator of people either spending above their means and/or using credit cards to finance every expenses like groceries, gas and utility bills.
The default rates may be low now but that could be because the minimum payments often allow people to prolong disaster for an extended period of time.
All that being said the other side of this situation is that it does seem to indicate that areas that had more conservative lending standards, and economies that weren't propped up by housing could potentially weather the economy better than the rest.
That is, assuming that we're not just seeing a situation where it's taken the recession longer to hit these cities, in terms of higher default rates, a decline in consumer spending, etc.
Either way at the end of the day rising consumer debt levels are nothing to be celebrated, if our nation is going to be strong over the long-term we have to learn to do a better job of balancing debt and savings. It's one thing to buy a laptop for school (or work) with a credit card, it's far another to buy a coach purse with a credit card when you live in a household with very little savings.
You can read more from the WSJ here, and an interactive graphic showing the change in consumer debt balances from across the nation here.
Sources:
The Wall St. Journal: "Many Smaller Cities Dodge Crunch in Consumer Lending" -- Dan Fitzpatrick, March 30, 2009.
Disclosure: at the time of publishing the author didn't own a position in any of the companies mentioned in this article; the ideas expressed are solely the opinions of the author and shouldn't be viewed as financial or investment advice.