In my recent SunOpta (NASDAQ:STKL) thesis, I outlined our bullish view of the relatively unknown $1.1 billion in annual sales Organic Food company, and how it compared to the likes of Hain Celestial (NASDAQ:HAIN), Annie's (NYSE:BNNY) and other players in the organic food industry. On March 5th, STKL announced company record results that have been relatively unnoticed. Further, it also announced, a bit more subtly, that the next big catalyst for the stock has moved up in the timeline we projected.
To start off with earnings, here are the highlights from the SunOpta press release:
Fourth Quarter 2012 Highlights:
Record revenues of $270.1 million, an increase of approximately 12% versus 2011
Operating income of $7.2 million, an increase of 46% versus 2011
Record fourth quarter earnings of $4.4 million versus a loss of $7.6 million in 2011
Earnings per diluted common share of $0.07 versus a loss of $0.11 in 2011
EBITDA of $12.4 million ($0.19 per share), a 33% increase versus Q4 2011
Fiscal 2012 Highlights:
Record revenues of $1.091 billion, an increase of approximately 7% versus 2011
Operating income of $47.0 million, an increase of 39% versus 2011
Record earnings of $24.2 million, an increase of 357% versus 2011
Earnings per diluted common share increased to a record $0.36 versus $0.08 in 2011
EBITDA of $67.2 million ($1.02 per share), a 30% increase versus 2011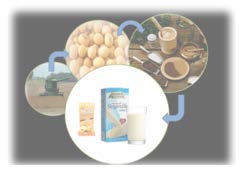 Now that we know the past year, let's look at the future management is predicting. With 2012 operating margins at 4.3% of sales, SunOpta is expecting margins to increase to 8% of sales, a staggering 86% increase. This means that even if sales stay exactly the same (contrary to projections), operating income should increase to about $88 million. With a current market cap of $446 million, this would peg the stock at 5x operating income, a steep discount to competitors like HAIN at 14.5x 2013 estimates, and BNNY at a staggering 29x fiscal 2012 estimates.
SunOpta's projections for EBITDA margin, on the other hand, are to increase it from 6.2% in 2012 to 10%, a significant 61.3% increase. This would peg EBITDA at $109 million, without assuming any additional revenue growth. This would be a bit over half the EBITDA generated by HAIN ($205.9mm), which sports a $2.85 billion market cap, approximately 6.5x STKL's market cap. Again, HAIN and BNNY sport much higher multiples than STKL, trading at 13.9x and 26.8x EBITDA, respectively, compared to STKL's minimal 6.6x 2012 EBITDA, and even much lower considering growth anticipated in 2013.
The good news is that SunOpta did grow its revenue by 12% in the 4th quarter - which was actually higher than HAIN's 8.2% sales growth, and not much lower than much smaller company BNNY - and is projecting double digit revenue growth in 2013 and the foreseeable future.
SunOpta's balance sheet remained strong, with shareholder equity continuing its steady increase to $326.2 million, and a net book value of $4.94 per outstanding share. Note that this book value is mainly comprised of the core organic food business and does not include the true hidden value STKL has from its ownership of Opta Minerals (OPM:TSX) and Mascoma, which we estimate to be worth as much as an additional $4 to $6 per share for those two holdings. More on that is shown in the full thesis. With this much in assets, current investors are getting the earnings power of STKL for free, since the true assets are worth more than current stock price.
The Next Big Catalyst Is Coming Sooner Than Expected
Although this was not discussed in the earnings press release, SunOpta's management has been notoriously open about its future plans and very shareholder friendly. This is why when asked about the timing (referring to 2013) and status (if they'll grow it further or sell now) of the divestment of OPM during the conference call (by yours truly), SunOpta's CEO Steve Bromely had no hesitation in stating that the OPM divestment is projected to happen in the immediate future of 2013, rather than 2014 like we expected. Below is the excerpt of the Q&A transcript (bold by me for emphasis). For the entire conference call transcript click here.
Ron Reuven (Analyst, Reuven Capital Investments)

Okay. And as far as, back, I guess, to Opta Minerals, I know you mentioned briefly that you're looking to divest the company, possibly even do something in 2013. Do you see the company at this point growing these acquisitions at almost 50%? Do you see it as big enough to sell at this point? Or do you potentially see other acquisitions in the pipeline to grow the business a little further before putting it out in the market again?

Steven R. Bromley (Chief Executive Officer & Non-Independent Director, SunOpta, Inc.)

Well, Ron, I think it's a very marketable asset. It's a very well run business with a good management team and good systems and, I'm on the board, so it's a great board. And it's a really nice size business. And they've grown very nicely. They have a number of growth projects that they're continuing to - internal growth projects. They've really got a decent platform there. I'm sure there's other acquisitions that are out there. I can assure you that they're not focused on any of that and they're focused on integrating and getting the value from what they've purchased and everything and that's what we're encouraging them to do. So it was - it's a - I believe and time will tell here, but I believe it's a very saleable asset.
This is a big deal and major near-term catalyst for SunOpta shareholders because it will not only be a cash windfall, but will also show investors exactly how much this asset is worth, since using the illiquid shares of OPM can be misleading for unknowledgeable investors . This divestment will be a cash windfall for STKL shareholders as it will relieve $61 million out of $189 million (32%) of its debt - since it's OPM's non-recourse debt owed to STKL.
Although it's increased in value by 24% since my December article, the current market cap of $57 million for OPM doesn't really make much sense, since it bought two companies (Babco and WGI) for $33 million in 2012, and should have an EBITDA of over $20 million in 2013. The best part of all of this is that we just received confirmation that the timeline for this catalyst has just been cut in half. The valuation is not going to be theoretical for very much longer.
Even though the opportunity of owning OPM shares directly can be lucrative, I believe the larger opportunity is in STKL shares, since they own the majority (66%) of the company for a much lower valuation on their books than one would be paying for the stock at this point. Lastly, owning STKL shares will also allow you to be a part owner of the biggest [and most undervalued] organic food player you've never heard of. To see how we come up with a $29 to $31 full valuation of main business, see full thesis.
Watch SunOpta's Company Video to learn more about what they do, or check out its SunOpta_Investor_Presentation
Disclosure: I am long STKL. I wrote this article myself, and it expresses my own opinions. I am not receiving compensation for it (other than from Seeking Alpha). I have no business relationship with any company whose stock is mentioned in this article.
Additional disclosure: Reuven Capital Investments has a long position in STKL